One thing your online presence can't get enough of is exposure. When you see those stats rising you know you are on the right track. Blogging and newsletter writing are two powerful methods for expanding your reach to new audiences once you've decided how to create a website. In order to fulfill their potential, a great blog (read all about how to start a blog here) or an excellent email list relies on an enthusiastic circle of subscribers.
As a blogger or newsletter editor, you have two main goals for this type of website and content. The first is to create awesome online content, which you can easily do by using Wix's website builder platform. The second is to continuously increase the number of subscribers that follow your terrific content. Every subscriber counts when it comes to making money blogging.
In this article, we will focus on that second goal and highlight several effective methods to get more subscribers to your blog.
Ready to start your blog now? Sign up with Wix today.
How to get more subscribers to your blog
01. Simplify the subscription process
As great as your content might be, people will not bother to go through loops in order to get regular updates from you. The subscribing process must be simple, intuitive and straightforward. The simplest way to go is to use the Wix Get Subscribers app, which lets you collect your followers' contact info easily. Using this app, you can design the subscription field to appear prominently on the site, so visitors can't miss it. As you set the app up, put yourself in your subscribers' shoes – where should you position the form? How large should it be? Which colors will be the most tempting? The right answers to these questions will help you simplify the process and get more people to sign up.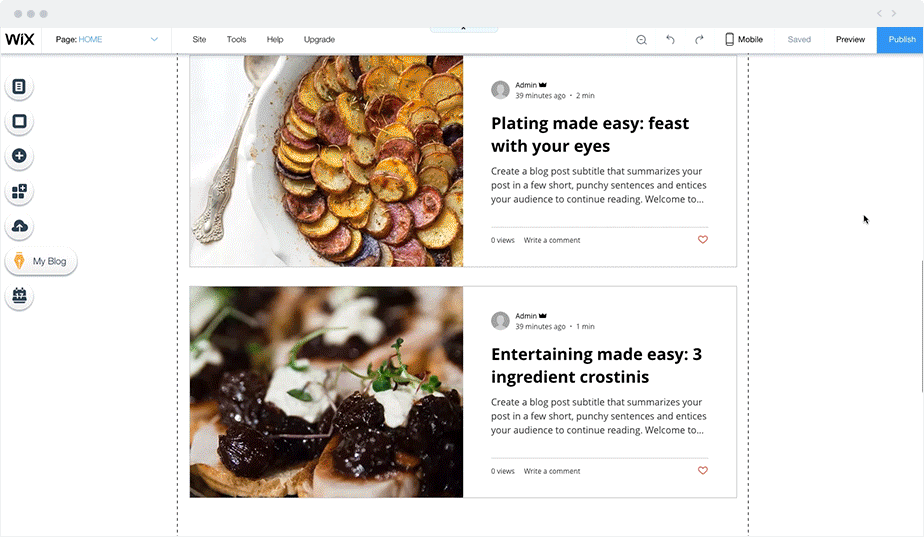 02. Run some tests and do some tweaks
Making a powerful online presence with Wix means you get to edit, update and improve at any point you wish to do so. Our recommendation? Use this ability to experiment, analyze results and enhance your subscribing form's performance accordingly. For example, you currently have the mailing list form located at the center of the layout, right below the site's header. Now, what will happen if you move it to the left, to align with the text direction? Or bring it upwards a bit, right above the header? Another example: Your form is currently designed with the same font as the rest of the website's text. Try changing the font and see how that might influence the subscription rate. Analyze your conclusions and optimize – find out which format appeals to more new subscribers?
Play around with your blog templates to get it right before publishing.
03. Place CTAs in strategic locations
Calls-to-action, aka CTAs, invite users to perform an action. In the context we're discussing here, the CTA will tell people to subscribe to your blog or your mailing list. It will short and decisive and will motivate your visitors to do so immediately. A lot of beginners make the mistake of placing a CTA in one location only. That's a sure way to miss out on more clicks. On the other hand, you don't want to randomly stick CTAs on every empty spot on your site. The right way to go is to strategically consider locations where a CTA to subscribe will fit in smoothly. Some possibilities include your Contact page, your LinkedIn profile, the end of each blog post, a landing page and more. The testing method we explored above will help you find the most effective locations.
04. Catch immediate attention with a lightbox
First impression can have great meaning. If you can attract your audience's attention to your blog or your mailing list quickly, you will be able to enlist more subscribers. The best method to achieve that is adding a Lightbox, a terrific feature that works just like a pop-up window. This how-to video will guide you through the process of setting up a Lightbox with a few simple clicks.  Naturally, you can customize the Lightbox to match the overall design and your brand's identity. This way, it integrates with your site smoothly and will not look 'spammy' or too pushy.
05. Create shareable content
Design and usability will get you a long way, but the quality of your content still plays a huge role in increasing your reach. If people love your recipes, your music, your photography or your tips, they will share your content with their social circle. They will become ambassadors for your content and recruit friends and acquaintances to become followers too. If you're running short on great ideas, we can help! Check out these tips for awesome blog post ideas.
06. Give social media previews to exclusive content
Facebook, Twitter, Instagram & Co are powerful tools in online marketing and can be impactful tools for blogging as well. Working on these platforms to promote your content is doubly clever, because exposure does not end with your own followers; it extends to their own network of followers. Social media users respond well to exclusive content and VIP treatment. To attract them to subscribe, lure them in with offers for exclusive content. For example, you can publish before and after pics from your makeup business on Instagram, promising step-by-step guides for achieving these looks on your blog. Add a CTA inviting viewers to subscribe, and here you go!
07. Incentivize new subscribers
Everyone loves a treat. Think about a special offer or incentive that can motivate new subscribers to enroll, like a discount on products or services, a gift, an exclusive invitation to an event or access to limited online content. The most effective incentive will be closely related to your brand or business, so better ditch the coupons to the local pizza place. Make them an offer they can't refuse by linking the benefit to the unique value that you can provide your followers.
08. Research and find new traffic sources
The strength of your online presence depends on dynamic growth. This applies to your blog and newsletter subscribers as well. You need to always stay on the move, searching for and experimenting with new traffic sources to increase your reach. Earlier in the article, we recommended social media. Let's say you're already working on Facebook and Twitter to encourage new subscribers. Now it's time to branch out to other networks – YouTube, Instagram or LinkedIn, for example. Another option to explore is online forums that are dedicated to themes related to your field. Authoring guest posts on blogs you enjoy is another. There are many opportunities out there, waiting for you to grab them.
You could also consider giving blog SEO a go - it's a great way to drive steady organic traffic.