Juggling a design career with daily chores, relationships and other commitments can be tough. So how can you make the most of your time on the go? Here are the 12 apps you need on your phone.
Text

Dana Meir

Images

Dana Dushkin

Date

April 25, 2018

Est Read time

7 min

Illustration author

Ariel Wollek
That teeny tiny machine we tend to keep at arm's reach at all times (commonly referred to as the smartphone) has become an integral part of our lives. But it wasn't that long ago that we roamed the world with a whole array of devices at hand – cameras, Discmans, navigation gadgets, calculators, notebooks and more. Although these objects can still be found in places other than dark attics, we now don't really need much more than a mobile to perform these same actions. But what else can your smartphone help you with?
Thanks to the ever-growing world of design apps, creatives from all disciplines can now be super efficient while on the go, and hopefully have some fun along the way. To create some order within this vast universe, we've picked the best and most useful smartphone tools for designers. From searching for inspiration, to boosting your business and browsing endless color schemes, these apps will set you on the way to transforming your phone into your second studio.
Designing on the go
1. Discover everything you need in one app: Adobe Capture
This is the point at which we'll create a small virtual shrine to Adobe. Competing with their smartphone apps is not an easy task, especially when it comes to Adobe Capture that has recently been updated with advanced new features. They're right on trend (which comes as no surprise), enabling you to transform any image into a 3D texture and then sync it with Adobe Dimension. Another favorite asset of ours is the possibility of converting any photo or image into vectors – completely hassle-free. You can also select colors from photos to form palettes, create patterns, detect fonts and more.
Free | iOS & Android
2. Create beautiful graphics with Bazaart
There's a reason why Bazaart is an award-winning app. There's no doubt that it's aimed at designers, offering advanced photo editing tools and the possibility to sync with Adobe Creative Cloud. You can start working on the fly, importing and exporting PSD files, then continue on your computer. Save images with transparent backgrounds and combine them to make digital collages. The highly intuitive interface works with layers, speedy processing times and all the other tools you'll need to accompany you.
Free | iOS
3. Become a social media star with Canva's features
With hundreds of sleek templates, this app helps you easily create visuals specifically for the various social media channels, as well as invitations, posters and more. Combine your own individual voice, with your works and Canva's customizable pre-made layouts, to come up with speedy and stunning graphics. The best thing about it? It's super easy to use, but with the right eye, can produce highly professional results.
Free | iOS & Android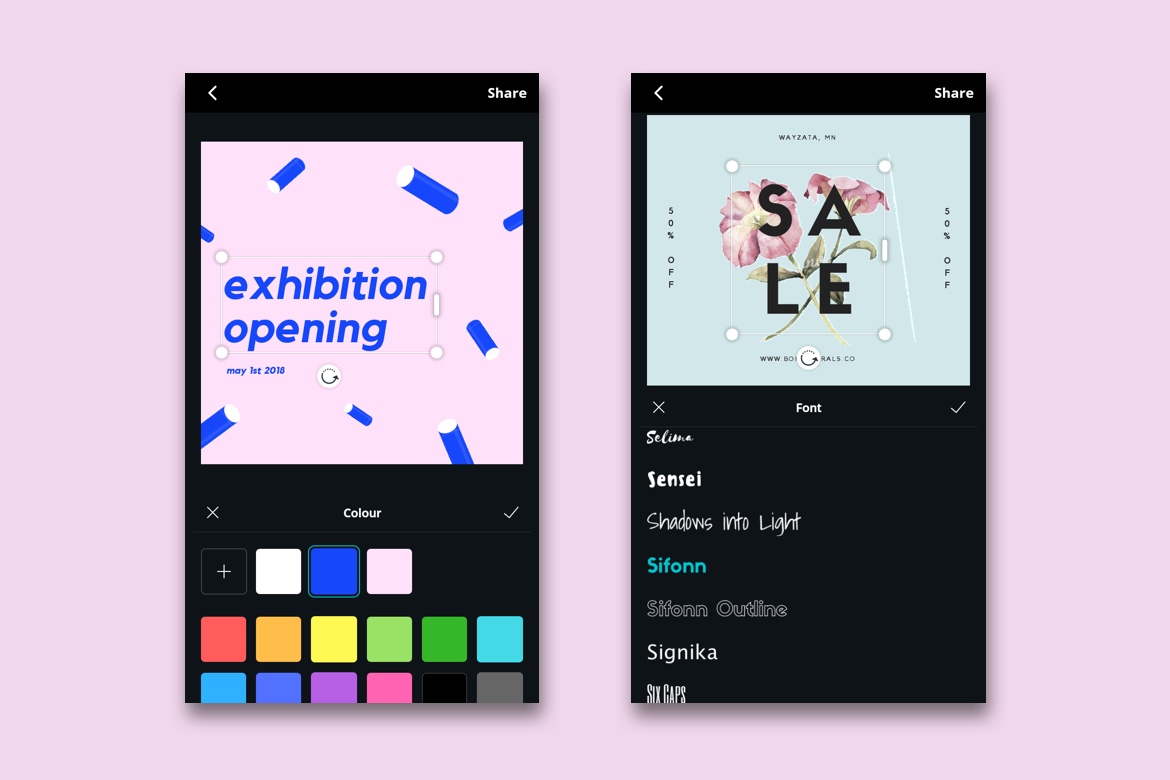 Photo and video editing on the go
4. Edit images on the move with Adobe Photoshop Express
Although hard-core Photoshop jobs are best done on the computer, this app can definitely come in handy when en route. If it's a matter of editing a photo or making a collage, you have everything you need, from correction tools, to filters and fun additions like photo frames. It's connected to all the other social apps, so you can share your images instantly in just a few swipes.
Free | iOS & Android
5. Create hi-res photos with Adobe Photoshop Lightroom
Continuing with the Adobe-love – if you want to take your photo editing one step further, then this is the app for you. It's one of the few that lets you edit high-quality RAW files on your smartphone, which is a big plus for photographers. As well as the full array of tools from the most basic to more advanced, Lightroom makes your life even easier by offering one-tap presets.
Free | iOS & Android
6. Produce quality videos with Videoshop
Missing those cheesy custom animations from the '90s? Probably not. Let's get back to the present day – here's an app that provides you with everything you need to create stylish high-quality videos, straight from your smartphone. Ensure professional results, with an array of tools, from dynamic volume options, scene transitions, timeline markers and more. You can also share your videos straight to Instagram, Vimeo or any other social network. Get shooting!
Free | iOS & Android
Self-promotion and business
7. Curate a stunning feed on Instagram
This gem needs no introduction. With over 800 million users, this social network offers an endless supply of images created by a diverse mix of creatives from different fields and backgrounds. But it's not just about searching for inspiration – it's also about getting your works out there for the world to see. The days of Instagram being primarily a selfie-hub are long gone, as you can now utilize its capabilities to promote yourself, helping your business grow and curating a stunning feed that expresses your brand and personality. Explore works by designers who are just starting out, to those who are experts in their field – such as lettering artist David Milan, digital mastermind Daniel Aristizabal and our very own High on Design account.
Free | iOS & Android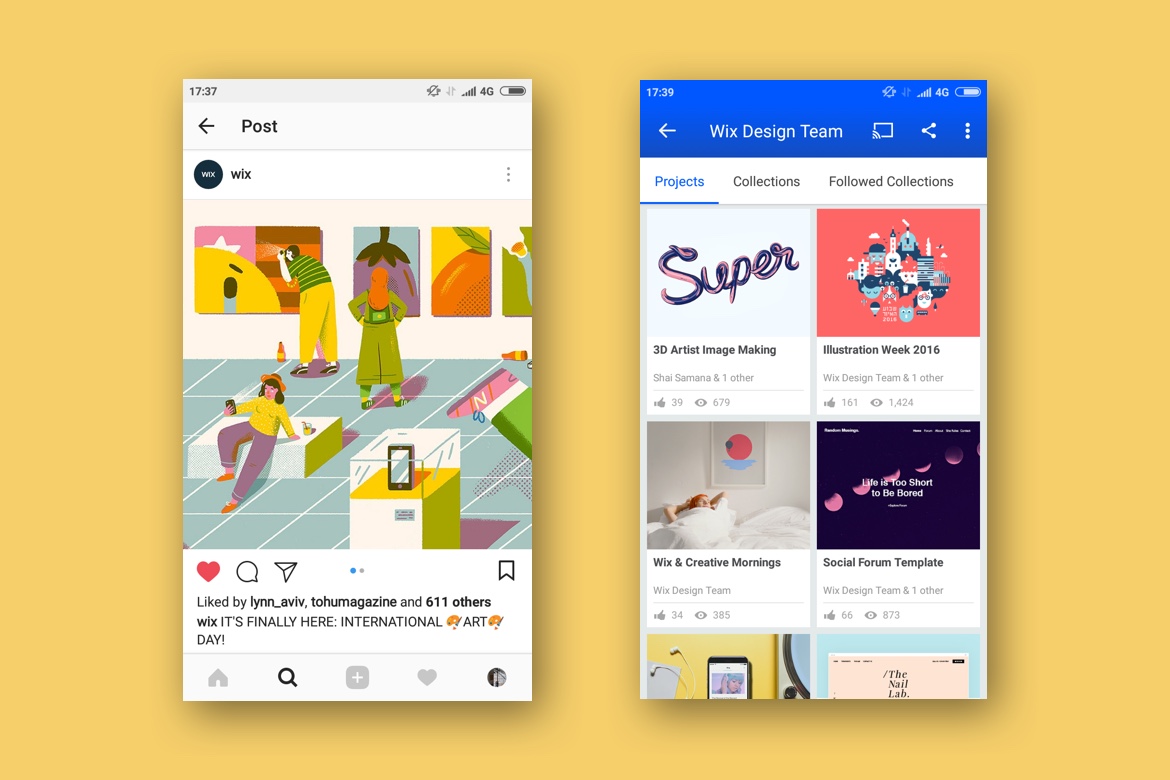 8. Boast your best works on Behance
Want to narrow down your inspiration-quest to creatives only? If so – Behance is the app for you. It's full of highly talented designers and stunning visuals that will make you want to dive into a hundred new projects simultaneously. Spend hours browsing designers' current projects, from illustrations to web design screenshots and more. Other than that, you can use this platform to share your own works, together with other top professionals. What's more is that text is more than welcome here, as adding extra details and stats about your pieces is customary. Tap in to feast your eyes on design trends, motion graphics, illustrations and more.
Free | iOS & Android
Inspiration
9. Create Pinterest boards that express your vision
Here's another one we have a soft spot for. How could you not fall in love with an app that provides you with never-ending creative ideas, design inspiration and more? But the best thing about Pinterest is that you can create boards for individual projects, gathering images that together express the vibe you're going for and form visual references. It's a great way for you or your clients to get a better idea of the look and feel of a project.
Free | iOS & Android
10. Explore quality curated works on Design Hunt
You may be asking yourself why we've included yet another inspiration tool. Other than the fact that searching for inspiration is an essential (and let's face it – fun) part of the design process, this app is a little different from the others. Design Hunt meticulously gathers content from a wide variety of sources and curates every image they share, so that you can be sure to find quality visuals at every click and swipe. Warning: you may have trouble stopping – enjoy!
Free | iOS 
Picking fonts and colors
11. Browse a library of fonts at your fingertips with FontBook
FontBook has pretty much been around since the days that shoulder pads and scrunchies ruled the fashion world, so when it comes to typography knowledge, we trust them. With an extensive collection of around 40,000 different typefaces, a few awards to their name and a sleek design, this is the ultimate tool when looking for font references and inspiration. You can browse through their extensive library, searching according to various criteria, from styles, genre and years. It truly is the A to Z of fonts.
Paid | iOS
12. Form the right color palette for your designs with Coolors
With the design world moving to brighter, more daring colors, as well as dreamy gradients of a unicorn nature, picking the right shades isn't as simple as it was in the past. So why not let our digital friends help us out? Apart from Coolors' stunning UI design, it's also a super useful app for forming the right color palette for your project. Generate color schemes from scratch, get inspired by other designers' combinations and export your shades of choice to use them in your works.
Paid | iOS & Android
You Might Like These too:
Get in Touch! Get in Touch!
Get in Touch! Get in Touch!
Get in Touch!