Standing out among the sea of talented designers on the 'gram is a challenge. But you can now wave goodbye to those like-less days, thanks to these tips to help boost your account.
Text

Dana Meir

Date

August 20, 2018

Est Read time

11 min
Instagram is about so much more than just creating a beautiful feed. Long gone are the days of mindless selfies. And however much we love bird's-eye view food porn, cultivating a successful account is not only about the images themselves. Although the word "marketing" may cause you to wince in pain or confusion, if you want to build a blossoming community and expand your brand, you'll have to play along. Today, our beloved 'gram serves as a platform that any creative can highly benefit from – as long as they know how to use it in the right way. This, coupled with your perfected online design portfolio, are the tools you need to showcase your creative work and present your brand in a professional light. But it's not all little red hearts and rainbows. As oozing with talent as your works may be, we all need an extra push in the right direction to get noticed. That's why we're here to help. Other than developing a universal visual language across all aspects of your account and curating a stunning feed, here are 11 simple steps you can take to boost your online presence on Instagram:
1. Optimize your bio
Let's start from the top. Your bio is a key part in what brings people to delve further into your account, by giving them a quick summary of who you are and what you offer. That's why your bio is (one of the places) where you should be showing off your skills, so make the best of the 150 characters that it has to offer. Other than including your username, add an informative and catchy description about you or your business and some relevant hashtags. Don't forget to add a link to your website or design portfolio, along with a CTA (call to action). If you have a few different sites or blogs, Linktree is the tool to use to add multiple links.
See how Amber Magazine's bio includes all the right info in a clear and succinct way, with a to-the-point CTA leading to their Wix website – not to mention the fascinating content, just a short scroll away.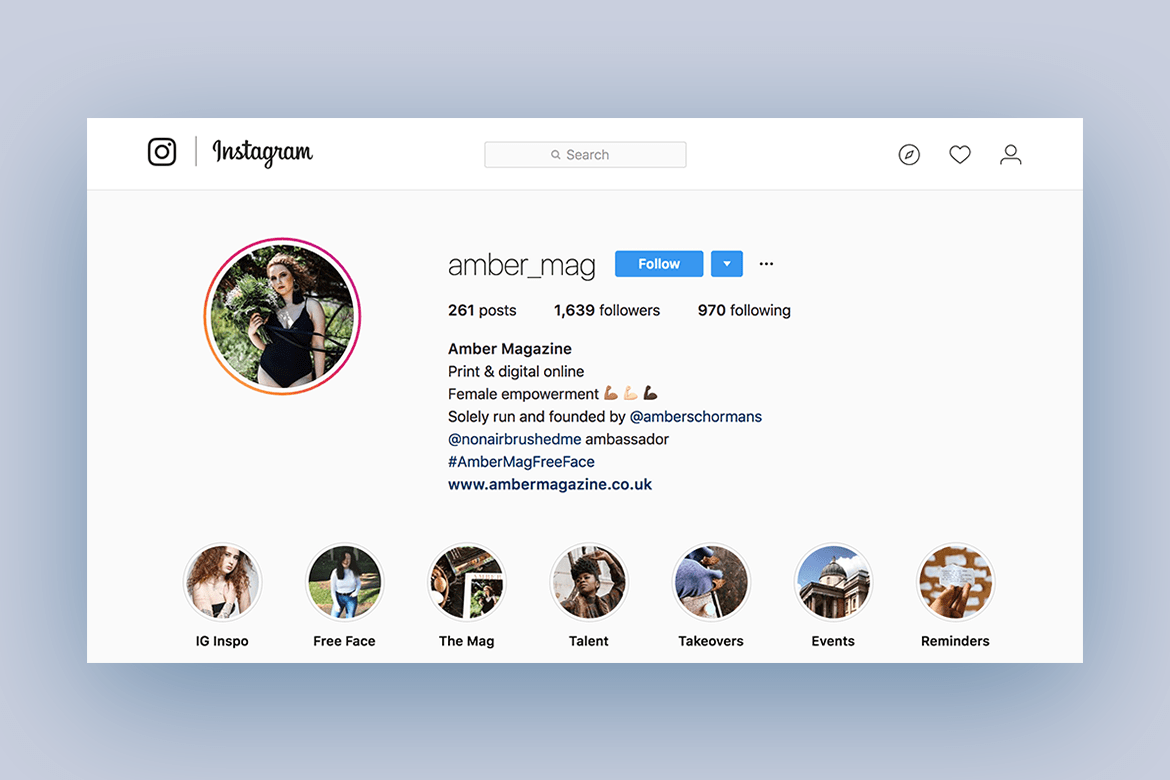 2. Make Instagram's algorithm your best friend
One thing we know about Instagram's algorithm is that posts with high engagement rates show up first on followers' feeds. There are a number of ways to achieve these high rates. Other than doing pretty much everything written here (look above and below), it also seems that the longer people look at your posts, the more successful and high-quality Instagram detects them to be. All very well, but how do you keep your followers lingering on your posts for longer? Firstly, write captivating captions that are a few lines long, separating paragraphs with dots to make them more digestible. However, make sure that you're not writing just for the sake of writing – make sure you actually have something important or interesting to say. Other than that, include videos and carousel posts that invite users to browse through images. Another aspect that Instagram seems to take into account is the quality of the photographs themselves and your feed's visual harmony.
Ceramic studio, Noni SP, have a balanced feed filled with pixel-perfect, gorgeous images that just make you want to dive into your beautifully designed warm cup of tea. Here are just a few of their posts – check out their Wix website for more info on the brand.
3. Be social
This one may sound obvious, seeing as we are talking about social networks after all. But don't underestimate the power of interacting with your community. That includes replying to comments on your feed, visiting other profiles that you like and chatting to people who follow you or use the same hashtags as you. And when we say chat, we don't just mean sending a "hands in the air" emoji. Send honest, authentic replies that will foster communication. And don't use bots. Just don't.
4. Find creative ways to involve your followers
There are a number of ways to encourage audience engagement:
– Get wordy: Write interesting captions, including questions from time to time, info on your product and a touch of humor if it suits your vibe. This will get your audience more involved and you'll probably also genuinely enjoy reading the responses.
– Start a conversation: Experiment with the new 'ask questions' feature, giving people a fun opportunity to get to know you better.
– Contests and giveaways: If you really want to pamper your followers, consider running raffles or competitions that will prompt them to respond. Because after all, who doesn't love winning things? The prize doesn't have to be anything flashy – it can be a signed copy of one of your works, for example (a delightful package to receive in the post, if you ask us!). See how Noa Snir, a super talented illustrator whose illustrations can be found on this very blog, engages with her followers with a tempting raffle.
– Sharing is caring: Repost content that inspires or interests you. This shows that you appreciate other people's work and have an array of sources of inspiration. It's also super useful if you don't produce content at a fast enough rate. Just don't forget to ask permission from the accounts you're reposting from.
– Give your fans some love: Depending on your type of offering, you can feature your followers or customers, creating a community around your product. See how Stolen Goods have done just that in the post below, adding a personal touch. See more of their designs on their Wix website!
5. Collaborate with other designers
Life is all about give and take, and the same goes here. Bartering your skills is a great way to work with other creatives, and it can really be a win-win situation. For example, if you're great at designing business cards, but not such a talented photographer, reach out to a friend who is. You can help each other in those areas you're less confident about, complimenting one another's skills. Want to take it a step further? Track down popular Instagram accounts that showcase various artists and designers' works (a.k.a. "hubs") and try to get featured on them. Often, it's about including the accounts' dedicated hashtag in your post, in order to get them to notice you. Brands with many followers, such as Adobe, Apple and The Design Kids do this. In other cases (such as Design Milk and Dezeen), you can reach out to them directly, submitting your work and also standing a chance of getting featured in their magazine. The result: you'll gain more exposure – and to the right target audience.
6. Do cross-promotion
As well as collaborating with others, collaborate with yourself. Sound strange? As Instagram's algorithm appears to assess a post's quality within the first hour, it's important to get people engaged within this time frame. In order to do this, share your post on your other social media channels, expanding its reach. You can also announce your new post on an Instagram story to bring it more traffic. Call on a few trusted friend to be at your beck and call whenever you publish new content. After all, what are friends for if not for showing you some double tapping love?
7. Create stories
Whether you're already a mobile design pro, or are more in the world of fashion, creating stories is a whole lot of fun (especially when there are so many exciting gif options!). More than that, stories are a great opportunity to share extra content with your followers. They're your chance to run wild, showing them that there's a real person behind the screen, by giving them a peek into what you're eating for lunch or behind-the-scenes shots of your work process. You can also take advantage of Instagram's features and keep viewers engaged, by adding polls, hashtags, tags and CTAs (such as 'swipe up' or 'learn more'). Stories deleting after 24 hours is a thing of the past, now that you can 'highlight' stories, saving your best content onto your feed. If you're already in the swing of things, take it to the next level with live videos. Seeing as they appear first on your followers' stories bar, there's a high chance that people will take a look. Share "how it's made" videos, interviews with you or other designs, host a debate, or anything else that could tickle the fancy of your target audience.
3D illustrator and design director Liron Ashkenazi utilizes the highlight stories feature to showcase some of her impressive new projects, as well as giving a glimpse into her personal life. Check out the rest of her beautifully curated feed and Wix website that nailed its UX design.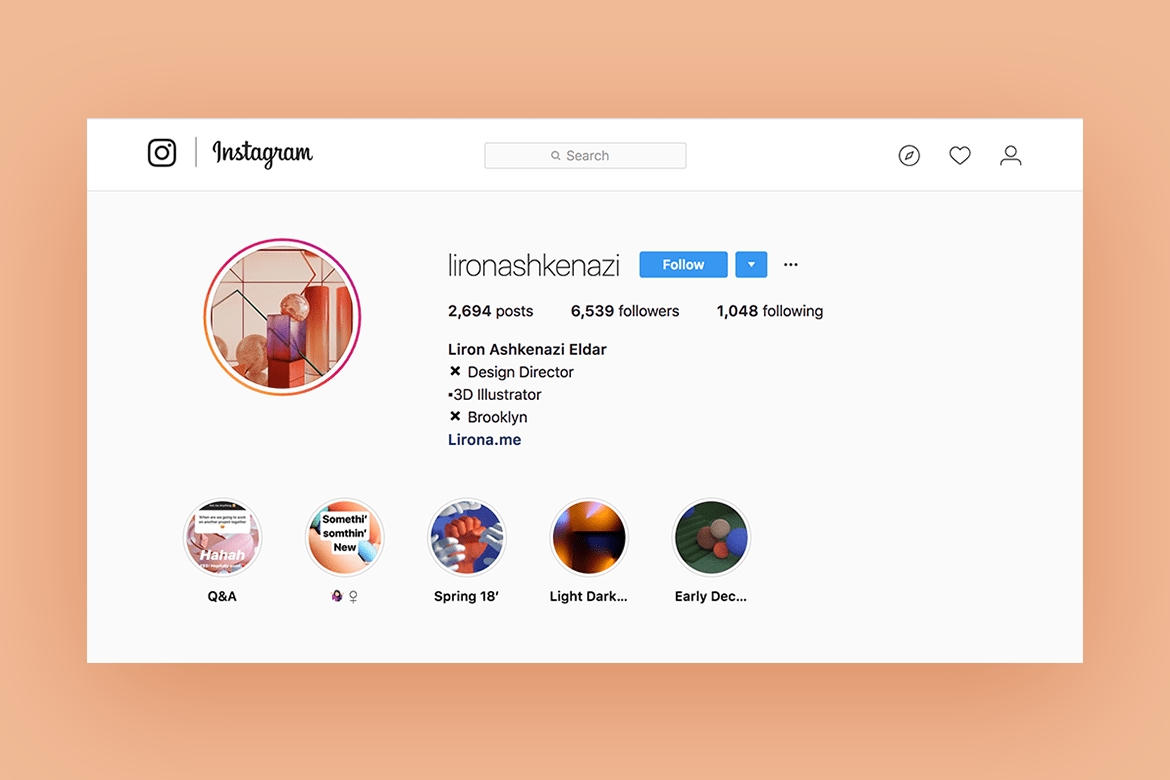 8. Use IGTV (Instagram TV)
Getting into the whole story vibe? Great, because Instagram has recently launched a new standalone video-based app! You don't need to be a motion graphics expert to share fantastic videos with your followers, especially as the videos are vertical, suggesting that the idea is to create them using nothing other than your phone. Enabling hour long videos, this is your chance to get truly creative. Use this feature for all types of content, such as vlogging, "a day in the life", DIY tips, client testimonials and more. Perhaps you'll even want to start your own series on a topic you feel passionate about.
9. Use hashtags effectively
Hashtags with many followers are overrated. Using only these big hashtags means that your post could easily get lost in the crowd. That's why you should combine popular ones (like #design and #inspiration) with more obscure or specific ones (like #grainy and #pastelshades), making sure to keep them relevant. Using local ones (like #DesignNYC) is also important, so see what your local buddies are tagging these days. But careful not to go overboard. A post with over 20 hashtags could appear spammy and put people off. You can also consider how to visually separate the hashtags from the rest of the caption. Adding gaps or full stops between lines will help not to put people off. Other than using hashtags effectively in your captions, don't forget to follow those that are relevant to your community.
Illustrator Ana Duje knows how to capture her audience's attention with interesting captions, as well as selecting the right mix of hashtags. Treat yourself to more of her works on her Wix website!
10. Be organized and consistent
Picasso may have said "if you know exactly what you are going to do, what is the point of doing it?", and it's true – being spontaneous can lead to truly wonderful results. But when it comes to planning your feed (possibly as opposed to your canvas), knowing what lies ahead really eases the process. A good way of doing this is defining a number of content anchors (or "types" of post), such as behind-the-scenes, the "making of", general inspirational image and so on. Also consider which special days or events are coming up that you'd like to acknowledge on your page. Overall, this selection of different types of content results in a balanced feed that clearly depicts what it is that you do, and what you or your brand are all about. The same consistency you have in your visual language should be applied to your scheduling times. You don't have to bombard your followers with many posts every day, but also don't wait too long between posts.
Illustrator Isabelle Feliu's feed is not only absolutely beautiful, but is also balanced in the type of content she shares, including the final pieces themselves, products with her illustrations printed on and her works hung up on the wall. No matter what kind of image she posts, it's bound to work together with the rest in total harmony. Dive further into her works on her Wix website.
Illustrator Isabelle Feliu's Instagram feed
11. Manage your results
Without delving too deep into icky numbers (please don't run away!), tracking the results of your posts can show you what works better for you. What exactly should you be checking? For those who don't have business profiles, you can see the number of likes, the types of comments received and your number of followers. However, if you have a business profile, you can access the reach and impressions of your posts, as well as the number of users that check out your profile and click the link on your bio. Use these numbers to understand what kind of content your audience is into. If you decide to promote any posts, put your money when your hearts are (we're talking likes, of course), as posts that are already successful are more likely to work well when promoted. And don't forget to take your eyes away from the numbers from time to time and just have fun with it. After all, this is all about fulfilling your passion and doing what you love most.
You Might Like These too:
Get in Touch! Get in Touch!
Get in Touch! Get in Touch!
Get in Touch!