Illustration is about so much more than just riveting visuals. These three brands and designers use illustration as a tool with which to make a point, advocate for change and spread awareness.
Text

Dana Meir

Date

May 6, 2019

Est Read time

12 min

Illustration author

Noam Noy
We all know the somewhat cliché, overused phrase, "a picture is worth a thousand words." As someone who walks the line between design and text, I'd like to think that that's not always the case. But what the following three creatives and Wix users prove, is that when illustration is combined with a bucket-load of integrity, relentless motivation and an important cause, a picture can definitely be worth so very, very much.
What Kristina Filler, Sofia Romagnolo and Izzy Wheels have in common, is that they all use the power of illustration to spread a message, make a change and give a voice to the less heard members of society. Each does so in their own way. From empowering wheelchair users through custom wheel covers, to daring to illustrate controversial topics, to raising awareness of gun violence through illustration, these women show us how design can make a difference. Here are their three separate stories that remind us, yet again, of the power and impact that design can have on society.
Blu Edamame: Addressing taboo topics through illustration
Milan-based illustrator, Sofia Romagnolo (a.k.a. Blu Edamame) sees art as a way to share her personal vision and spread an emphatic message around the world. In her own words, "art is a powerful weapon to educate, excite and let out a rebel yell." And this she does, in every one of her illustrations. Feeling strongly about the way women depict themselves, and are depicted, in our culture, Sofia bases her works around the female body, in all its beautiful and natural forms.
"Us women have to stop letting other people set the standard for what we should look like or do with our bodies," says Sofia. "A woman that takes care of herself, in every aspect, is portrayed as vain, lustful, and sexual in a very deprecative way. With this perception, usually if not always, objectification, fetishisation and disrespect come naturally… My goal is to help spread the message that our body is beautiful and there's no shame in taking care of it."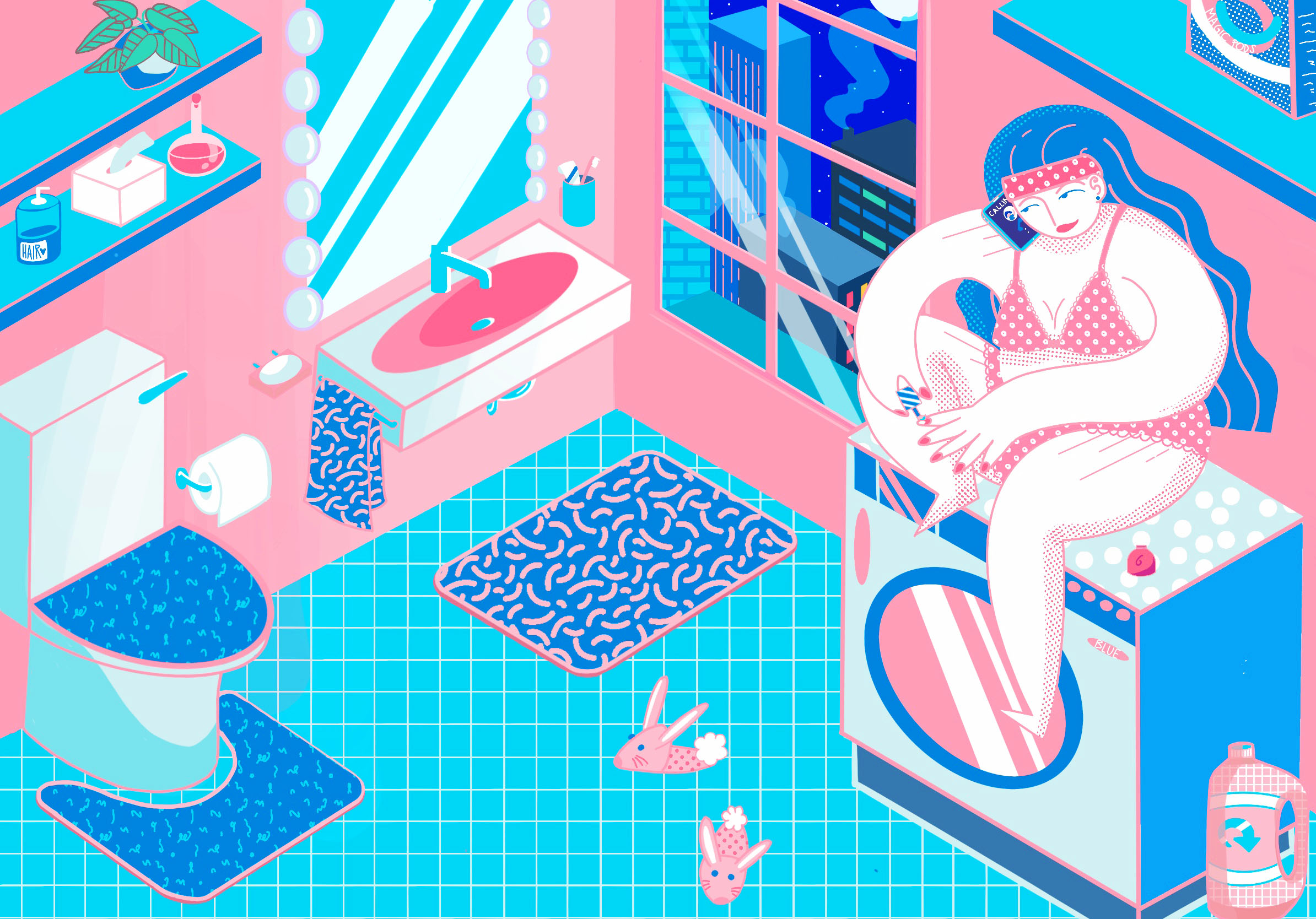 To tackle this and help demolish the stigmatization behind free sexual expression, Sofia aims to give a fun, colorful and light hearted twist on topics that are generally considered dark or shameful. "Exploring ourselves should be an act of love and a celebration of our bodies – it really helps in understanding what we like, what we don't and how our body works," Sofia explains. "It's so very important even for spotting if something is wrong before it's too late. It's amazing how many women don't know anything about how to detect an illness, such as cancer, by basically just touching and observing themselves."
Sofia presents her women as diverse, but what they all have in common is a true and burning confidence. When describing them, she says that they're not goddesses in the mythological sense of the word. "They are not invincible and most of all, they are not fearless. They are everyday women living everyday struggles who have learnt to embrace their version of femininity and their weaknesses in order to become a stronger, kinder, elevated version of themselves," Sofia tells High on Design. "When I illustrate them I think of them as my role model, the woman I strive to become one day."
Alongside the accurate and poignant works she posts online, Sofia often includes strong captions that definitely know how to make a statement and evoke emotion on social media. Addressing themes of body image amongst women and the LGBTQ+ community, her words also have a part to play in spreading a message of acceptance.
Sofia wishes to harness the power of Instagram and other platforms with her artwork to help create the kind of world she wants to live in. "When I posted the illustration of an unbothered man brushing his pink wig, I was overwhelmed and shocked by the amount of hate it got. Seriously, what's wrong with it? It's just a wig!" Sofia exclaims. "Inclusive illustrations and viral art have the power to normalise and de-demonise diverse, queer and transgender people to the eyes of those less exposed to the community. Everyone feels represented and supported, with no need to hide. It's a little step towards creating a respectful, or at least non-violent, society."
For Sofia, there isn't one piece of work that she's proudest of. They are all of equal importance, even those that she describes as "ugly and flawed." For her, each of her pieces serve the purpose of expressing who she is, what she believes in, and her growth and path as an artist. And we can't wait to see where else this wonderful path will lead her.
Check out more of Sofia's works on her Wix website.
Hold Your Fire: Raising awareness for gun safety
Just two days after the twentieth anniversary of her father's murder, another tragedy occured: the massacre at Marjory Stoneman Douglas High School in Parkland, Florida. "I fell back into a vicarious grief mode for those families," says Kristina Filler, NYC-based illustrator.
Kristina had spent the few months leading up to the event putting together an illustrated commemoration of her father's life, made up of photos and stories collected from family and friends. "I shared it with everyone, we all had a cry about it and I felt like I was partially cured of my grief," says Kristina. But this "shiny, gleaming bit of temporary relief" was diminished two days later when she heard about the Parkland shooting. "I was in high school when my dad was killed (at the school he taught at), so a lot of what those students were going through hit really close to home. I spent an evening privately crying for them while listening to the news coverage."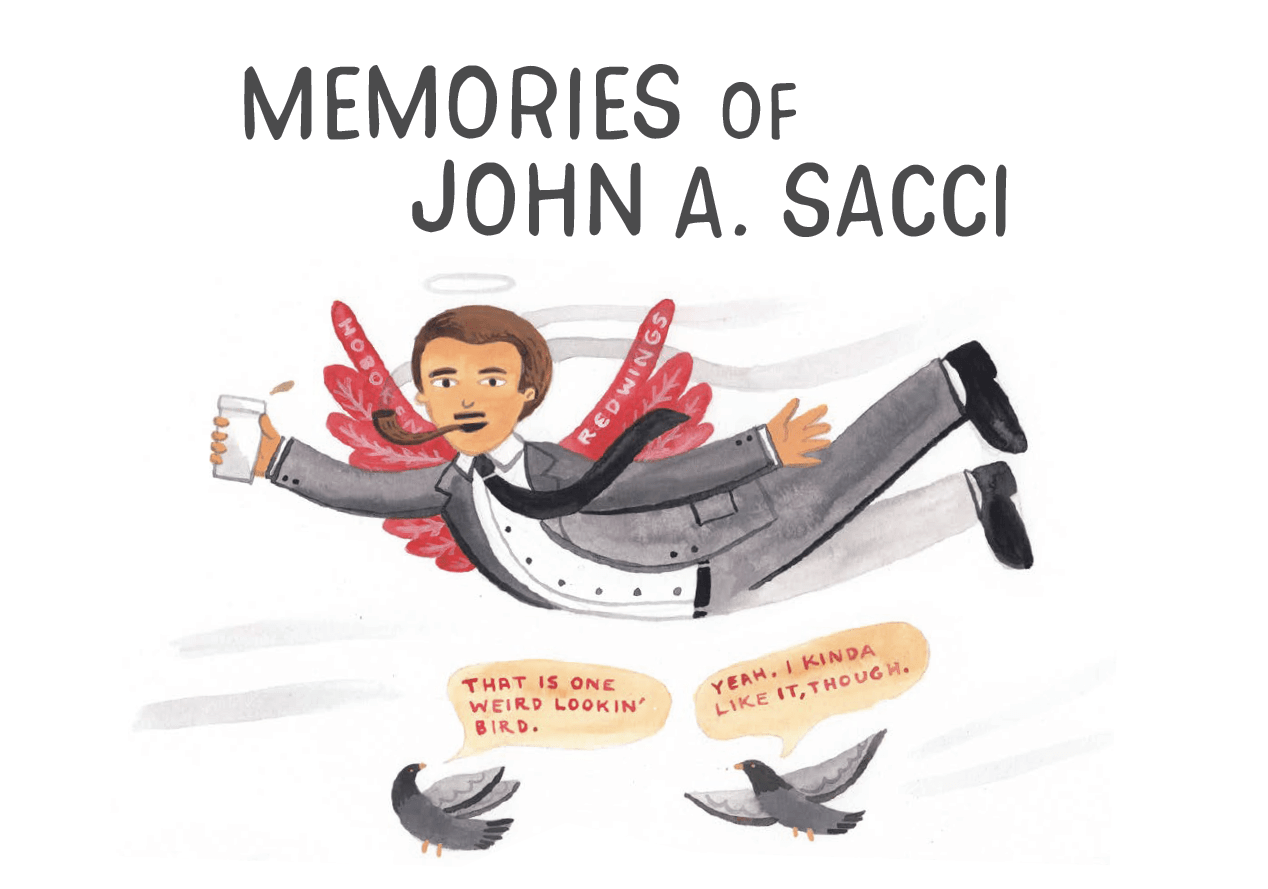 That was when Kristina first painted the Hold Your Fire bird. Encouraged by her husband, she printed her illustration onto a shirt using Bonfire, a platform that enables you to point your proceeds towards charitable and nonprofit organizations. Having now sold 900 shirts and raised $10,000 towards gun safety, Kristina donates all her proceeds to Everytown, a gun safety organization.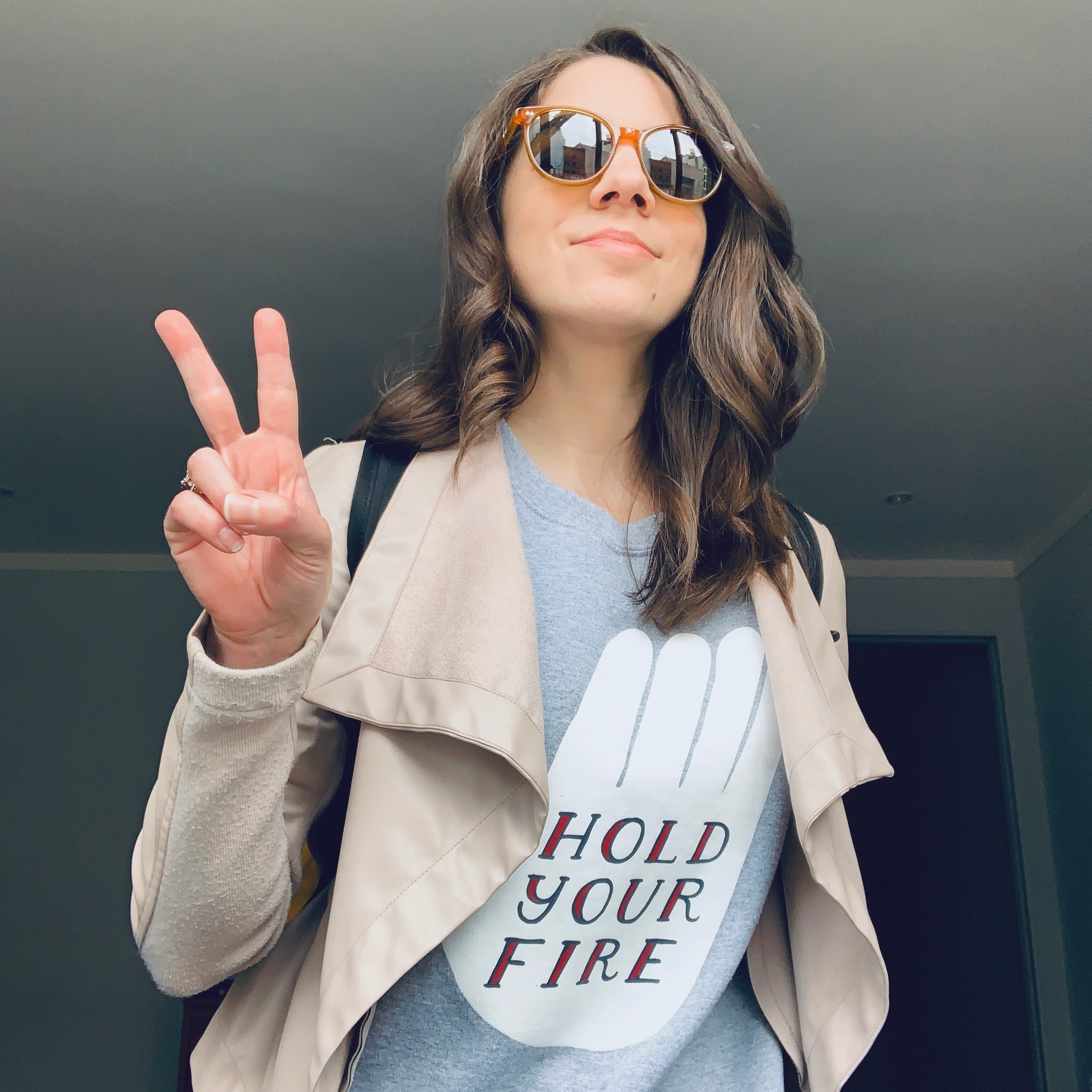 Despite the fear of going public with her family's story, Kristina says that the response has been overwhelmingly comforting. "I have a big network of family and friends and am pretty sure that every single human I've ever come in contact with has bought one [a shirt]," she tells High on Design. "Every time I promote Hold Your Fire, I try to keep the story light or even funny so that good feelings can be associated with the shirt and people feel encouraged to stay involved."
Although Hold Your Fire was "only ever meant to be a t-shirt" according to Kristina, a number of other supporting projects have emerged as a result. Other than reaching out to various networks, some of which have shared the story (check out the links on the footer of the website), Kristina has also since spoken at events, started a podcast and more.
Another mini campaign Kristina initiated was a Gunsense Holiday Gift Guide, whose aim was to "show consumers that they could put their dollars towards companies that supported safer gun laws." By sharing illustrated guides on which brands support gun safety and which don't (take note of the heartwarmingly unthreatening "naughty list"), she uses illustration as a tool to communicate serious and important ideas in a light, often comic, manner.
Despite the success and support that Kristina is so grateful for, she says that it hasn't all been sunshine and rainbows, having faced rejections and hateful messages. But she keeps pushing on. A sentence she heard by a city councilwoman who runs a chapter of Moms Demand Action in Hoboken, NJ, helps keep her motivated: "it's not a sprint – it's a marathon." And Kristina has many more plans for the future of Hold Your Fire, from partnering with gun sense organizations, to painting her design on the side of a building.
Kristina speaks of the rich history illustration has in activism, mentioning protest signs, t-shirts and ads for rallies or political parties. "Making activism-based illustrations feels like you're participating in a deep movement that connects to a lot of people," she says. "Personally speaking, my dad was a history teacher, so I like to think of my political work as also being a little bit of a connector with him and I."
She also finds that there's power in combining things that you love and feel strongly about. "I love drawing, and gun violence is a topic that runs so deeply with me. The combination of passions can produce effective illustrations – or at least that's my hope."
Throughout the whole project, Kristina manages to deal with the controversial topic of gun safety in a way that is widely accessible and neutral in its political views. Although treading this fine line has often been a challenge, as there have been points in her grief where she's felt angry at guns themselves, it's important for Kristina to keep it this way. She says, "I see the value in dialing back that anger in order to get to a place where I can participate in the conversation. If I was just angry and ranting all the time, no one would listen and I also wouldn't be open to solutions and other opinions." Additionally, by keeping her work on the "less confrontational side," Kristina hopes to also include the people who are more soft-spoken.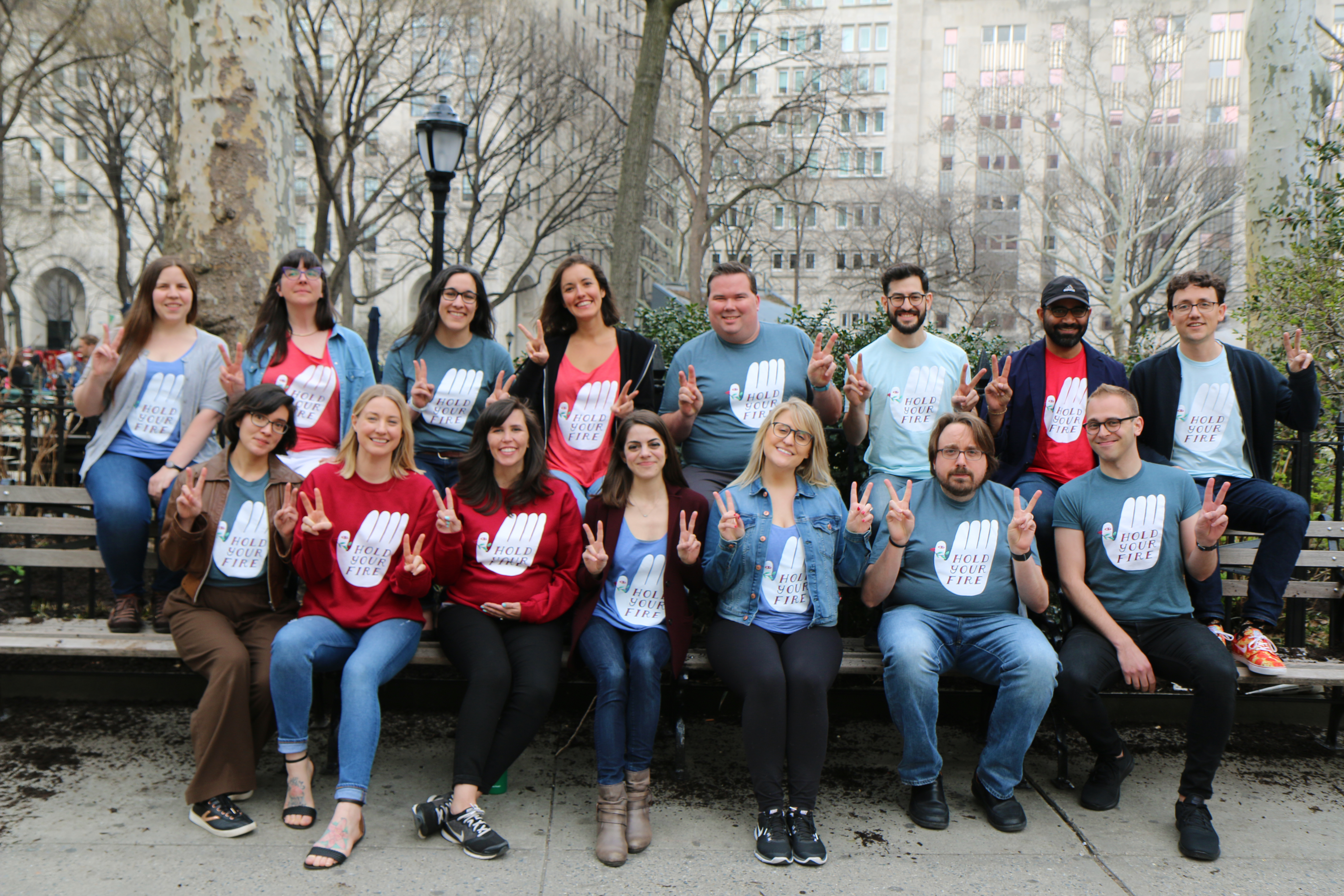 Influenced by other experienced activists, or even advice from her husband, who Kristina says helps keep her calm, Kristina claims that none of what she's accomplished was done alone. "Now that so many people have bought one [a shirt], I feel like I'm representing them. It's important to me to keep my composure and be careful with my words so that they stay proud to wear it," says Kristina. "I don't need to be right or be yelling all the time – I just want peace. I can't expect peace from others if I'm not putting it out there myself."
Kristina Filler took part in last year's Wix Design Playground, a web design workshop in NYC. See more of her designs and illustrations on her Wix portfolio.
Izzy Wheels: Celebrating wheelchairs and smashing stigmas 
"We believe that wheelchairs should be celebrated!" exclaims Ailbhe Keane. Together with her sister, Izzy Keane, the two run Izzy Wheels, a unique brand based in Ireland that creates custom wheel covers. "We are on a mission to smash stigmas associated with disabilities and show the world the positive impact wheelchairs have on people's lives," they tell High on Design. For them, wheelchairs are symbols of ability, rather than disability, as they give their users freedom and an increased quality of life. Slowly but surely, they're spreading this message through illustration.
Having been a wheelchair user all of her life, the device is a major part of Izzy's identity. "Izzy adores her wheelchair and she always has," says Ailbhe. However, it hasn't always been easy. "Disability fashion is a very overlooked area of design and growing up, she found that incredibly frustrating. Any accessories available for her wheelchair were very boring and clinical looking."
That experience is what first sparked the idea for the company. Starting out as a project during Ailbhe's final year at The National College of Art and Design, Izzy Wheels has since blossomed into a brand that helps wheelchair users express their individuality and personal style. Today, the two sisters work with renowned artists and illustrators to transform medical devices into works of art.
Growing their brand completely online, the sisters have always stuck to a very clear visual identity, made up of bright, playful colors. Coming from an art and design background, Ailbhe makes sure that everything they post has been carefully photographed and art directed, staying consistently on-brand. "How we showcase the products is hugely important, as it must do the designs justice." To do so, they team up with their favorite fashion photographers. And the results speak for themselves on their website and Instagram account.
As well as their spot-on product photography skills, they've also had success posting short videos in the past. "In 2017, a one minute video of Izzy Wheels went viral and got three million views in one day and 16 million views in one week," Ailbhe recalls. "Suddenly overnight people from all over the world knew who we were and wanted to buy our product. We had to scale up our company very quickly, but we have always stayed very true to our brand."
And it doesn't stop there. With a global community of wheelchair users, who Ailbhe and Izzy call Spokes People, the duo are creating a movement that goes far beyond colorful wheel covers. "When a user is wearing colorful Izzy Wheels, they are a conversation starter," explains Ailbhe. "They act as an icebreaker and address the wheelchair in a positive way. Izzy gets compliments on her wheels every day from strangers, so people engage with her in situations where they otherwise would not have."
Their Spokes People, who are at the center of their brand, have similar experiences. The sisters receive stories and photos from them every week, which they then share with their followers. "Seeing how they match their wheels to their outfits and hearing about their experiences of living with disabilities makes our job very meaningful," says Ailbhe.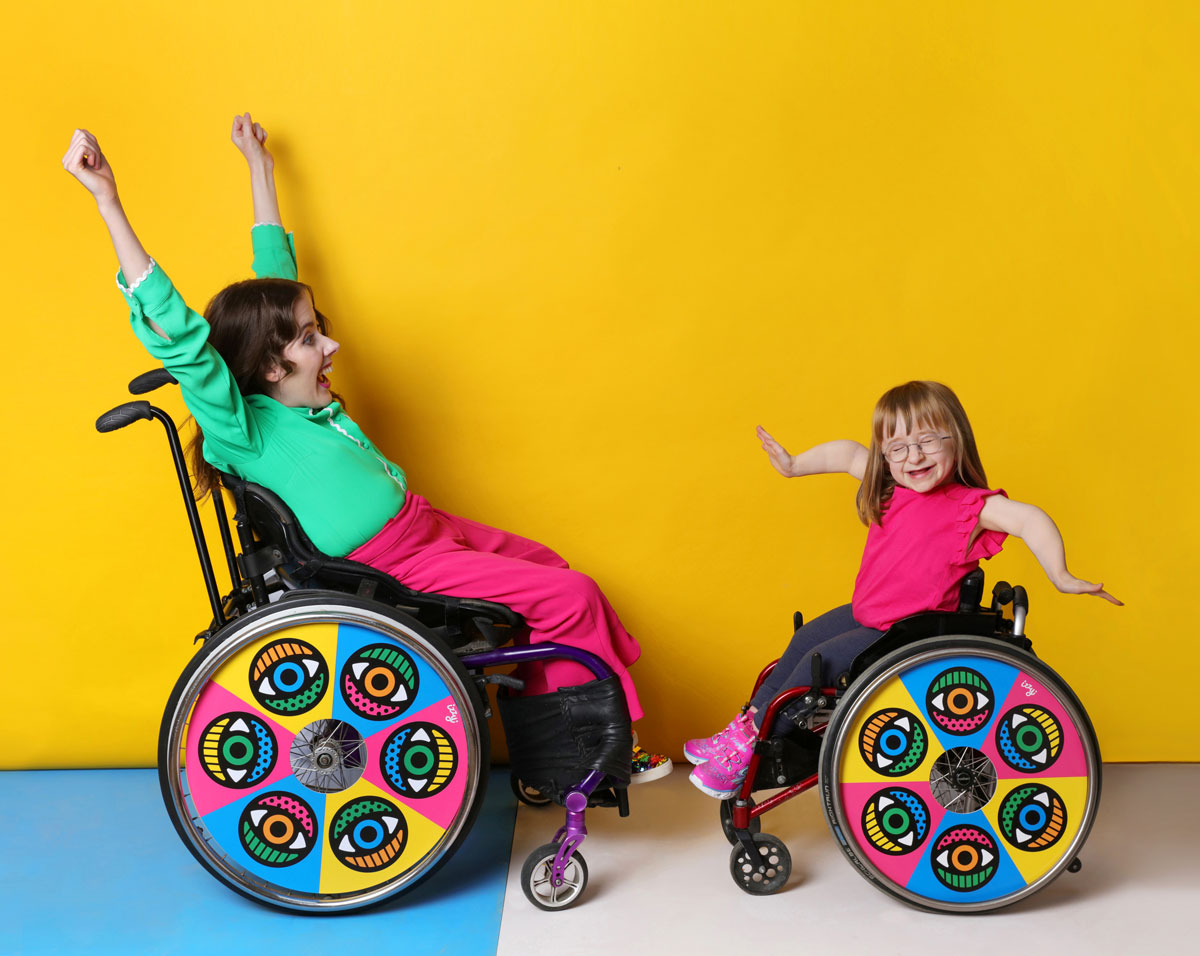 Other than their collection of wheel covers, Izzy Wheels are gradually expanding their beautifully bright and positive movement in a number of ways. Schools have started doing Izzy Wheels Workshops with their students to create wheel art inspired by their work. Also, the brand's story is being added to a number of school books in Ireland, with the aim of educating on inclusivity.
A highlight for them was designing wheels for a couple's wedding, in which both the bride and groom were wheelchair users. "We created white rose wheel covers to match the bride's wedding bouquet and matte navy blue wheels to compliment the groom's suit," says Ailbhe. "It was a huge honor to play a part in their big day and the photos looked great!"
Having also received messages from hundreds of people who've felt inspired by their brand to decorate their walking frames, canes, prosthetic limbs and other mobility equipment, the sisters have more plans for the future. They're working towards creating a complete fashion brand for people who use mobility aids. "Our plan is to add lots of other stylish and functional products where a user's needs have been carefully considered," Ailbhe tells High on Design. And we can't wait to see where their passion for spreading a positive message about wheelchairs, and their love for illustration, will take them next.
See Izzy Wheels' full collection of wheel covers on their Wix website.
You Might Like These too:
Get in Touch! Get in Touch!
Get in Touch! Get in Touch!
Get in Touch!