Let's skip the part where we discuss whether or not designers should learn to code. For all you courageous designers venturing into the world of code, here are our top 10 recommendations.
Text

Dana Meir

Images

SuperHi

Date

April 22, 2019

Est Read time

8 min
The age-old discussion on whether designers should learn to code or not has been explored from pretty much every angle possible. So let's just agree on the very general statement that "knowledge is power" and take it from there.
Whether you're looking to develop your skill set, tickle your brain cells, or are thinking of making a swift career change, we're here to set you in the right direction (and help you smugly break the stigma that designers are solely visual people). These courses will open the door to integrating code into your website, helping you take your web design to a whole other(worldly) level. Here's a handpicked selection of the 10 top online coding courses:
Codecademy
Udemy
Skillshare
SuperHi
Coursera
Khan Academy
Udacity
edX
Treehouse
Codewars
With 45 million students to date, Codecademy is one of the biggest and most popular online coding schools. They have a huge selection of classes, covering a wide range of topics: web development, programming, data science, partnerships and design. The courses also include many different languages, from the more common (like HTML, CSS and JavaScript), to others such as Ruby and SQL.
Not only are many of the courses free, but you can also pick the lessons that suit you according to certain parameters: subject, language, level and time taken to complete the program. There's something for practically any level, from a short tutorial for first-timers, to full-on 10 week programs for more in-depth learning. Another benefit of Codecademy is that there's a huge forum in which you can interact with other coders, get help and share (slash, show off) your fresh new knowledge.
With 30 million users, Udemy comes pretty close to Codecademy in its popularity. Although the platform doesn't center exclusively around teaching code, it does have a huge offering. There are over 100,000 online video courses on a variety of disciplines, from marketing, to design, coding, programming and more.
Seeing as anyone can become an instructor and upload their own tutorial, it's recommended to check out the rating and reviews on your chosen course before diving in head-first. When looking for the right program, you can narrow down the search by adding filters. This will help you find the one that's most relevant to you and your budget. Each comes with an organized checklist detailing what you'll learn, a general description and overview of the course, plus a few words on the target audience. Lastly, you can get your whole team involved with Udemy for Business that gives you additional benefits, such as unlimited access to thousands of courses.
Skillshare is a growing community of over four million students and almost 30,000 classes to pick from. As well as enjoying online learning, you can join other industry leaders and become a teacher yourself – and even earn money doing so.
Classes are split into premium and free, but there are many programming and coding lessons available for free. Built like a social network, Skillshare lets you 'follow' your favorite teachers and topics. You can easily see how many classes and followers each topic has, plus browse the instructors' personal profiles to read some background information on them. Rather than long courses that take multiple weeks to complete, these video-based classes are generally structured as short, individual tutorials, making for a dynamic learning experience. You can also download the app and learn on-the-go, making this a highly useful smartphone app for designers looking to enhance their skills.
If you're still feeling a little nervous about the prospect of learning code, this platform, made especially for creatives, may just be the one for you. Along with top notch UI that will almost make you forget that you're embarking on this scary adventure, SuperHi provides you with beginner and intermediate courses tailored to the needs of designers.
And it's not just about learning code – SuperHi also offers a short UX course for beginners, a Visual Design course and more. All their programs are design-focused and high quality, so you can be sure you're really learning something that will benefit you. You'll know exactly what to expect from each program, as they all come complete with a clearly defined and detailed syllabus.
You can pick either short courses, or ones that are up to eight weeks long. Languages covered are HTML, CSS, Javascript, React, PHP and Ruby. Additional benefits are one-on-one sessions with expert instructors and access to the help center, Slack group and Facebook group, where you can get help in real time.
Coursera doesn't specialize only in code, but rather offers courses on a large variety of subjects. Founded in 2012 by Stanford Computer Science professors Daphne Koller and Andrew Ng, Coursera provides you with very high quality, comprehensive guides. They're taught by instructors from a total of 120 different universities and educational institutions around the world, such as Yale, Princeton, University of London, Google Cloud and even the MoMA. You can take it a step further and utilize the platform to earn your Master's degree in data science, computer science or engineering – all online.
Finding the right course for you is easy, as you can browse through according to level, institution, skills and language. Most options are in English, but Coursera does also cover Spanish, Portuguese, Arabic and more, depending on the course. Each class comes complete with reviews, plus statistics that will give you an indication as to how many people started a new career after completing the program, and other interesting facts. Most courses are in-depth, taking up to six weeks to complete and are either free, or cost a maximum of $100. This platform is definitely worth a browse, even if just to get you inspired.
This nonprofit organization offers something for everyone, with a huge array of courses covering math, science, computing, arts, economics and more – translated into more than 36 different languages. One of the major benefits of Khan Academy is that all courses are completely free, as their mission is to provide a "free, world-class education for anyone, anywhere."
You can search for your coding class according to different categories: videos, articles, exercises and programs, to find the learning method that suits you. There's a range of levels on offer, whether you're a complete beginner or have some previous coding experience. With a personalized learning dashboard, practical exercises and the option to chat to other students, Khan Academy is a friendly environment in which you can enhance your knowledge. They also have Hour of Code resources for teachers and parents who are teaching kids to code.
Created with the goal of democratizing education, Udacity began when Stanford instructors Sebastian Thrun and Peter Norvig chose to share their "Introduction to Artificial Intelligence" course with the world for free, online. Thanks to its massive success, they've continued to develop this platform for lifelong learners, aiming to give people the chance to learn some of the most desired skills and professions at an affordable price.
They offer many robust in-depth courses that are completely free, plus the option of 'Nanodegrees', whose prices start at $200. These give you a solid foundation in a specific field, such as programming, and you'll gain an industry-valued credential. The programs help you build an impressive job-ready portfolio. Not only will you get your own personal mentor, you can also expect the very best, as courses are built in collaboration with Google and other leading high tech companies. With excellent UX design, this user-friendly platform makes it simple to get started and find what you're looking for.
Founded by Harvard University and MIT in 2012, edX is a nonprofit, open-source platform that invites educators to share their own tools and courses with students around the globe. It's an exhaustive platform, full of high-quality courses, degrees and certificates. Like Coursera, edX also partners with many of the world's leading universities, nonprofit organizations and institutions to provide users with the best possible education.
Most coding programs are completely free, and give you the option to upgrade to receive additional benefits, such as a Verified Certificate. The courses start on specific dates, so it's worth having a browse beforehand to make sure you find the right program on time. They vary in length, from three weeks to around 16. There's an exciting range of topics to study, such as NYU's Creative Coding, UCSanDiego's method for teaching coding through playing Minecraft and more.
Centered around teaching code in an ethical, inclusive environment, Treehouse offers hundreds of programs created by expert teachers. Their approach is fun and informative, using video tutorials, quizzes and interactive code challenges to teach a wide range of languages, from Objective-C, to Swift, Python and more. You can collect badges as you learn and complete certain levels, indicating which skills you've gained.
Start off with a free trial, and take it from there, picking either the $25 per month plan, or the pro plan that costs $49. There's also an active community, so you can be in touch with other coders-in-the-making, post any questions and help your peers. In addition, Treehouse provides 'Workspaces' – an online code editor and development environment, enabling you to practice your new abilities within the browser.
The concept of this platform is a little different than the others. It's less about formal teaching, and more about learning from your peers. It offers a unique and interactive way to learn code online and sharpen your skills. It's a great option for anyone who's into video games and a touch of competitiveness, but note that you do need to have some basic knowledge beforehand in order to participate.
Codewars is made up of a collective of coders who create and share "kata" (a.k.a "training exercises" in martial arts lingo). Through these exercises, members of the community can learn various techniques, and give and receive feedback to and from one another. There's a wide range of coding languages you can choose to "battle" in, from Clojure, to Elixir, Shell, Python and more.
Ready to implement what you've learned? Use Corvid by Wix to incorporate code into your Wix website and take it to the next level.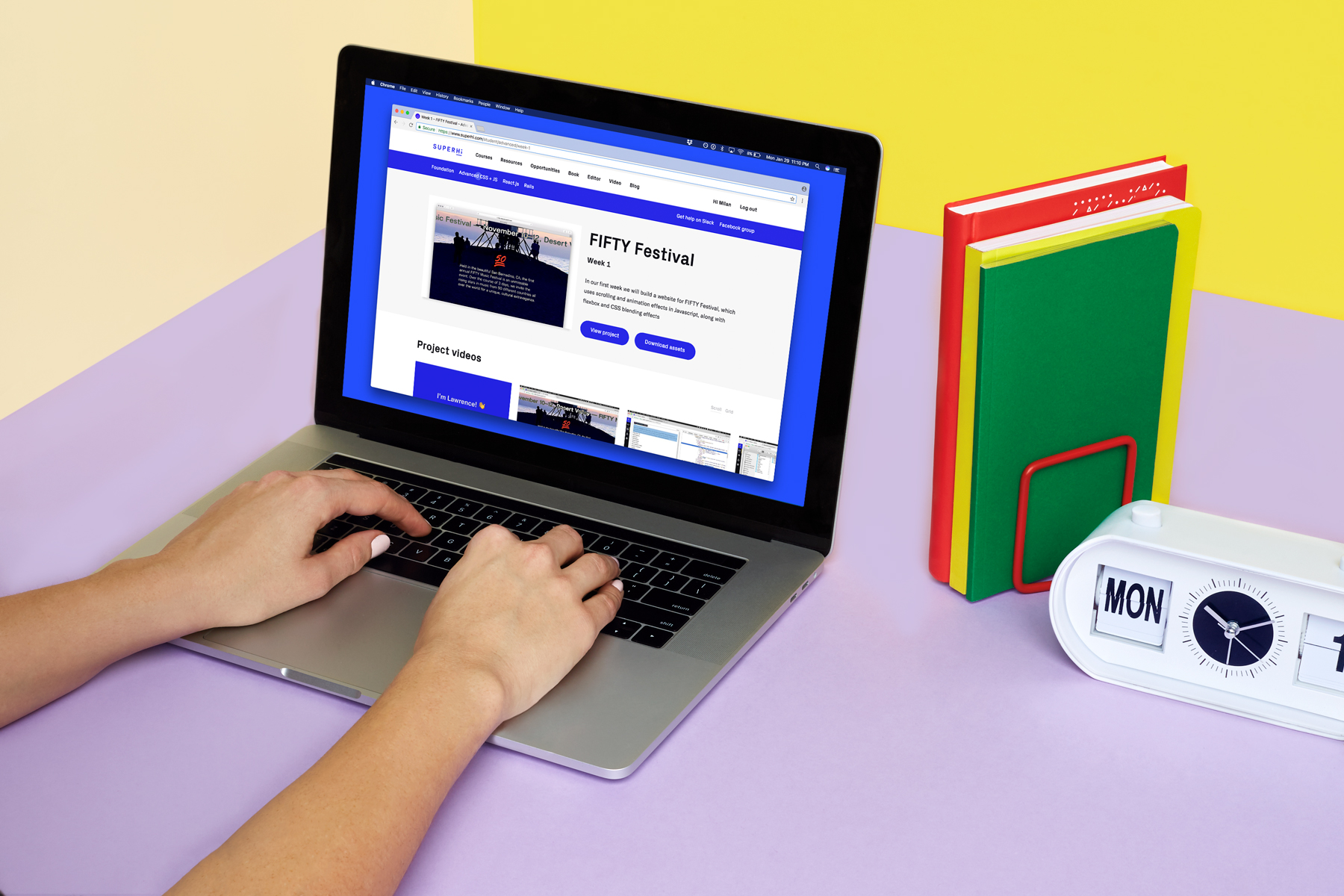 You Might Like These too:
Get in Touch! Get in Touch!
Get in Touch! Get in Touch!
Get in Touch!