Merging the most precise and harmonious color palettes and lines, with delightful characters and playful narratives, Rick Berkelmans' illustrations are truly uplifting. We met up with him to discover more.
Text

The High on Design Team

Images

Hedof

Date

November 7, 2018

Est Read time

11 min

Illustration author

Hedof
Having worked with leading brands, such as Nike and Samsung, created 3D installations for a growing number of Chinese malls and much, much more, Rick Berkelmans (a.k.a. Hedof) puts his success down to four things: hard work, luck, self-knowledge and breaking boundaries. And if you ask us, talent also has a teeny tiny part to play. For Rick Berkelmans, the Dutch illustrator behind the one-man creative studio, Hedof, his interest in illustration can be rooted back to his '90s childhood skateboarding days. The way he sees it, skateboarding is about interacting with the environment and being creative within the limited resources of the public space, similarly to graffiti artists. This attitude, together with DIY culture, inspired Rick's way of working. "As an illustrator, I think you do the same thing," he explains. "You have a problem and you respond – often in a public space."
We had the pleasure to meet with Rick Berkelmans for an honest, down-to-earth chat about everything from the major turning points of his career, to how he's shaped his style over the years, his thoughts on his new online portfolio, created with Wix, and more.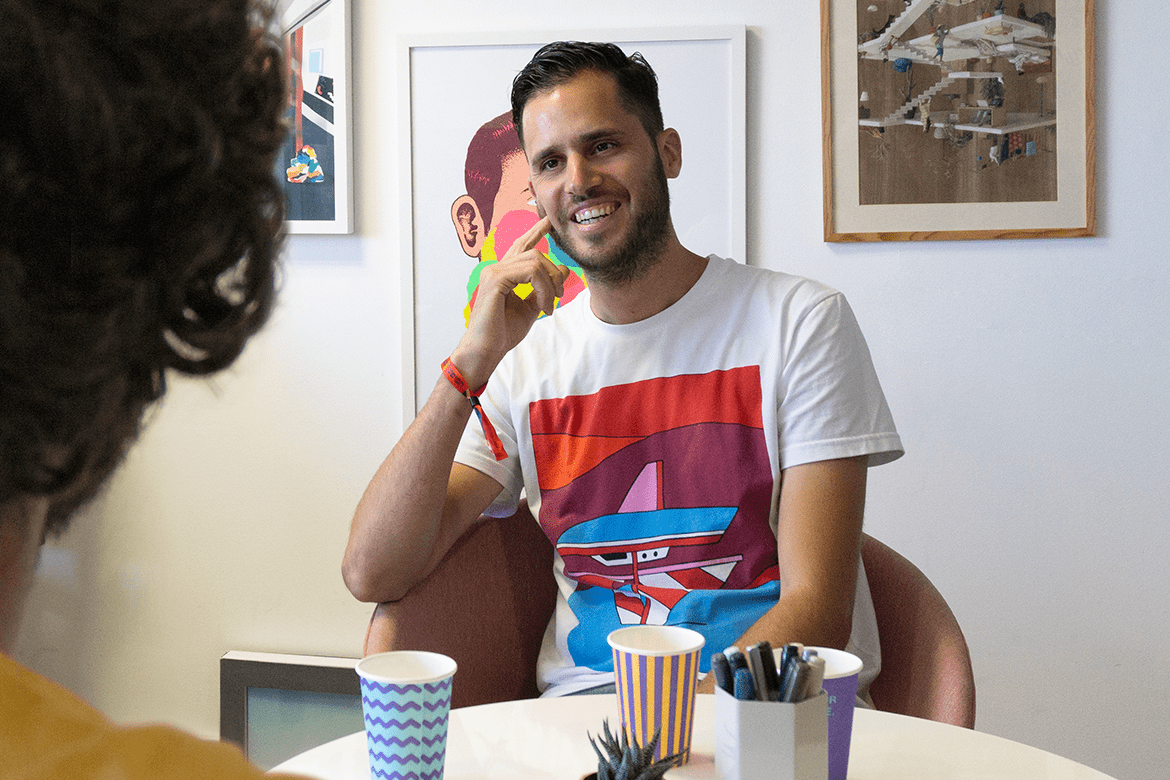 High on Design: You probably get many job offers from all over the world. How do you choose your projects?
Hedof: There are three things that are important: is it fun to work on the project? Can I include it in my portfolio? And does it pay well? For me, the most important thing is whether the project makes me happy. I also think about whether it's interesting enough to showcase in my portfolio. Sometimes there are cool projects, but they're hard to document or take cool pictures of. If I can't have a proper case study of the project, it won't really help me in the future. Something else I take into account is the company itself – I want to stay away from working for companies that are unethical or highly damaging to the environment. Now, I'm finally in a position that I can say no to those companies.
HoD: Could you tell us a bit about how your personal work eventually led to commissioned projects, when you first started out?
Hedof: I began with only personal projects, just doing what I love. People responded really well and wanted something similar, in terms of the aesthetics, energy and vibe. At first, I illustrated for lots of flyers and t-shirts, and that got the ball rolling. I always try to keep my distinct, recognizable style, no matter what kind of project I'm working on. However, some clients require me to work in a slightly different way. In those cases, I often don't end up putting the projects on my portfolio or social channels.
HoD: Many artists have struggles and doubts during their work process. Do you experience that too?
Hedof: I often get jealous when I scroll through social media feeds and see talented illustrators' amazing works. But on the other hand, it gives me motivation to get better. During my first couple of years working as an illustrator, I couldn't sleep because of projects. I remember being asked to do an illustration for a magazine and although it wasn't a big or important project, I was freaking out and had no idea what to make. Today, I'm not so insecure about my creative process. When I worked with Nike, I had to complete the project within a day. I was a lot more chilled by then. I just woke up at 4am and worked like crazy (because I'd also promised my girlfriend to take her and the kids to the beach), and I got the job done.
Hedof: These days, I have the belief that things will eventually all work out. Also, if you ever find yourself needing more time, sometimes clients are forgiving and happy to give you some extra time. Just try to do the best you can and keep drawing – don't settle for the first or second illustration. If you know you can do better, just trace it again and do your best within the limitations you face, such as time and your client's requests.
HoD: Your work involves a beautiful and unique combination of colors. How do you choose your color palettes?
Hedof: My color choices are based on screen printing, which is all about layering colors one on top of another. This technique gives you limitations, because in screen printing, every additional layer makes the design harder to print and is also more expensive. There are certain colors that are really nice to work with, such as yellow, as it really affects the other colors surrounding it. Although I now work less with printmaking, I still apply the same way of thinking. I choose two or three strong colors and then create little families of colors around them. For example, if you go for yellow and purple, their child could be orange, and then you can explore what else goes well with that combination.
Hedof: When I used to do graffiti, I made really big pieces along the train tracks. I used to think how my work could stand out from the others. I worked with really vivid colors, and avoided using too many, as this can lead to a messy or blurred design.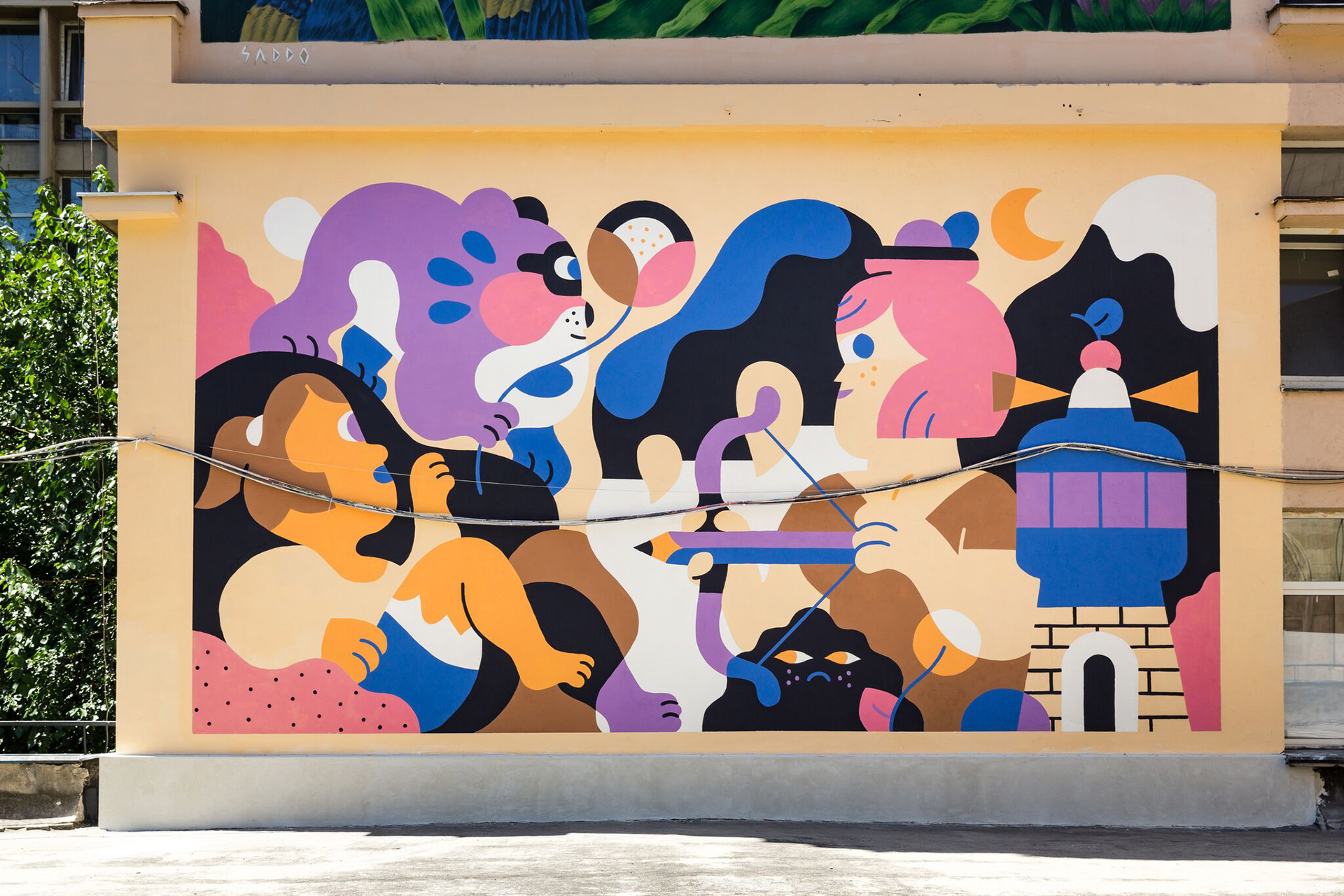 HoD: Do you get your inspiration from any of the art masters of the past?
Hedof: Yes, definitely. In terms of styling and aesthetics, I love Heinz Edelmann that created the design for the Beatles' Yellow Submarine, Charley Harper and Alexander Girard. I also draw inspiration from different sources that don't look like my work at all. I flip through art books to see classical paintings, ideas and compositions, as well as books from my mom's house or even H&M catalogs. Sometimes, you can spot someone in a specific pose that strikes you. I'm also inspired by Asian mythology, weird painted vases, skateboard graphics, cartoons from the '60s and '70s, the Americana aesthetic and my toy collection. I often pick out elements from things that I see, and draw random shapes in my notebook, turning them into characters. If I'm unhappy with the results, I try to keep going, flipping the page upside down, re-tracing and improving.
HoD: What is the difference between drawing by hand and drawing directly on the computer?
Hedof: I always draw by hand first, then scan it in and trace it on the computer. If I then have to add a certain element, I'll always draw it on paper first, then quickly transfer it to the computer with my phone. Often, when drawing directly on the computer, the work can lose the natural flow of your hand sketches, and can end up looking very different or soulless.
HoD: What was the major turning point in your career, or the big milestones along the way?
Hedof: I've had a lot of cool projects, like the mural for Greenpeace or the New York Times illustration. But I think the major turning point, career-wise, was the illustrative identity I created for Green Man music festival in Wales, in 2015. I created a main key visual, plus ten more for each stage. The moment I finished the illustration for the kid's area of the festival, my girlfriend went into labour and my son was born. I got a lot of other festival or similar job offers from that. The second major game-changer for me was the shopping malls. I'm now creating illustrations for a number of malls across China and Korea, as well as getting my work translated into real 3D models and installations inside the malls. 
HoD: How do you feel about your illustrations being translated into 3D objects, for example in your project with Lotte World Mall in Seoul, or in the LCX mall in Hong Kong?
Hedof: As someone who's a toy collector and likes character design, it was a dream come true to see my illustrations come to life in that way. For the Lotte World Mall project, I just made the key visuals and they took it from there, turning them into 3D objects. They did everything in-house within a couple of months of me sending the materials – it was amazing. With the mall in Hong Kong, I was more involved in the process. It was quite a challenge, as I'm not good at drawing faces from the front or in 3D (which is why I always draw my characters in profile). One day, I'd like to learn to use Cinema 4D so that I'll be able to transform my illustrations into objects myself. The final result was a bit like a playground, with kids walking around, climbing trees and sitting inside a massive noodle bowl I designed.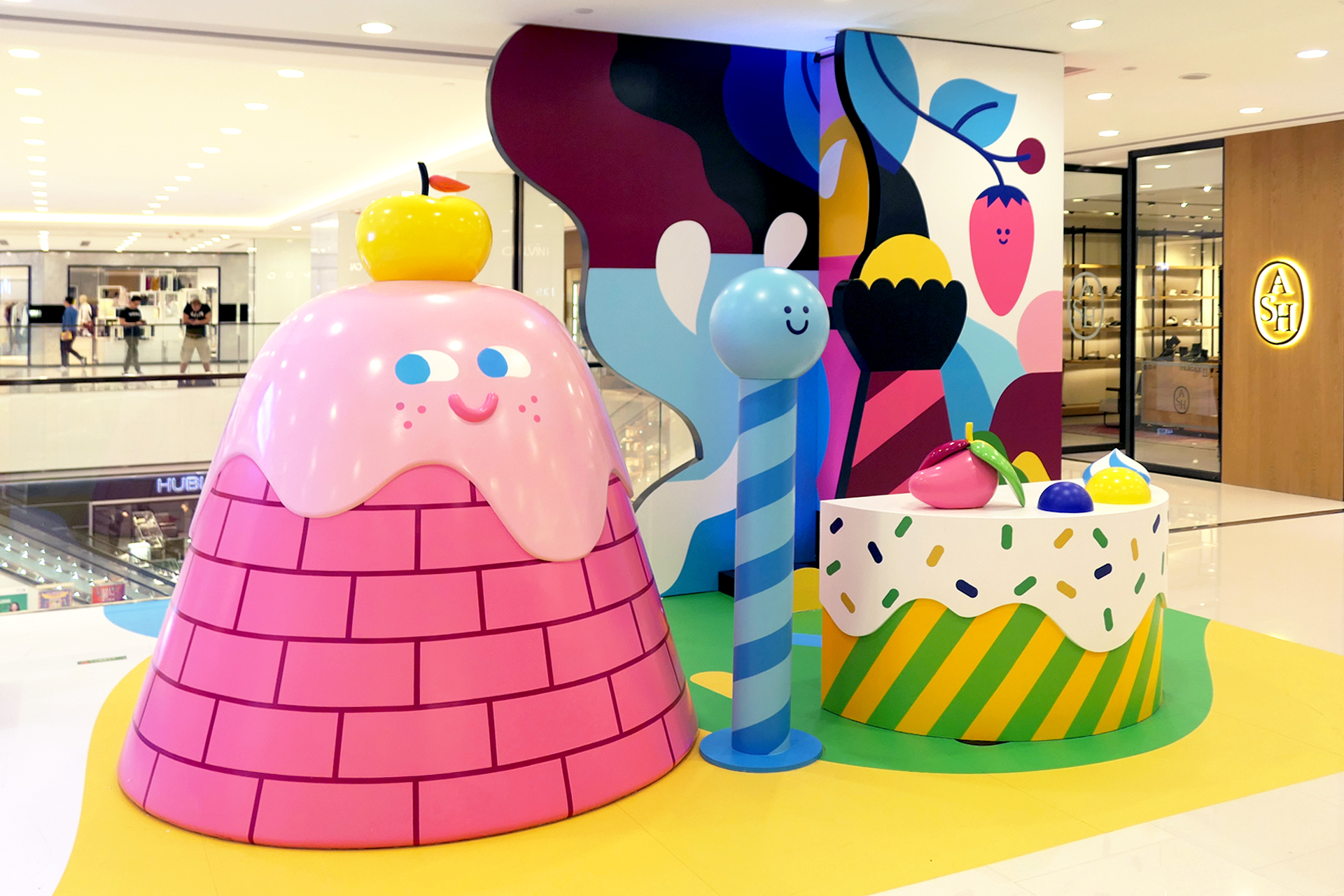 HoD: There are many illustrators with huge talent, but only a few get worldwide recognition. What do you think separates them from the rest?
Hedof: I think that at art school, a lot of focus is put on technique and drawing, but you don't learn about the business part. It should be 60% creating and 40% strategy – including learning how to promote yourself and how to create an online design portfolio. Those who understand the business side of things might not necessarily be the best at drawing, but will probably be the most successful. I want people to discover this and open their eyes, as it's a huge part of the job. I try to educate myself on business, through reading books and magazines, and listening to podcasts for designers, such as Creative Pep Talk – it's an amazing podcast, full of inspirational tips.
HoD: Social media is a major tool for artists today in terms of market presence and spreading their work. What role does social media play for you?
Hedof: Social media is about 90% selfies and food porn, but there are lots of niches within that. For creatives, if you follow someone, it's because you want something from them – to be entertained, inspired or simply to look cool. Like Andy J. Miller from Creative Pep Talk said, you have to provide a product or service to ensure your followers keep following you. It's not about just showing how awesome you are, but rather showing people what you're working on, what keeps you motivated, what inspires you. That's why I try to provide interesting content, posting pictures of my work in progress, my desk, and my toy collection alongside my final pieces.
Many of my projects have come through Instagram in the past. The work I did for Nike, for example, initiated when I posted a picture of my Air Max collection and someone from Nike reached out. Behance and Dribbble are also great professional platforms, but for me, Instagram really took off. My main Instagram tips are to try to be strategic: check which times work best for posting, vary your feed, don't post too much and also not too little. Out of all the followers, there's normally one or two percent that can be relevant to your business and can help you somehow.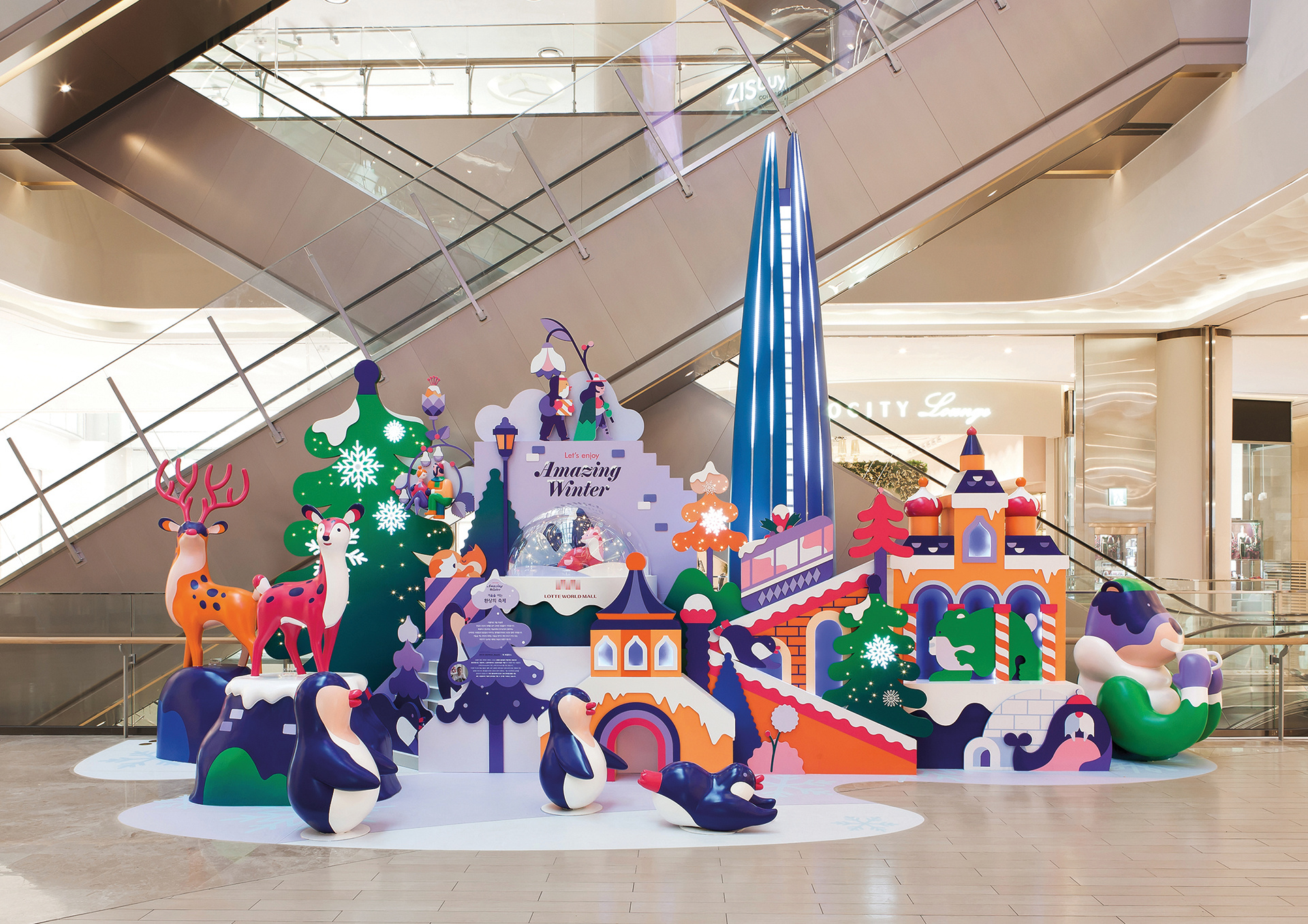 HoD: What's the best decision you've ever made?
Hedof: I think that so much of my life stemmed from skateboarding – I met my girlfriend and all my good friends through it, and I also started doing graffiti through skateboarding. I skateboarded every day from the ages of 12 to 20, I was really serious about it. I remember seeing an image of a skateboard for the first time, as a child. It was such a strong image for me and I decided to start saving to buy one. Back then, nobody skateboarded, so as soon as I got one, I went out skateboarding on my own in my village, Breda. I discovered another guy in my area that skateboarded and gradually, I was introduced to that culture. There's a great new film by Jonah Hill, called Mid90s, about a kid growing up and discovering skateboarding in the '90s. It feels like he basically just filmed my life.
HoD: How do you like to spend your free time?
Hedof: Back in the day, I used to be quite a well-known graffiti writer and my goal was to be a big illustrator, too. I try to excel in things, and I learned that the more dedicated you are, the more you get back. I love drawing in my spare time. Although it's also what I do for a living, for me, it's relaxing. I even when draw when I'm on holiday.
HoD: What's the best part of your job?
Hedof: I love the diversity, as I work on so many different types of projects simultaneously. I do screen printing, murals, travel, speak at conferences. I also often work while traveling, like the towel I illustrated for Corona while on a flight from Amsterdam to Hong Kong.
HoD: What's your favorite project?
Hedof: I loved working with Bielke Yang Studio on the identity for Helseutvalget, an independent foundation that promotes better sexual health in the LGBTQ+ community. The collaboration with the foundation was really fun, and I got to try out lots of new things and draw interesting scenes. I ended up illustrating for their leaflets, posters and even condom wrappers.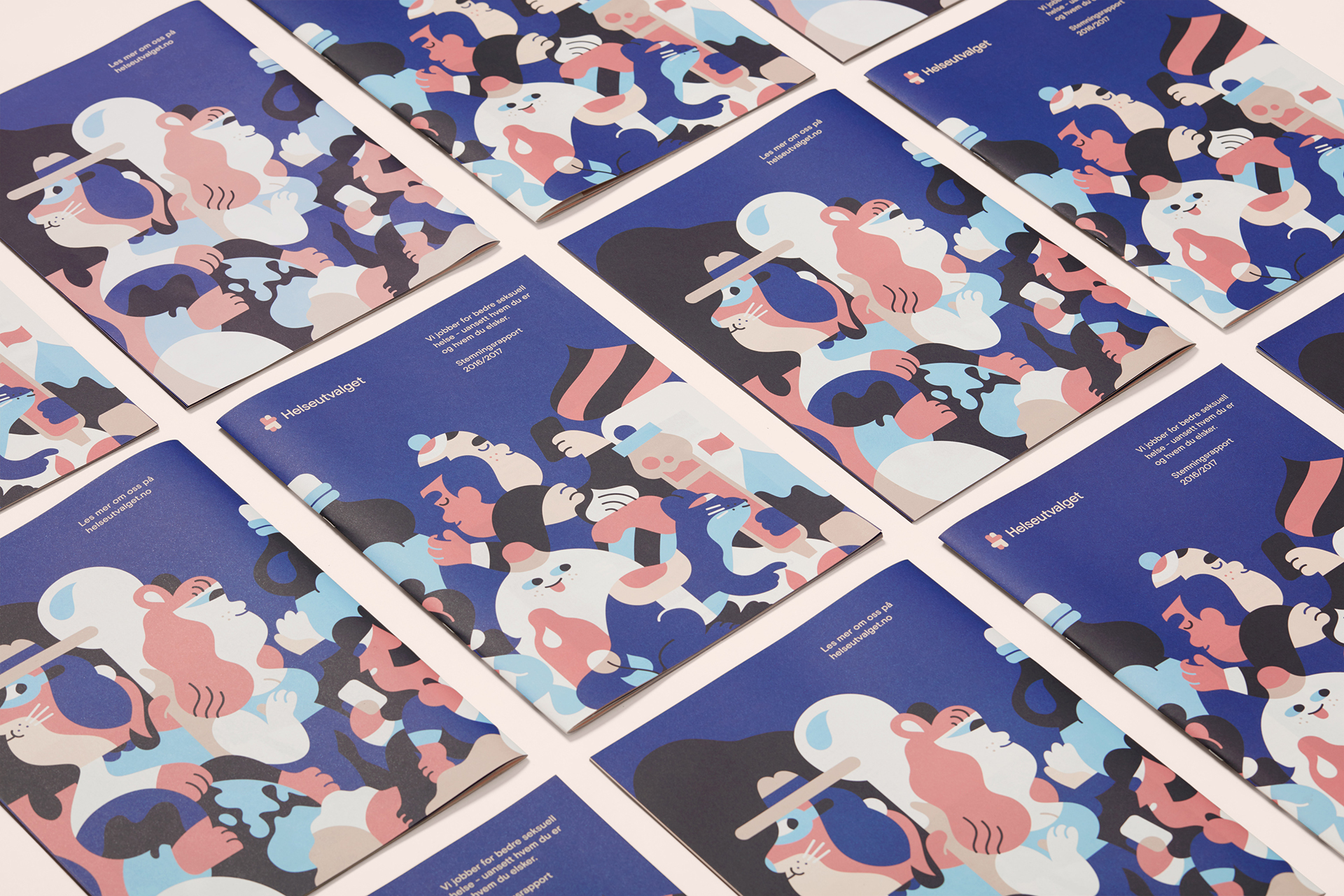 HoD: You recently created a new website with Wix. Do you have any tips for creating an online portfolio?
Hedof: The two most important things are to put an emphasis on your clients and to only put out your best work, and the kind of work you'd want to do in the future. When creating my website, instead of simply uploading pictures of my illustrations, I geared it towards client work, showing how the illustrations can be used in products. For a professional touch, I added some quotes from clients. Clear and simple navigation is also important. As I put a lot of effort into my Instagram account, I incorporated it into my site.
HoD: How does your art reflect your personality?
Hedof: I used to be really shy, but now I'm happy wearing pink t-shirts and yellow socks. My work really expresses my personality and I feel that it's an extension of me. It's positive, colorful and youthful. I think it also has a touch of humor in it.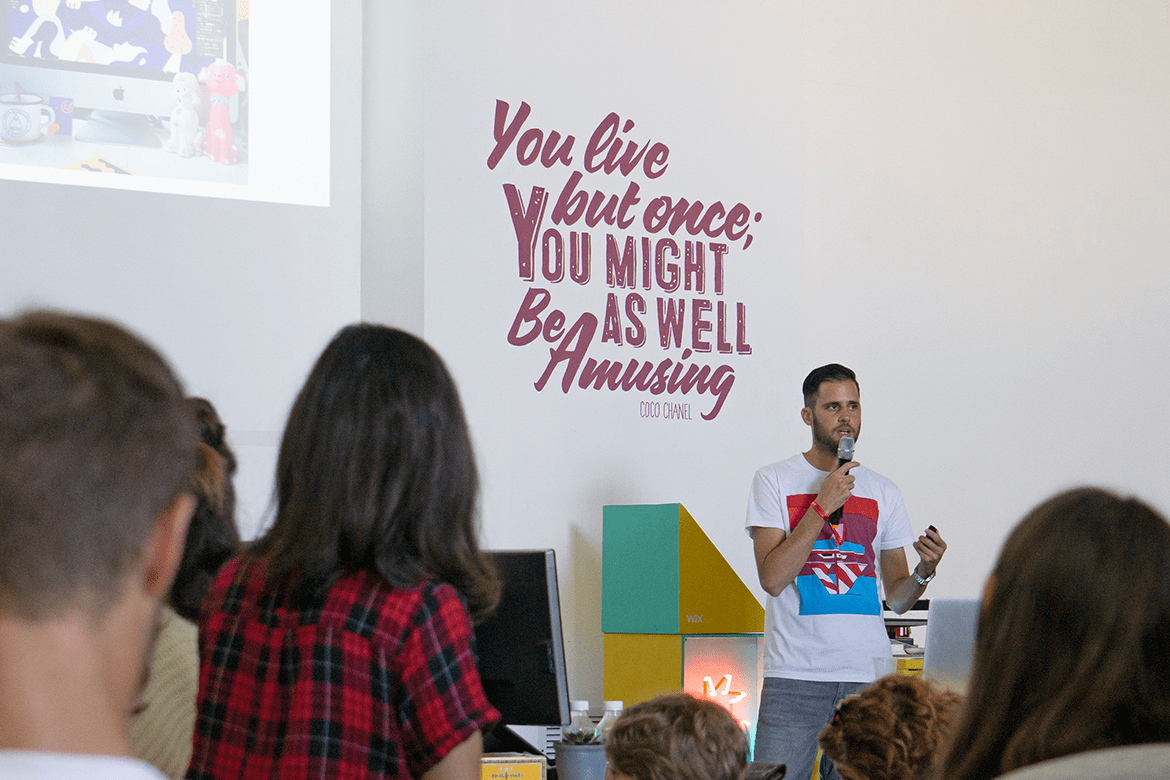 HoD: If you were a hashtag, what would you be?
Hedof: I think I would go for #professionalkid, because even though I work about 80 hours a week, I really love what I'm doing and in a way, it just feels like playing. I feel so lucky and happy to be in this position, doing what I enjoy every day, with people reaching out to me to ask if I can create something cool for their business or brand. I know that there's more to it and it does also require a lot of hard work, but I have so much fun that it really just comes naturally.
You Might Like These too:
Get in Touch! Get in Touch!
Get in Touch! Get in Touch!
Get in Touch!