Technological advances are opening the door to truly innovative food design. Here's what else we can expect in our future dining experiences.
Text

Dana Meir

Date

October 18, 2018

Est Read time

8 min
Eating is an act older than mankind itself. Without food, we cannot survive. Despite all our differences and disparities, this fact is something that connects between us. Most of us eat three times a day, at least, not to mention those little pre-bedtime snacks we indulge in from time to time. The culture and routine around food have evolved dramatically over the years, from our hunter-gatherer days, to our current purchaser-uploader-sharer days.
Just like other aspects of our daily lives, the way in which we eat is constantly changing. Although it varies throughout the world, from the use of our bare hands, to chopsticks, forks, or any other kind of utensil, advances in technology are slowly infiltrating into our eating habits. Since the first edible ice cream cone (invented by Agnes Marshall just over a hundred years ago), to the shrimp cocktail phase of the '80s and smart fridges that are now being introduced into the home, we've come a long way. These days, designers, chefs and tech experts are joining forces to create innovative culinary experiences that are revolutionary in terms of their appearances, tastes and unique uses of technology. These exciting developments are opening up new trends in tech and food, as well as paving the way we'll eat in the future. Here's a look into just a few of these cutting-edge food designs and the creative minds behind them:
3D printers in the food industry
Remember how thrilling it used to be to be able to print at home… in color?! Alas, those days are long gone and color printing has lost its charm. Instead, an increasing number of people now have 3D printers in the comfort of their own homes. This little gadget, not so new anymore, is being used for a wide range of purposes, and is naturally now reaching its way into the food industry. Using the magic of a 3D printer to produce molds, food designers are able to reach intricate shapes that could never have been achieved in the printer-less days of the past. It also allows people to create small-scale series of plastic cooking tools, or even one-offs at home, instead of having to work on a large-scale with other industrial techniques, such as injection molding.
Geometric chocolate delights
Design and digital agency Universal Favourite have produced Complements – a series of beautiful artisan chocolates that look nothing like any chocolates we've seen before. Starting out as a gift for their clients, the collection has since taken on a life of its own. These edible gems are created using a unique balance of low and high tech – they're handmade, while using 3D printers to create the molds that the chocolate is cast into. The staircase shaped pieces are modular, so you can play around with them, pairing two together to form striking bite-sized cubes that are a treat for your eyes, taste buds and Instagram feeds.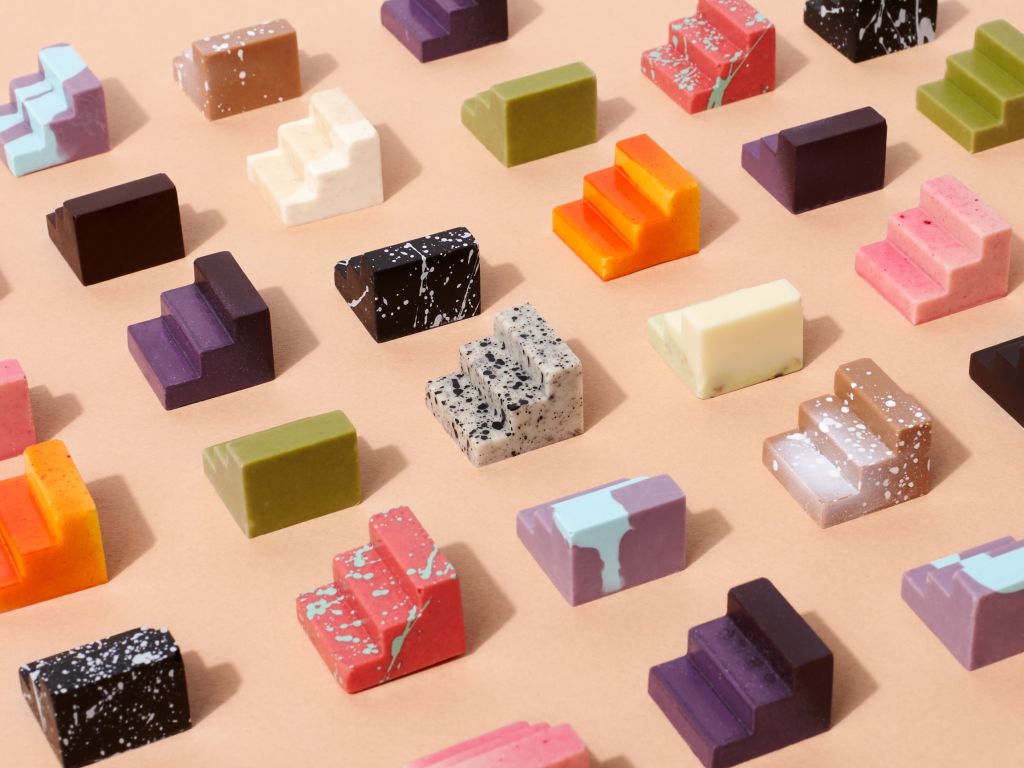 Creating "Instagrammable" designs
Although culinary experts have always strived to make their food beautiful, the constant documentation and social sharing of today has opened up a new kind of aesthetics in food design. We've been snapping pics of our food and posting them to the 'gram for years. We've now reached an era in which designers are required to come up with "Instagrammable" products, whether that be a pretty interior that people will want to be photographed next to, or state-of-the-art food design. New technologies, such as 3D printing, have opened up new possibilities, enabling the same thinking used to design any chair, poster or office interior to also be applied to food. Universal Favourite's chocolates highlight this change in our attitudes towards food design. Although they are officially desserts, we'd be more than happy to have any of their pieces displayed on a shelf as a piece of art, or rotating as a 3D image on our websites.
From architecture to pastry art
The uses of 3D printed molds for sweet delights don't stop there. Ukrainian pastry chef, Dinara Kasko, takes it to a whole other level. Having studied architecture, Dinara began baking as a hobby, but it gradually turned into a passion, as she combined her design knowledge and work processes with patisserie. The result of this unique combination is a growing collection of exquisite desserts, created with impeccable attention to detail and aesthetics. Although she now works with flour, sugar and cream, as opposed to glass and concrete, her designs are reminiscent of architectural structures. They're balanced compositions, made up of layers, textures and geometric forms. The cakes' interiors often hold surprising bursts of color and flavor, whereas the exteriors are perfectly clean, executed with the same precision used in architectural sketches.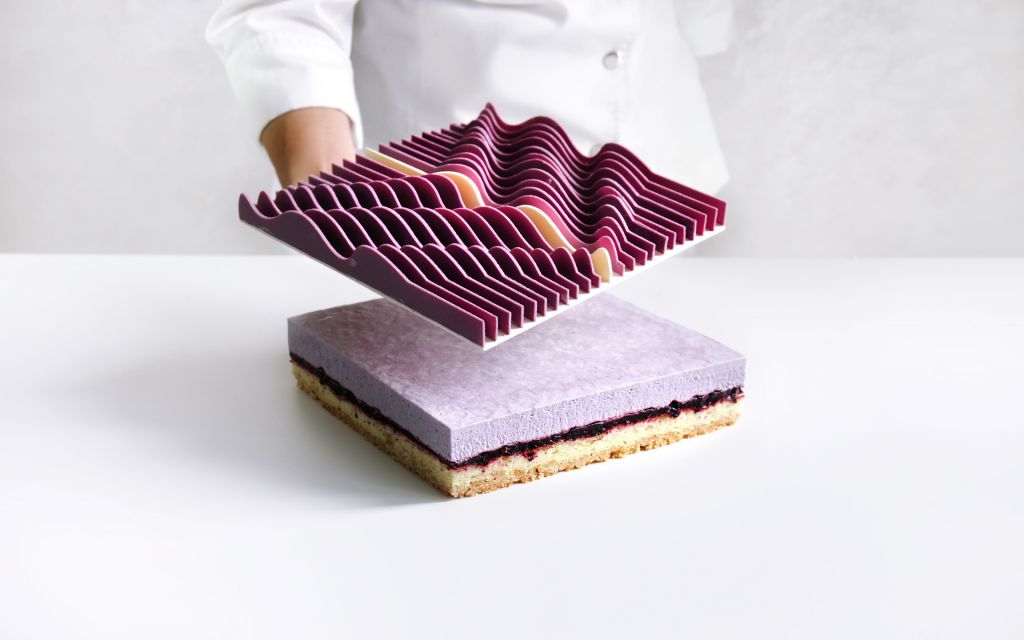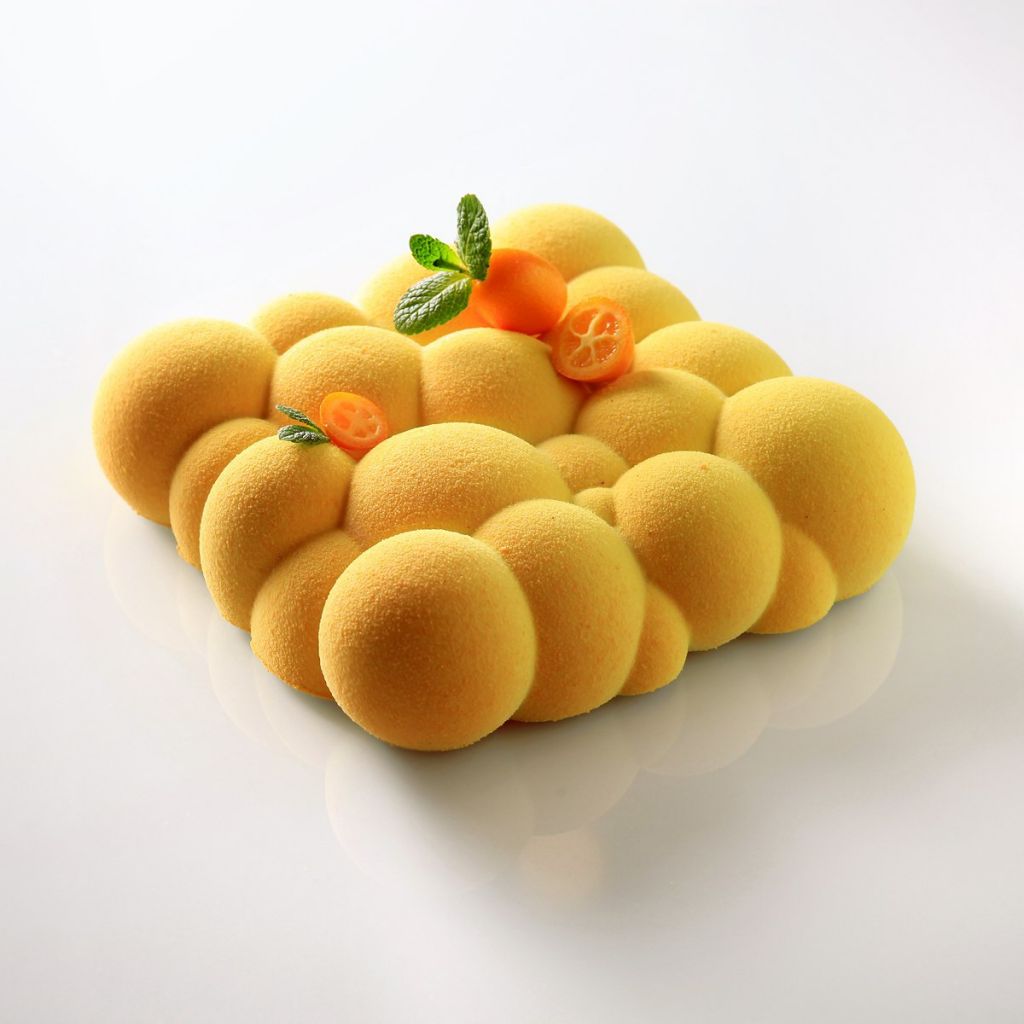 These designs would not have been possible without current day software. Dinara creates silicone molds using 3D printing, as well as incorporating CNC milling machines and laser cutting equipment into her production process, as they help form precise plastic shapes at high speed. After making the initial plastic molds, she then transforms them into edible treats, constructed of mousse, icing and other fillings and layers. The 3D modelling software used to design each element also manifests in their techy visual language. "It's very important to experiment, as it leads to interesting breakthroughs," says Dinara. "When we create something new, we stimulate others to come up with new inventions – and I'm happy about that." Dinara believes that sometimes, in order to break the boundaries and create something truly phenomenal, we need to risk making mistakes.
3D printed food straight to your plate
As well as using technology to reach uniquely shaped molds that food is then cast into, there's now a fairly new player on the scene: 3D food printers, that print out the actual food. Dutch company, byFlow, have developed 'Focus', a 3D food printer. It's a simple-to-use compact device that enables you to create truly original, personal food designs. This technology makes it possible to create dishes in shapes that cannot be achieved by hand or by a mold. It allows you to "experiment with new textures and unique designs, but also to easily make personalized dishes – for instance in the shape of a logo, the favorite cartoon character of a child, or even a person's face," byFlow tell High on Design. They've developed software that transfers the pictures, graphics or hand-drawings into a file suitable for 3D food printing. Food personalization is a beneficial tool for professionals in the industry that are looking to create something truly special and exclusive.
Like many 3D printers, it releases the material (in this case marzipan, icing, goat's cheese or any other edible item) through a nozzle, while moving on an X, Y and Z-axis, gradually building up the object by adding layer over layer of the material.
Where could 3D food printers take us in the future?
As well as giving us the opportunity to experiment and customize dishes, 3D food printers have additional benefits. Other than striving to eat healthier, ongoing research now shows how personalizing our diets according to our DNA could be the way forward. byFlow explain that 3D food printers can be used as one of the solutions for easily producing personalized dishes on the spot, based on our DNA and daily needs. In addition, the Focus printer uses up every part of the vegetable, helping its users fight food waste. This means that even vegetables that aren't the most appealing and wouldn't make the cut in a fancy restaurant, can be blended and 3D printed into a creative dish. This is one of the reasons byFlow believe that their product won't be used so much in homes, but rather view "the future of 3D food printers mainly as industrial devices, used and applied on a mass scale in production processes" – although we definitely wouldn't say no to having one of these devices on our kitchen counters.
How can high tech improve our culinary experiences?
In addition to using technology to develop innovative, breathtaking dishes, many professionals are looking into how current-day advancements can help shape and improve eating experiences in the future. As well as creating the world's first non-melting popsicle, British multi-sensory experience design studio, Bompas & Parr, research into future food trends. In their Imminent Future of Food report, they predict the incorporation of artificial intelligence into dining experiences, enabling guests to sit at the dinner table with some of their favorite celebrities (or more accurately, bots expertly crafted to look and sound like them). They also believe that augmented reality will help create more immersive, multi-sensory eating and drinking experiences, merging sound, wearable technology and more into the experience.
Could technology, coupled with creative minds, save the day?
Some designers are already materializing future food related concepts. From Livin Studio's research into growing edible fungi on plastic waste, to Chloé Rutzerveld's interactive installation that educates consumers on high tech futurist farming, it seems that advanced technology and research definitely have a role to play in the future of our food. And until that happens, we're happy with strikingly beautiful designs that also happen to taste heavenly. After all, they call it eye-candy for a reason.
You Might Like These too:
Get in Touch! Get in Touch!
Get in Touch! Get in Touch!
Get in Touch!