Designer Assaf Friedman-Gonen utilizes his intuition and branding background to change the everyday communication between a company and its employees.
Text

Yaara Schattner

Images

Assaf Friedman-Gonen

Date

May 8, 2018

Est Read time

7 min
Describing how frustrating it was to use computers back in '87, Sir Jonathan Ive, Apple's Chief Design Officer said: "If you tasted some food that you didn't think tasted right, you would assume that the food was wrong. But for some reason, it's part of the human condition that if we struggle to use something, we assume that the problem resides with us." It was not just his knack for industrial design that pushed him to his pivotal position, but also a refreshing approach to problem-solving.
We are familiar with everyday frustrations and difficulties, seemingly insignificant experiences that can impact our moods greatly despite their smallness – a video in your presentation that just won't play, feeling lost in your office on the first day of a job and so on. For designer Assaf Friedman-Gonen, encountering these everyday, frustrating experiences, is the starting point of a new project.
As a designer on the Internal Branding team at Wix, Assaf's work consists of producing and overseeing design aspects of various ongoing and large-scale projects in the company. As part of this role, Assaf also took over the company's employee onboarding and all internal communications for 2,000+ employees. While this may sound complicated, for Assaf it all starts with intuition – identifying a seemingly everyday moment where you feel uncomfortable, lost or unable to understand, and transforming it into a positive experience.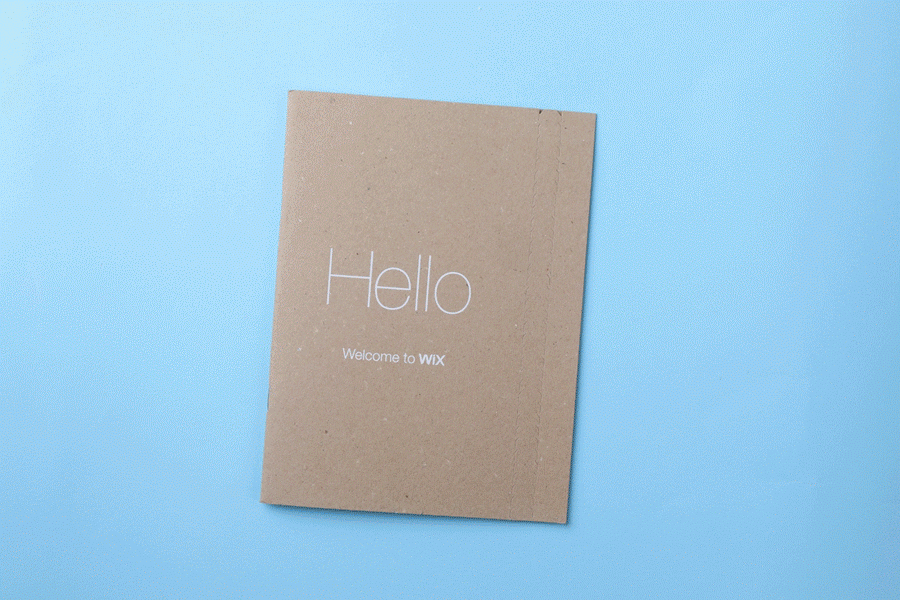 Understanding the product-user relationship
Before coming to Wix, Assaf was part of 0304 Branding Studio. "I was always looking at the bigger picture. I never thought of the designer-client relationship as two sides, but as a search for balance." In other words, it's essential to address the design in the early stages of the product strategy. The design can't be the final step in a product's development process. And when a project has the right process, as Assaf says, "the design is right."
As Assaf's stance of design became clear, he gradually structured his new position at Wix. It was almost as if he was looking for challenges, and the most substantial process needing to be changed was something he himself experienced: onboarding new employees. Soon after, Assaf continued to find what challenges the company's executives were facing, which developed into more projects.
The motivation pushing his work forward is his approach to design as an immersive experience that has the ability to communicate values in a positive way. This also reflects his stance on designing something "ugly" or "beautiful": "As a designer, you always engage with aesthetics – but it's also easy to put aside how important it is to create something communicative. For me, quality is determined by communicativity; 'ugly' design is uncommunicative work."
'Intro For Your Work Station', part of "Welcome Aboard Kit" designed by Assaf Friedman-Gonen
Assaf's work is motivated by issues he finds in employee experiences. The internal branding job at Wix goes further than telling employees what's happening in the company. It's about maintaining a specific culture. "My work is understanding how to uphold some sort of intimacy, especially in such a fast-growing company," Assaf explains. His tactic is tapping into the experience of the person he's designing for.
Assaf's background played a major role in understanding his interest in designing experiences. "In the seven and a half years I spent working in branding, we created a number of branded events for Nike. It enabled me to understand what it takes to have someone really go through an experience around a brand. I started to consider a screen, for example, as a space, or of a room as a platform."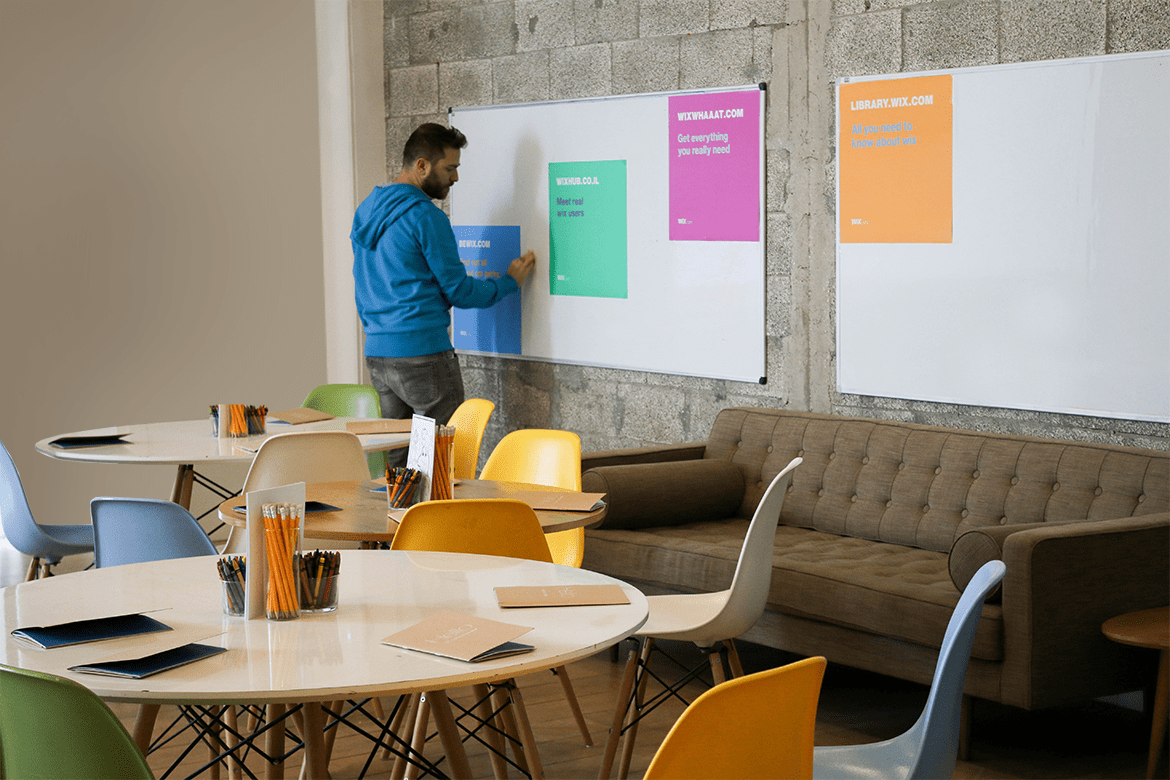 In his work on Wix's onboarding processes, Assaf's approach is that of a designer – so naturally, there's a lot of emphasis being placed on the visual and interactive aspects. "Once you understand just how important each employee's interaction is with the company as a brand, you move quickly into trying to streamline the onboarding process. With that, there are so many little details that can transform this experience entirely. For example, on each orientation day – a day where all new employees are getting to know the company better – we turned the rows of chairs to round tables topped with crayons and papers. We wanted people to play, to feel more comfortable, and make the space less threatening."
The onboarding process includes a line of products developed by Assaf, all answering different needs a newcomer has on their first day. For any new employee, the main challenge is finding their way around the company headquarters located in the Tel Aviv harbor throughout different buildings. Assaf decided he would focus on creating a solution that would answer their needs, generate a sense of independence throughout their first few days and could also develop further as the company expands – quickly, easily and elegantly. He did this by mapping out the locations of different office spaces with respect to their distinctive features and created a printed guide that was handed out to each employee in their first day and a digitized version for executives.
Office Map, designed by Assaf Friedman-Gonen, Illustration: Daniela Geigner
The company's fast-paced growth created a need to reach out and connect with each new employee individually, which was a major challenge Assaf met while developing a line of products for the onboarding process. Needing to define what they would be, then how they would look, he was searching to "create a consistent, coherent visual message that will convey both the company's values and its appreciation to each new employee" through these products. He created a "Welcome Aboard" kit, that included a map, notebook, access document, laptop case, and a colorful stencil for the team to decorate desks. Assaf also rebranded a candy box that was delivered to the employee's house – making it more "Wix". Once these products were implemented in the onboarding process, Assaf began to notice they were being embraced by the teams – people were excited about their first day, felt welcomed and taken care of, and even took to Instagram to share their stories about how much fun it was.
Finding the right work process
When asked about developing each product, Assaf notes the importance of feedback. Having an accurate work process is something he accredits to developing each product through his own experience, coupled with user testing and your colleagues' feedback. "Designing an experience requires a specific approach," Assaf notes. Here's a breakdown of his approach:
The brief is your puzzle. Think about the entire experience. Challenge the brief. Try and think of the limitations that the brief's writer was facing – and deal with them as well. Ask yourself what you find interesting in this project. And always, always, look for the spark. 
Find the person who wrote the brief. Talk to them – or rather, let them do the talking. Get their insight directly to learn about the perspective the brief came from. 
Listen. Identify. Be attentive to details. This is the research part. It requires becoming immersed in the situation you're trying to solve. Try and fish out existing answers your client might have missed.
Come up with solutions. It can be a product (like a map or chocolate box), a digital solution (website or landing page) or environment and space design (changing rows of chairs into a room filled with round tables, to get people engaging).
Combine. Bring together values, ideas, needs and your solution. 
Test, question, criticize, start over. Be open to criticism, to better understand your work and collect valuable feedback that will complement your own idea.
For his next projects, Assaf is on the lookout for anything he can "turn into something I can believe in. There are so many things that don't live up to their potential. Every company has its own values that can be either easily conveyed or entirely misunderstood by its employees. And I'm here to try and find the right way, improve it, and then improve it some more."
You Might Like These too:
Get in Touch! Get in Touch!
Get in Touch! Get in Touch!
Get in Touch!