How do you keep ice cream from melting under the lights? How do you prepare for a photo shoot with a designer and a photographer? How do you adapt quickly when obstacles arise? In an interview with Yamit Hadad, our very own in-house art director, she lets us in on all the pro tips and secrets.
Text

Shelly Peleg

Images

Alan Tzatzkin

Date

February 12, 2017

Est Read time

8 min
Hi Yamit! Will you tell us a little bit about yourself? What do you do at Wix, and what did you do before you got here?
Of course! My name is Yamit Hadad, I've been working at the Wix studio for almost two years as an art director. I mainly work with the marketing and content teams, but luckily I also get the chance to work with many other departments and Wix offices around the world. I help with all the art direction needs and projects that require styling and assistance in photo shoots. Before joining Wix, I was a studio manager in Baruch Na'e and worked a lot with the food industry in Israel doing branding, art direction, and styling.
And what about the more personal things – where are you from, what are you interested in and what you do on your free time?  
I live in Tel Aviv, which I absolutely LOVE, I think it's the most amazing city in the world. I'm a real foodie – I love cooking and checking out all the new (and old) restaurants. I study French and am actually pretty fluent. Whenever I have free time I enjoy going to any culture-related events – shows, concerts, exhibitions, movies. And I'm always into anything that's esthetic – fashion, plants, cute animals, beautiful nature. Oh and I love kickboxing! I practice here in the Wix fitness room every Monday, and it's super! You can also check out my Instagram to see more of what I'm into :).
So today we're talking about what it means be an art director, specifically focusing on a project you recently did – the photoshoot for this gorgeous ice cream parlor template. So tell us, how did this start?
Yanai, a designer from the templates team, got a brief to design a template for an ice cream parlor. He worked on it with the guidance of Liat, one of the creative team leaders. As they were working on the design and layout, they came to a point when they needed images. That's when they realized how hard it was to find quality and appropriate images to fit the template. They searched for something that would look and feel fun and down-to-earth, and not too high-end. They couldn't find anything they felt was right. So Yanai approached me and asked if we could create some images in-house for the template. I was very happy to take on the challenge! At first, the brief he gave me was just for two images he had in mind, but we ended up producing a whole photo shoot to fill the entire template.
OK, so at this point you knew you needed to plan an ice cream photo shoot. How did you approach the brief? How did you decide on the general style?
The first part is the designer's – collecting images and references for inspiration. In this case Yanai gathered everything, and we reviewed it together. After learning from his inspiration materials and mood board, we figured out what our goal was and created guidelines for the photo shoot day itself – the point of view we should use, the color palette, the location, the backgrounds – all the things that make up the total look and feel of an image.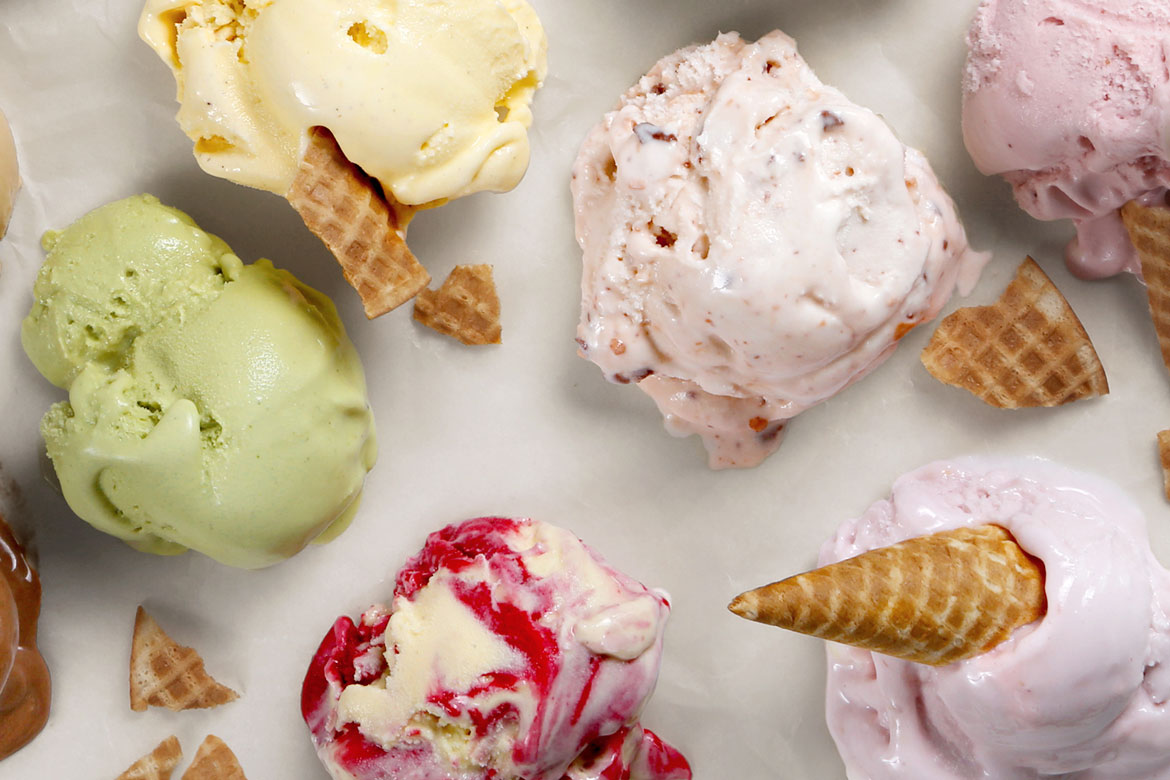 And then how did you actually prepare for the day itself?
Well first we had to buy all the props, which was fun! Tons of ice cream of all flavors, cones, cups, spoons, sprinkles, decorations…everything you can think of.. Since photo shoots are always a trial-and-error type of process, the day itself is usually planned with room for changes. For example, in this case we knew what type of images we needed to produce, but during the day of the shoot things changed and new decisions were made on the go. Like the color palette, which ended up much warmer than we intended since we saw it worked better. We also saw an opportunity to take many more pictures to add to the editor's media manager, which users can use for free and separate from the template itself.
What are some of challenges you can share with us that you encountered on the day of the shoot?
This photo shoot was pretty challenging in particular. Even though I have a lot of experience with food styling and photo shoots with food, it was exceptionally difficult having to deal with a model that melts. 🙂 We handled it by preparing the scoops in advance, and keeping them in the freezer right up until their moment to shine. We also placed ice plates underneath a metal tray to keep everything as cool as possible under the lights, and set the air conditioning to the lowest temperature. Everybody froze that day, but they got to eat the ice cream afterwards so there were no complaints! Of course we brought TONS of flavors so we'll have whatever option we need on set. Halfway through I felt that we're missing a warmer tone in the images, so I broke up waffle cones and added it on top and, which did the trick. Another challenge in every product shoot is the disproportions – you have to be really careful with how you place things so that they don't end up looking huge or too small. In this case it was a matter of how to use the spoons, the cones, and the cups.
What happens after the photo shoot is over? Walk us through the process.
After we get the images, I sit with the designer to choose the final images. I point out what needs to be done in terms of color corrections, what images might work together and we build the final vision together. Then we send everything to our photoshop girl, and after she makes her revisions we check the files once more. That way I can also choose images for our users to choose from the media manager. So even if the images didn't make it to the final template or landing page, they will still be available for free use. I almost always have a few files like these, because we usually manage to take extra images during the photo shoot, not just the mandatory ones.
Do you use a lot of photoshop for retouching?
We try to achieve everything we can in the photo shoot itself. But if there is something that can't be done we don't let it stop us – we'll use photoshop afterwards to correct it. It's not our main tool, but we're definitely not afraid to use it.
How would you describe your work with the photographer?
Luckily I get to work with our in-house photographer, Alan Tztazkin. When you work closely with someone for a long time you establish a very collaborative professional relationship. Alan is with us from the first production meeting, where we explain the vision and decide together on everything – location, lighting, backgrounds, etc. Lately, the studio has invested in new photography equipment, so everything is much easier now.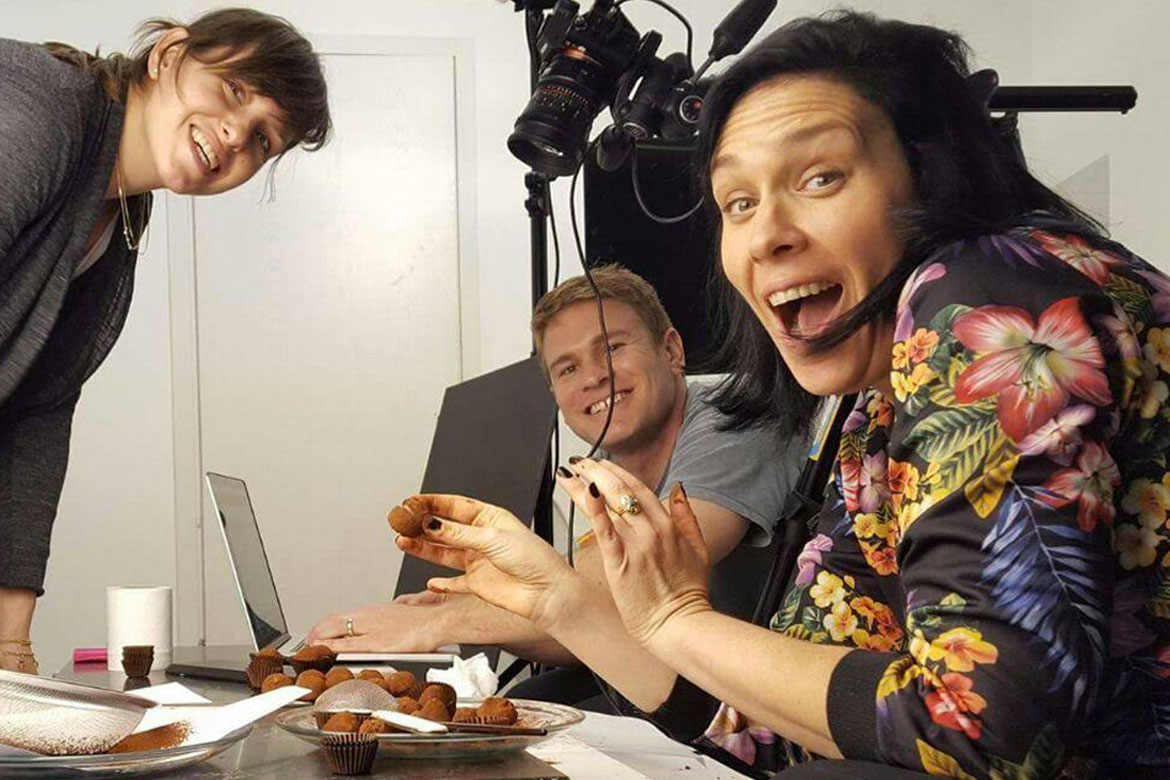 What do you prefer, product photo shoots or photographing people?
That's a tough question. With still images I have more time to prepare up front, to think about what I want to do and how it will look like. This "before" part is much more challenging and creative, while the photoshoot itself can run smoothly. With photographing people, the day itself is usually more challenging – especially since many times the set is not really a set, or you're taking pictures of people who aren't models (Wix employees) that you don't know how will react in front of a camera. There's a lot less control.
What do you love most about photoshoot days?
I think it all lies in the fact that there is something evolving, that you can never know what to expect. It always changes on the go, unexpected things happen, you always need to improvise. The excitement! The before and after. It doesn't matter how much you plan – you always end up someplace else, hopefully much better. 🙂
What's the next project you're most excited about?
I'm about to go on another TV commercial photo shoot, a world which is relatively new to me compared to stills. The last time I had the chance to do a commercial shoot I learned so many new things, and that's always exciting – to see that there is always something new to learn. Preparing a set for a video shoot is completely different, so I'm excited about doing more videos!
A big thank you to Yamit for sharing her world with us!
In our next interview, get ready to meet Eyal Sebbag, our very own motion design team leader, who will also be speaking at the OFFF Festival in Barcelona soon!Check out details here.
You Might Like These too:
Get in Touch! Get in Touch!
Get in Touch! Get in Touch!
Get in Touch!