How Oil Painting Classes Helped Us Become Better Designers
Text & Main Image

Dafna Sharabi

Date

January 3, 2017

Est Read time

4 min
Avishai Paltek, our painting teacher, always asked us not to use words like "eye", "apple", "hand", "hair" or "black" when describing objects. If we wanted to talk to him about our object of painting, we needed to point to what we were referring to or say something like: "The big dark stain on the right".
The reason for this request is because when we name each image or object we intend to paint, it means we already have a perception of what it is. Even if we're not aware of it, when we name something it means we already have concepts and thoughts regarding what it is and what it should look like.
Avishai was trying to teach us how to disregard those perceptions. He wanted us to clear our minds from those ideas as much as possible and look at our object of painting with a fresh approach – to paint only what we see with our eyes, not with our mind.
Let's paint at work!
We're very lucky at the Wix Studio when it comes to learning and enrichment opportunities. Every once in awhile, we get to organize and participate in workshops, lessons and lectures by experts in the creative world such as photographers, stylists, illustrators, etc.
The painting class was one of those extracurricular activities, which was sparked about a year ago from a conversation I had with Orly, a team leader in the Studio. Orly mentioned that she was attending a weekly painting class with one of our teachers from Shenkar College – Avishai Paltek. I myself was thinking about joining the class, being intrigued and wanting to learn to paint myself. You see, I'm one of those designers who isn't that crafty – even though I really enjoy working with my hands, and creating actual things makes me happy – it isn't something I feel confident about, so I thought a painting class would be perfect. It could help boost my confidence from my own hands.
Then our little conversation about Orly's painting class led to a great new idea – why don't we host Avishai here in the Studio, so the designers could enjoy this together? So we did!
For six months, once a week, about 20 of us gathered in the Studio with Avishai, a model, our canvases and brushes – and painted. One of the unexpected benefits of the class for me was discovering the artists around me. I knew I was surrounded by talented people, but I had no idea how much talent. I know it should make sense that designers are talented painters, but I was still overwhelmed with everyone's beautiful results.
Painting as a new tool for design
It's very difficult to challenge the creative process – to look at what we did from a different point of view, to judge our designs as shapes that construct a composition. Those were important skills we earned as designers while learning and practicing oil painting.
We also learned about color palettes by physically mixing our own colors, about proportions and perspective, and how to draw from what we see and not from the information we already have.
Uncharted territories bring unexpected results
It's OK to look for a fast and easy solution. After all, sometimes it's necessary to help us finish a project on time. That's why we have shortcuts, techniques and guidelines helping us to do our job in the most professional way possible.
But sometimes we forget that our strongest tool – the computer – is not the only tool we have. It's easy to stay in our comfort zone and stick to our regular patterns. That's exactly why we should challenge it – always look for new sources of knowledge and inspiration in order to keep developing, simply because we don't want to repeat ourselves in every project. We want to be creative in many different ways and come up with new solutions next time we find ourselves in the middle of a creative block or a hectic project.
Brushes in real life, not Photoshop
Oil painting is a craft. There are no shortcuts, no copy-paste. In order to delete something you need to actually scrape it off or use turpentine. Mistakes are considered to be good – you learn from them and you learn to live with them. The experience of learning by working with your own hands is as good experience (and for some, even better) than learning from reading the latest UX book or doing a Photoshop tutorial about color corrections.
In the entire six months of the course it was always the same – each Monday you could feel the excitement among us, the energy carrying us through all day long. Half an hour before the end of the work day, it was time to take out our brushes, put on our special painting outfit or apron, get some beer bottles out of the fridge, arrange the space, cover the floor, plug in the speakers AND PAINT TILL LATE!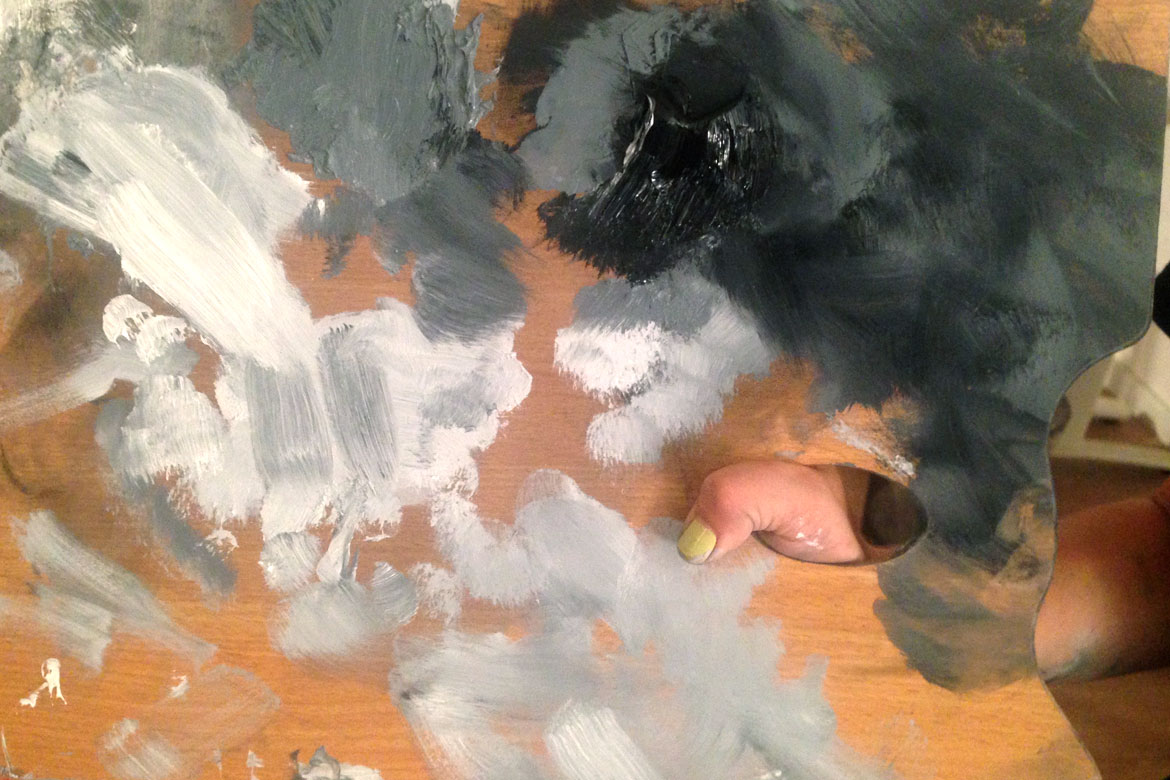 You Might Like These too:
Get in Touch! Get in Touch!
Get in Touch! Get in Touch!
Get in Touch!