We love to travel, and we love design. Each time we visit a new destination, we make sure to collect all those special spots and secret places that designers live for. For the first exciting edition we chose the number one city - New York!
Text

Dafi Tamir & Dar Rotem

Images

Dafi Tamir

Date

August 8, 2016
Designers Abroad will be an ongoing series in our blog.
Our Wix Design Studio is based at the Wix Headquarters in Tel Aviv, however, we are very fortunate to be able to travel every so often. Whether it's to visit one of our offices around the world in Miami, San Francisco, NYC, Berlin, Lithuania and Ukraine, to attend conferences, or worldwide user related events, there are many opportunities for us to travel.
In this series we'll share notes, memories, and tips from the places we visit, placing an emphasis on our love for design, fashion, art, and well designed spaces and places. We might even throw in a few personal travel stories from our own private vacations. After all, Wix usually doesn't send us to Thailand or India for work trips, but a few of us are going there anyway.
NYC – A Designers Heaven
For our first edition we decided to bring out the big guns – the big apple, NYC! We are SOOO fortunate to get to visit there from time to time, as our Wix Users Lounge is located there (235 W 23rd St. – go check it out if you're in the neighbourhood).
Last June, I was lucky enough to travel to New York with a big group of fellow Wix employees. I was sent there for the launch of our newest product, Wix ADI. Our whole group spent 10 days in this amazing city, and between all of the work meetings, we still managed to find the time to explore the city. For some of us it was the 10th time traveling to New York, and for others, it was their first trip to the city. Yet, we all still managed to find something new and inspiring. Here are some of my own city notes, carefully curated just for you. We hope you get to visit soon, enjoy!
1. Brooklyn Botanical Gardens
Even among New York's amazing parks and gardens, The Brooklyn Botanical Gardens are truly a hidden gem. Especially for us, coming from a city with very few (close to zero) parks, it was especially awesome. We sat there with our sketchbooks, drawing and enjoying the acres of natural beauty. There are an unbelievable amount of plants from all over the world to look at, many of them seasonal, so you feel especially lucky just to get a look. Bonus tip – If you happen be visiting in the spring, you must go to the gardens to see the amazing cherry blossoms in full bloom. It's really spectacular. You'll feel like you've stepped right into Japan for a moment, I promise.
990 Washington Ave, Brooklyn, NY 11225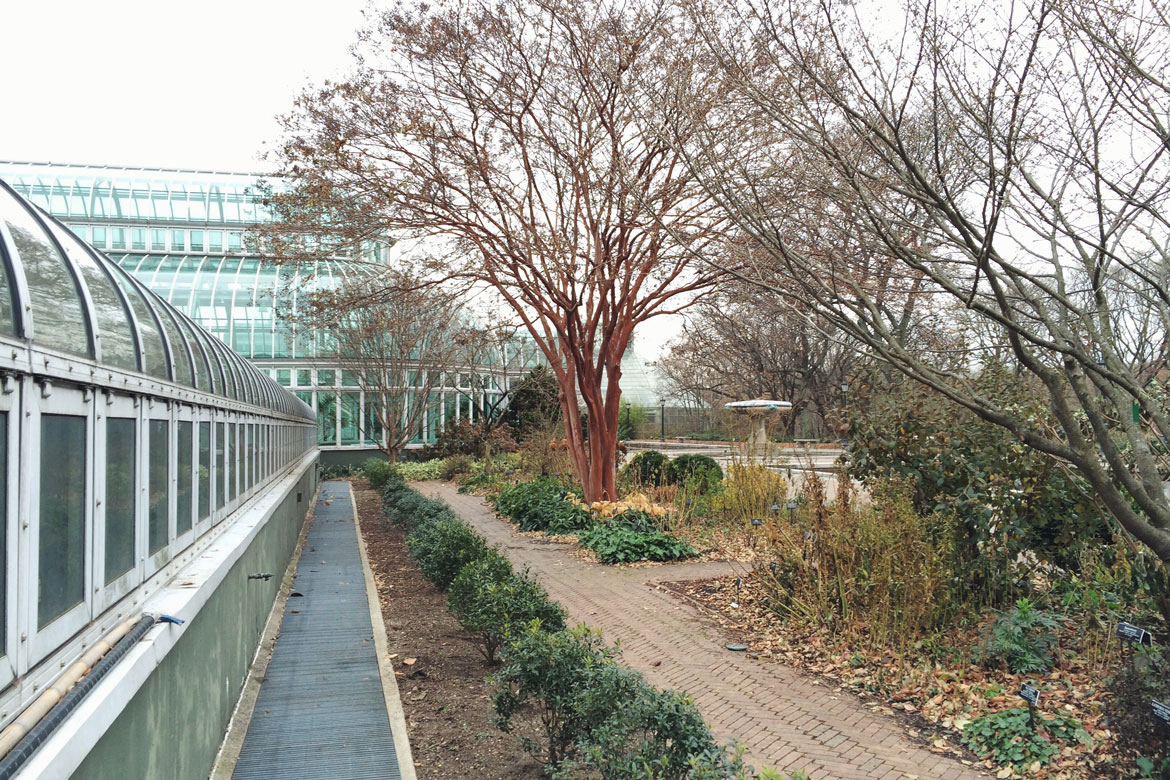 2. Museum // Dia:Beacon
After the ADI launch was over (a huge success, by the way), we had a full day off for ourselves. No laptops, or phones to worry about. We chose to spend it outside the city, and took the train to the Dia Foundation's art museum in Beacon, New York. In addition to spectacular views all around, we saw world-class artwork inside. Located in a former Nabisco box factory on the bank of the Hudson River, the museum is dedicated to showcasing large-scale sculptures and installations. Part of what makes Dia:Beacon so unique is that each gallery is designed specifically for the artists' work. Among the best-known works on display are, Joseph Beuys, Gerhard Richter, Louse Bourgeois, Andy Warhol, Dan Flavin and Donald Judd. Highly recommended!
3 Beekman St, Beacon, NY 12508
3. Garden // Elizabeth Street Garden
After a short shopping spree, we grabbed a cup of coffee and went to Elizabeth Street Garden. This sculpture garden, located in the Nolita neighborhood, is a small garden that is one of the neighborhood's best kept secrets. It is unique and quite, and was the perfect spot for us to relax before heading back to the office for another crazy afternoon.
211 Elizabeth St, New York, NY 10012
4. Restaurant // Freemans
This place has a totally hipster vibe, and great and simple rustic American cuisine. I LOVED the bloody mary's, the cozy interior with taxidermies on the walls, Victorian bird boxes, old pictures, wooden panels, and cute bookshelves. Makes you feel right at home.
Freemans Alley, off Rivington Street between Chrystie and the Bowery,
New York, NY 10002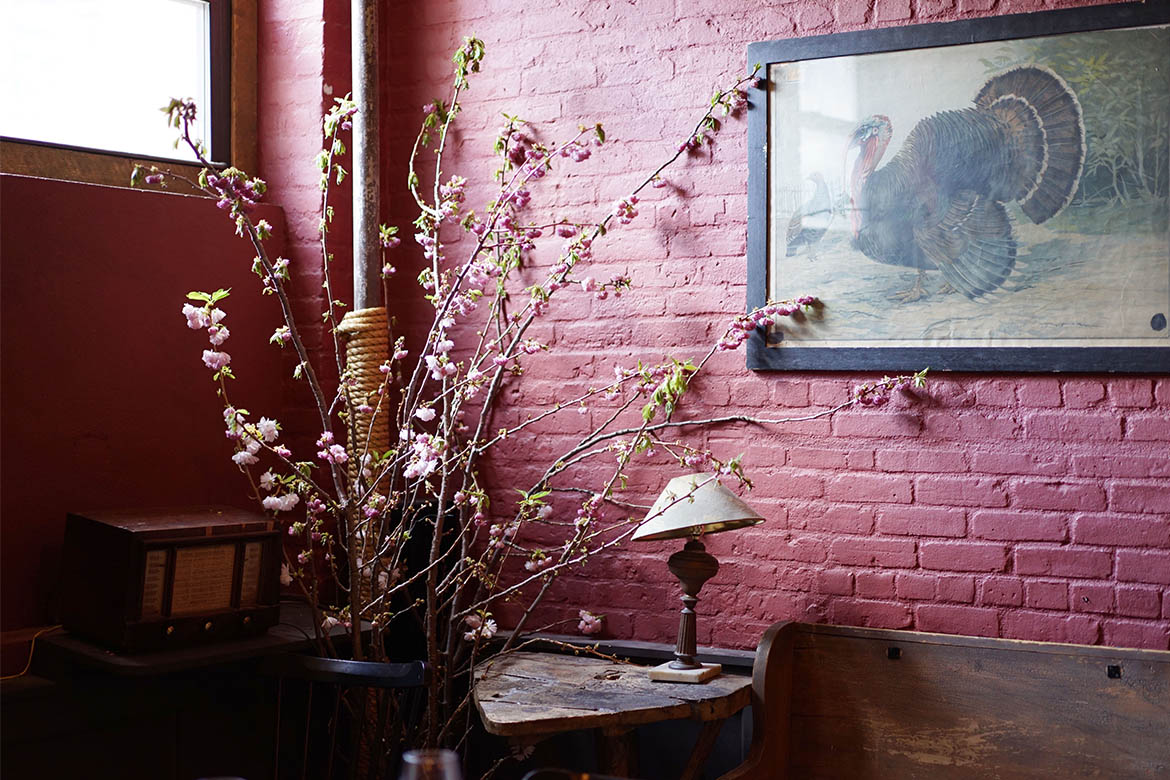 5. Restaurant // Mission Chinese
The decor and vibe of Mission Chinese can't be beat – kitschy and yet oh so cool. I loved how its mix of eclectic elements somehow all harmoniously work together, looking stylish and chic. It's the perfect blend of a typical American-Chinese restaurant with a touch of modern coolness. Let's say I learned a thing or two about mixing styles in the perfect way. From the Chinese style side, we got the banquet hall with Lazy Susans, giant gold dragons, and a menu with big red typography. The modern touch comes from the back wall which is covered in aluminum foil, mysterious pink lighting, and the rose-pink linen napkins. Be prepared for the hottest wings of your life, they will totally numb your mouth! Pro Tip – visit the bathrooms; The Twin Peaks tribute on the way is worth it.
171 E Broadway, New York, NY 10002
6. Patisserie & tea salon // Ladurée Soho
The moment we entered Ladurée, I instantly felt like Kirsten Dunst in Sofia Coppola's, "Marie Antoinette." This SoHo outpost of the luxury Parisian bakery Ladurée, known for it's decadent french macarons, has absolutely gorgeous design. Even if it's not your personal taste and style, I promise you're still going to be wowed. There are 4 separate seating areas, and the whole space is filled with so many lavish 18th century french inspired design details. We especially liked the first salon, named Madeleine Castaing, after a famous French interior designer. It had two dramatic chandeliers, hand-painted frescos on the ceilings, gold floral curtains, and plush silk upholstered armchairs. It was the perfect place to rest our bags from our SoHo shopping spree while sipping tea.
398 West Broadway, New York, NY 10012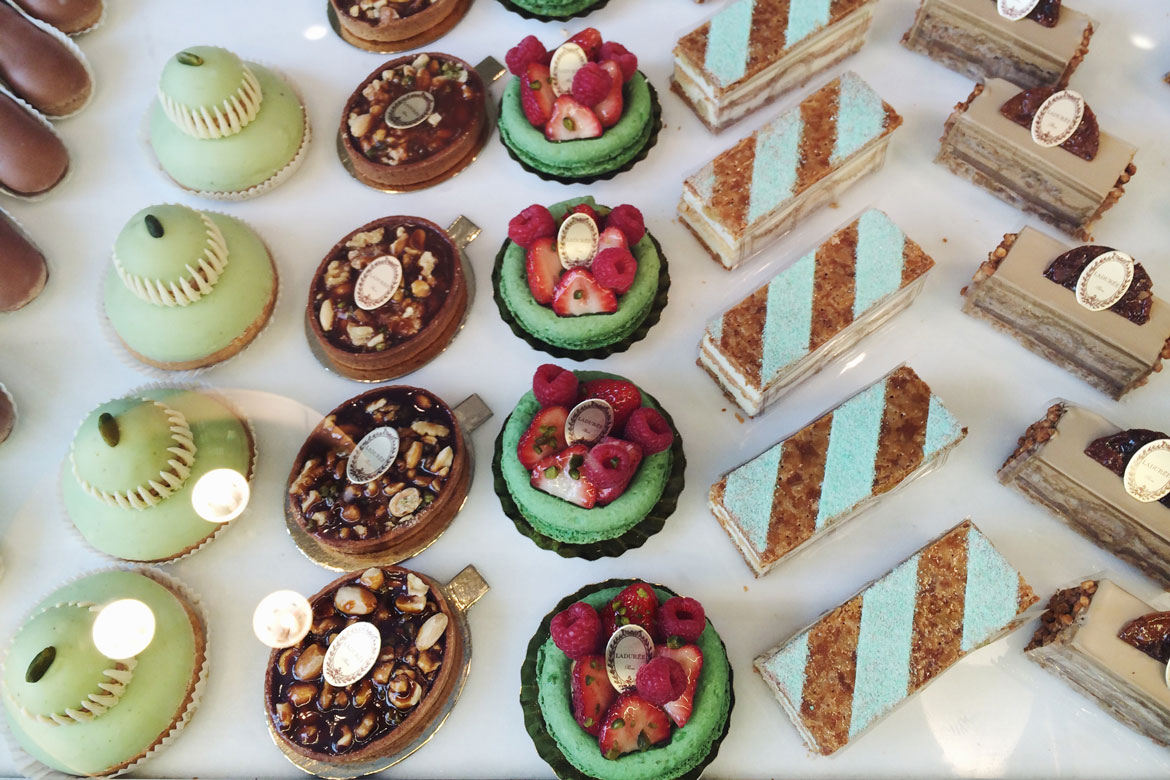 You Might Like These too:
Get in Touch! Get in Touch!
Get in Touch! Get in Touch!
Get in Touch!