Product photography 101: how to take product photos that sell
This post was last updated on June 24, 2022.
A picture is worth a thousand words—but a great product photo can be worth even more to your bottom line.
A whopping 83% of surveyed consumers in the U.S. say that product images are very influential to their purchase decisions, ranking images even higher than product reviews (75%).
In this article, we'll cover essential tips for taking the best product photos. Discover how to start an online store that captures your brand in the best light.
Read Also: How to start a business
Essential equipment for product photography
First thing's first. To produce quality images, you need to have the right equipment on hand (no matter your type of business). You don't necessarily need to whip out a pricey DSLR camera to get started. A few basic equipment will do:
A smartphone - The most recent generations of smartphones have excellent photography capabilities. Not only are they equipped with hardware that'll allow for high-quality, detailed photographs, but newer phones have tons of features to help optimize your images. In order to maximize quality, spend some time getting to know your phone's features, including manual controls. Alternatively, you can invest in a budget-friendly camera and lenses that help to capture your items in their full glory.
A tripod - A tripod ensures your camera is absolutely level, and it can be set up at a precise height and angle so that all of your images are consistent. If you're buying a tripod for your smartphone, you can spend between $20 and $60 for a decent one. Once you have your camera set up on a tripod, you can use a countdown timer or a remote (if you have one) to snap pictures without accidentally jostling anything.

A light source - Lighting is another key element for successful product photos. While natural light works in some circumstances, this type of lighting can change over the course of a session, so it's not always optimal for capturing pure product photos that require consistency and detail. While you can invest in professional-grade lighting and flashes, to get started, regular lamps can work. If glare and shadows are too harsh, soften light with a diffuser like a white flat sheet, paper, or white garbage bags. Just be sure that any DIY light diffusers are fire-safe. Another great option to create soft lighting: buy or create your own reflector.

A sweep - A sweep is a clean, solid backdrop that removes any visual distractions from the background. It eliminates the line between the table and wall and prevents you from accidentally capturing any blemishes in the background that you didn't notice with your naked eye. A sweep can be made from a large roll of paper, a piece of posterboard, or a sheet of fabric. You can attach the top of your sweep to a purpose-built frame, the wall, the back of a chair, or the back of a lightbox.

A light box (optional) - Depending on the size of your products, you may want to place them in a light box (aka a light tent, macro photo studio, or light cube) to ensure they're positioned optimally between light sources. Light boxes have built-in screens to diffuse light and reduce shadows. There are plenty of online tutorials about how to make low-cost tabletop light boxes, or you can buy one from a camera supply store.
Mannequins, stands, or racks (optional) - Each of these serve as still, standard props for helping you display items clearly. Use two-sided tape or dabs of glue to hold products in place as needed.

Photo editing software - Software programs like Adobe Lightroom and Adobe Photoshop can help to sharpen your images even more. They give you access to a wide range of effects, filters, and graphics capabilities. That said, you may not need the full spread of editing features for your work. Take advantages of other options—such as Wix's built-in photo editor, available to all Wix merchants—before splurging.
How to take high-quality product photos: 10 expert tips
01. Understand the big picture
Knowing how to shoot a good photo and arming yourself with the necessary tools are essential preliminaries—but there's another crucial step to take prior to snapping pictures: develop an overarching product photo strategy.
Setting standards will help ensure quality and consistency, while thinking through all the potential uses for imagery avoids the need to double back and re-shoot items due to lack of planning. Especially if you hire models or photo production help, an efficiently-mapped schedule for a shoot based on strategic needs is essential to keep costs in control.
Questions to address include:
How will images embody my brand? There are many ways product photos can communicate your brand's identity. Consider the feeling you want to evoke with each photo, and which color schemes, backgrounds, or props can help you get there.

What are the must-haves for every photo? Your product category and your audience may dictate which types of photos are most important. For example, if you sell athletic shoes to dedicated runners, then you'll likely want to take closeups of the soles and any removable orthotic insoles (as examples) that runners care about. Developing a consistent shot list for every product builds trust: shoppers know they can count on you to communicate vital information in each photo set.

What image standards do I need to pay attention to? While creative expression of brand identity is a top priority, you also want your photos to be versatile enough that you don't need completely different image sets for every channel and marketing opportunity. Think through how your photos will work on mobile, third-party marketplaces (which each have their own image requirements), and various mediums (e.g., print versus digital).
02. Create a shot list
With the above considerations in mind, create a shot list. As the name suggests, this is a checklist of all the individual photos you want to take—complete with details on the various angles, arrangement, and settings you want to shoot.
Be specific about the intent behind each photo. For example, if you're photographing handmade pottery, indicate that certain shots are meant to showcase the craftsmanship in the handle of your clay teapot.
Consider also the various types of photos you can take:
Studio shot - These are the shots that are most often used as the cover photo of an item. They keep the focus squarely on your product. As an example, Sticky Lemon clearly displays its products against a bare, solid colored background.
Lifestyle shot - These show products in real-life settings. As opposed to focusing on product details, these images let customers imagine themselves enjoying the product. They can also help customers gauge the size, fit, and use of the product. This is how Sticky Lemon uses lifestyle shots to show the same product as above in use.
Close-up shot - Macro photography is a technique that captures beautifully detailed close-ups of your product by allowing your lens to focus on objects that are very close to the lens. It's great for highlighting intricate products. In the example below, Lionheart shows a crisp closeup of the diamonds on a ring.
Group shot - Showcase multiple complementary items. Group photos can be used to show different size options for a single item, or the full assortment of items included in a product kit or collection. COTA Skin uses an attractive group shot to generate interest in its skincare bundle.
Demonstrative shot - Similar to a lifestyle photo, demonstrative shots show your product in use. However, these are specifically meant to show how to properly use our item. For example, Ultasmile provides step-by-step instructions on how to apply their whitening strips, complete with photos.
03. Master your lighting
No amount of fancy equipment can salvage your images if they're shot in poor lighting. So, take the time to set up the right shooting area. This can either be a room that has lots of windows, or one spot of your workspace where you can control the lighting easily.
Note that there are two main types of lighting that you can use:
Soft lighting - Soft lighting creates a delicate, halo-like effect that illuminates the object from all angles. This method will shine light on all the details of the product and eliminate any harsh shadows that can obscur details and edges of the product. This is especially important when photographing three dimensional objects.

Hard lighting - Hard lighting adds more contrast between the light and the shadows. In hard light, shadows have harder edges and greater definition. This method is great for adding drama to your photograph and in certain instances can be useful for taking active product photos.
Soft lighting is the more commonly used type of product photography lighting. This, as mentioned earlier can be achieved through DIY diffusers, reflectors, or a light box.
If you're using natural lighting, place your product close to the window for softer lighting. Turn off all artificial lighting within your room to avoid competing shadows and coloring.
04. Play with your angles
When it comes to photographing your products, getting just the right angle may have huge implications on how the item will be perceived by the shopper. You'll additionally want to show your products at various angles to compensate for the fact that shoppers can't observe your physical products themselves.
Double Oak Tack, which sells high-end used saddles, takes care to show their saddles at every angle: front, side, back, birds-eye, wide, and close up.
05. Choose your background wisely
It goes without saying that you want to pick a background that enhances—and doesn't detract from—the product itself.
A safe bet is to capture your photos against a clean, white background. But some products pop out more against a dark background or help to enhance your branding.
If your brand is playful, you may opt to use plenty of bright colors. If you're going for retro glamor, you may choose black and white or sepia tones instead.
The color of your background can evoke various emotions so try to think about your target audience too. The right background has the power to make your products look expensive—while the wrong one can make them look tacky.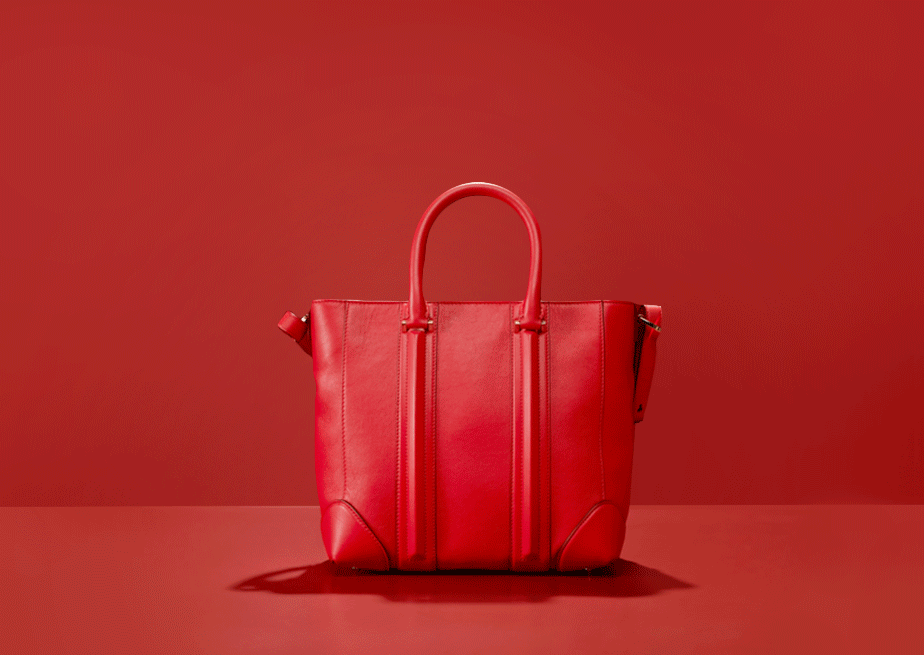 Alternatively, some photos will shine against a background that's more dynamic. For example, Bimber Distillery showcases its whiskey in front of oak barrels. This warms up the overall photo—but since the background is blurred and darkened, the eye still gravitates towards the product first.
06. Play with the composition
Composition is the placement or arrangement of visual elements in such a way that they complement each other. If you are photographing multiple items together, rearrange them as many times as you can to find the best fit. Sometimes within this process, you might realize that it would be better to photograph your items separately, or vice versa.
Consider using props or decorative materials to enhance product qualities or even brand values. Green plants can liven up your food product photo and make your item feel fresh. Or, if you sell sustainably-made soaps, displaying your products with plants in the background on a wood soap dish can show how your brand is aligned with the natural world.
If you're selling products that are small or won't stand up, use your props to support the product. For example, place a pair of earrings on a jewelry hook, or place a box behind books to keep them standing up. While you can try to minimize the impact this has on your look, you can also lean into it and let the stand add an element of excitement to your product photos.
07. Add accompanying text
Once you have your images, you can now safely upload them to your online store.
Adding an interesting product description is just as important as the image itself. While it might seem obvious to you, describing your product down to the dimensions, material, and weight is crucial in the purchasing process of your shoppers. Adding text can also help reduce returns and complaints.
Keep your text short and to the point. Don't overcrowd your product pages with unnecessary information that will draw away from the product. If you need some inspiration, look to big companies with a similar look and feel to your store and see how they lay out their product page.
Don't forget to add alt text to all your images. Since Google can't actually see what your image is all about, you need to explain what the image is by adding alt text. This should be a 2-3 word description of the product. It's a good idea to use optimized SEO-focused keywords when writing your alt text so that your site will show up on search engines.
08. Be mindful of image file sizes
The load speed of your product pages is crucial for both the user experience and eCommerce SEO. And one of the common culprits of slow load times are large file sizes.
For this reason, you'll want to resize your images prior to uploading them on your site. It's possible that the max width of images on your site is 800 px, but all of your images are twice that size.
Try reducing your image to fit the width of your screen (or in developer speak, your "image container" size). You can find what that width is by right clicking on any product image of your site, clicking "Inspect," and viewing dimensions in the "Styles" panel.
Use your editing software to resize your image or tools like Wix's built-in image editor.
Compressing your images can further help to crunch the file size down. Use free tools like TinyJPG, which aims to reduce your file size without sacrificing quality.
09. Leverage user-generated content
Customers want to see themselves represented by the brands they buy, and increasingly, that means selecting models that reflect diverse audiences.
Better yet, consider how you can incorporate user-generated content (UGC) on your site, not just on social media. Not only will your products be showcased in a variety of real-life settings, but you'll demonstrate your commitment to prioritizing customers' happiness.
If those reasons aren't enough, 80% of surveyed consumers say that they use UGC to make purchase decisions—suggesting that UGC is 6.6x more impactful than branded content.
In the example below, TripleRComposites draws attention to a customer's Instagram handle, rewarding the customer with free promotion while showing their automotive styling parts in action.
10. Tap into other visual tools
Still photos have their advantages: they're easy for shoppers to use and don't need a lot of internet bandwidth. But as new visual tools emerge, your photo strategy should adapt and complement new offerings.
Videos, for one, allow you to incorporate sound and motion into the online shopping experience. From how-to demonstrations to livestream shopping events, videos can help to further convert more shoppers and appeal to buyers with various preferences.
Capture both video and photos during catalog shoots, and grab visuals that can be repurposed for multiple channels.
Consider also emerging tech like augmented reality. More than 100 million consumers are already shopping with AR, according to Snapchat, which reports 94% higher conversion rates from AR-driven shopping experiences.
Platforms like Wix eCommerce support 360-degree photos, which can help you tap into this trend. Discover other eCommerce tech trends that are reshaping the industry.
Craft a photo strategy that clicks
Ecommerce (see our guide on what is eCommerce) product photos have a significant impact on consumers' purchase decisions, but they don't need to put a significant dent in your budget. With a careful strategy and a few key equipment purchases, you can build a library of effective photos that convey key product information, build brand identity, and earn sales.
Geraldine Feehily
Marketing Writer, Wix eCommerce
Geraldine is a marketing writer for Wix eCommerce. She uses her broad experience in journalism, publishing, public relations and marketing to create compelling content and loves hearing user success stories.
Allison Lee
Editor, Wix eCommerce
Allison is the editor for the Wix eCommerce blog, with several years of experience reporting on eCommerce news, strategies, and founder stories.