Noam Noy shares how working with textile is a direct continuation of her graphic design practice, and a way of reconnecting with her emotions.
Text

Yaara Schattner

Date

March 19, 2019

Est Read time

5 min
For Noam Noy, a Tel-Aviv based designer and artist, the interest in textile originated from a wish to create a wide, immersive experience that would appeal to more than one sense at a time. "I picked up textile as part of a project I was working on, titled 'My Soul Dwells in Exile' that started as a collection of texts by people who willingly immigrated to different countries."
Considering new ways she could give these texts a visual interpretation brought Noam to consider textile. "The production process made it clear that it needs to cultivate a strong sensual experience." The result of that project was a book that expressed the process, while exploring themes of memory, nationalism, and a sense of belonging – questions that are present in Noam's work ever since.
Continuously expanding her practice alongside her work for the Wix Design Team, Noam has moved from print and graphic design towards textile, installation, research and collaboration. The transition between 2D to 3D objects was a turning point in her work. "Fabric is a physical manifestation of a two-dimensional illustration," she explains. "It introduces questions of shape, light and shadow, bringing in elements of exposure versus concealing that weren't part of my work before."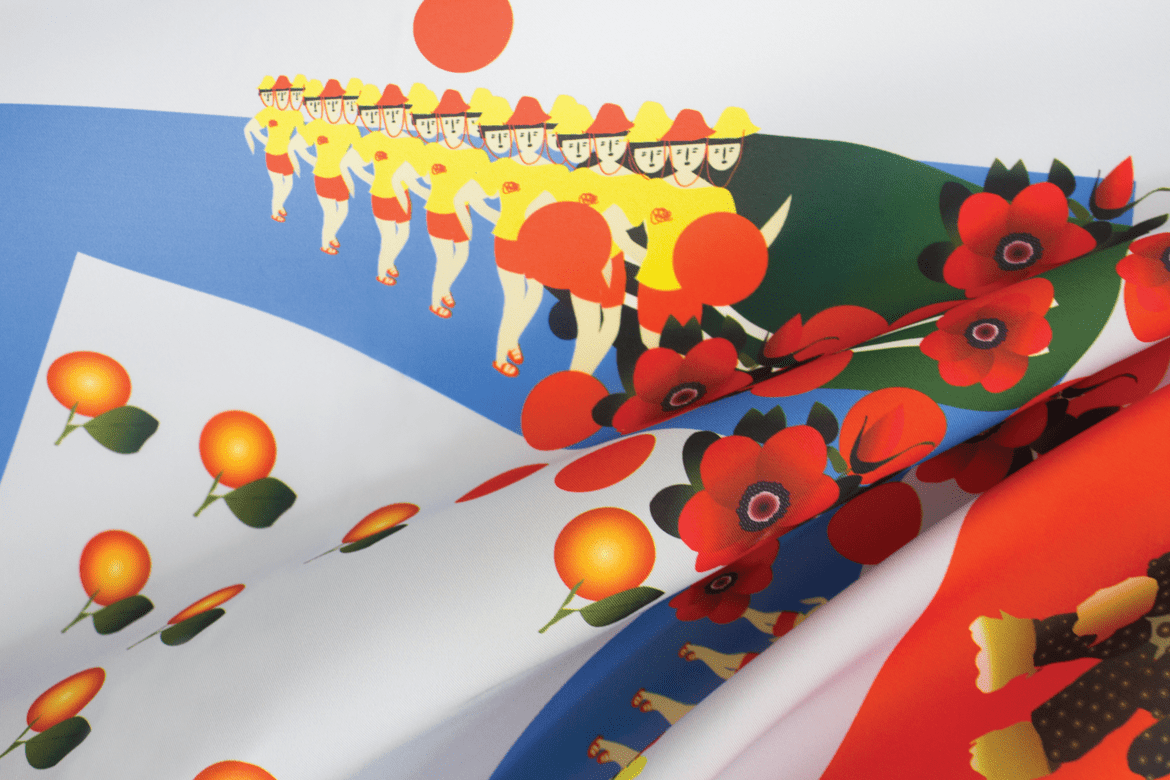 The fabric of a journey
The shift to textile happened as Noam considered how physical elements can connect to the themes explored in 'My Soul Dwells in Exile.' She came across the psychological idea of a 'comfort object' –  objects that are used to provide comfort in unusual situations – and it resonated with her interest in journeys. "Comfort objects for me are a purely symbolic entity, that bear both the longing and criticism, the anger and love for one's country of origin." This symbolic quest led her to introduce more materials – and senses – into the project.
Noam's expanding practice also connects with her own need for working with materials, not just screens, "While I was working in different studios, it became clear that though I enjoy research and design, I needed to involve myself more in things related to touch and smell." She constantly pulls her practice towards new experiments with new materials, all the while maintaining her interest in graphic design and print. Thus, while many of her projects do result in print, they are multi-layered works that have gone through a transition process.
When asked about this process, Noam explains that "The fabric is transformed back into a two-dimensional piece through photography and print. It then ends up in a book form, and the viewer is introduced to it through the experience of the flipping of a page. "Being the book designer, too, I look to express this transformation and uphold a sensory value – and enable the viewer to feel the fabric."
Post-graduation yearning
Soon after discovering textile, Noam started to design silk scarf that were "created from a yearning to work with material and the search for emotion." It originated from her encounter with the 'career world' that most designers face upon graduation, and the need to reintroduce craft practices into her everyday life. "The handkerchiefs became a form of shelter for me, a place that had no right or wrong. They were created from mistakes that quickly turned into a solution and a revelation. Some of them were based on a story, a specific person or moment; others on intuition, or a combination of both."
Noam says that her spirit of pushing ideas forward has to do with her many creative collaborations. "Working with other creative minds enables a new process and a fresh perspective on the work," as was the case in this project. The collaborative experience allowed for "an entirely new narrative to emerge," adding layers to the story. Noam connects her interest in working with others to a certain void that she felt after graduating, departing from a creative, free and enabling environment, for the pressures and loneliness of a career-driven development path.
Working with others, she notes, can also give you valuable feedback, and creating personal projects can help in sustaining your crucial creativity and passionate approach. "The collaborative work enabled me to reach a result that I would never have come to by myself." Noam started the project by herself and took it as far as she could, but upon finding collaborators, she "released it into the hands of someone else to give it their own interpretation, drawing from their own world and references. The result is in fact a hybrid – always moving, surprising, and joyous."
Survival and everyday life
In her work process, Noam continuously considers space and installation. "I chose to present the fabrics in their natural habitat: on the body. In my work, I create an environment filled with cultural symbolism to surround the human figures, generating a sense of familiarity."
Recently, Noam presented her latest installation, 'Known to Harbor Life' in Tel Aviv's Illustration Week. The project invited her to explore how she could "turn textile into an object." Her first step was "going back to my first interest in textile, as an instrument of expressing thoughts. "I knew I wanted to address ideas about survival and the everyday, claustrophobia and loneliness, clutter and silence."
As a result, 'Known to Harbor Life' deals with a reciprocal yet distinctive relationship between physical and mental proportions. Noam expanded her use of materials, adding sponge and plaster balls to the textile scarves, that together bring up questions of gravity, while playfully engaging with non-intuitive directions and lines. Her interest in examining materials and crafts outside of her main practice as a graphic designer helps enrichen her projects. As an artist, it is her willingness and open approach to working with others that challenge her own perspectives and create impressive hybrids. Her work invites viewers to reconsider the purpose of a creative ego, the power of letting go of it, and the importance of developing your own space for creativity – even as you jump into the post-graduation world.
For more of Noam Noy's work, visit her Wix website.
You Might Like These too:
Get in Touch! Get in Touch!
Get in Touch! Get in Touch!
Get in Touch!