In this edition of Designers Abroad, let's take a quick stroll through the happy streets of Dublin, Ireland.
Text & Main Image

Or Shaaltiel and Roey Chen Goldberg

Date

August 1, 2018

Est Read time

4 min
Admittedly, if it wasn't for OFFSET Festival, we probably wouldn't be visiting Ireland any time soon. Thinking about traveling to Europe, classic cities like Berlin or London would be the first on our wish list. But after a great festival and an even greater city experience, we wholeheartedly recommend Dublin as a fun, fascinating and inspiring destination.
Dublin offers a wonderful mix of old and new: historical buildings next to modern ones, classic masculinity with a touch of liberalism, and an unexpectedly warm vibe. To top it off, the city also offers an amazing nightlife scene, beautifully designed eateries and lots and lots of alcohol.
With its unique authentic feel, Dublin is the perfect city getaway. It has an unapologetic, effortless charm that makes you feel at ease while walking around its streets and shopping centers. As most of the city's monuments and attractions are located in the same area, getting around and making the most of your visit is easy and a whole lot of fun.
This is the biggest, most central shopping area in Dublin. Grafton's historical buildings were built in the early 18th century by the Dawson's, a wealthy Dublin family. This beautiful street is featured (rightly so), in many poems, books and artworks. Today, this street is packed with designer stores, gorgeous coffee shops and anything else you might be looking for.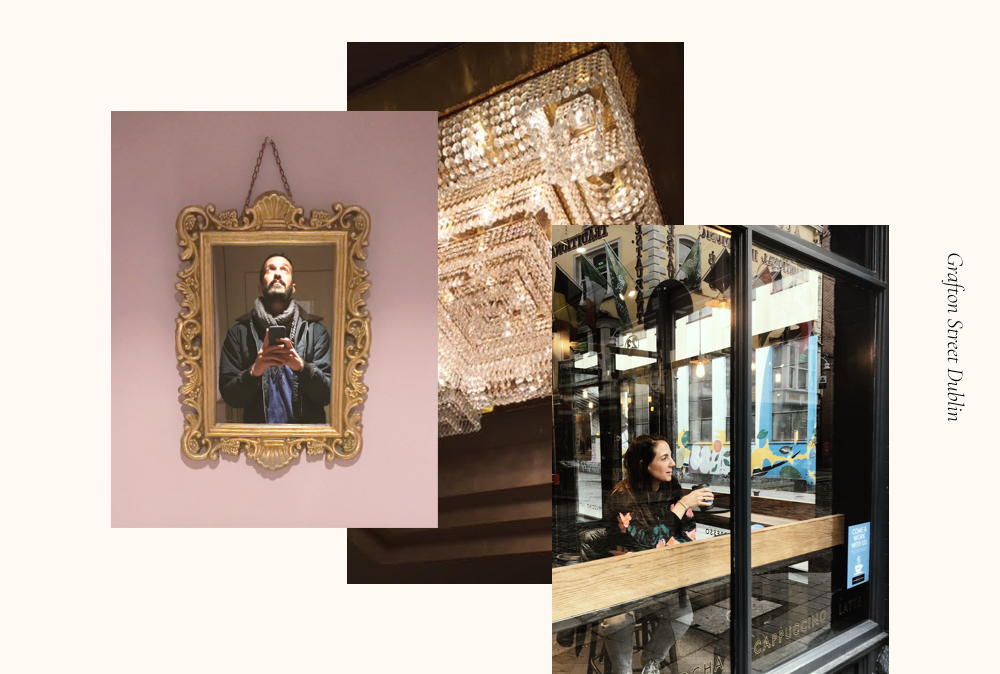 This amazing place is a must. The castle was the seat of the British government's administration in Ireland between 1171 and 1922, and its design is inspired by the Victorian era – with symbols of excessive wealth, aristocracy and power. If you wander around the castle you will see where the royals and their guests lived, in addition to the lovely gardens surrounding the castle.
Dame St., Dublin 2, Ireland
Take a walk down South William street and you'll discover this beautiful corner, a bright spot of color on a cloudy Dublin day. This pastry shop – now a chain store – is decorated with plenty of baby blue, chandeliers and floral upholstery, a perfect setting for the yummy macaroons that come in a few surprising flavors.
1-3 South William St.
One of our favorite pubs in Dublin: '90s playlist, just the right amount of light, long red candles on every table, beautiful people and every type of beer possible.
Dessie Ellis, 30 Stephen St. Lower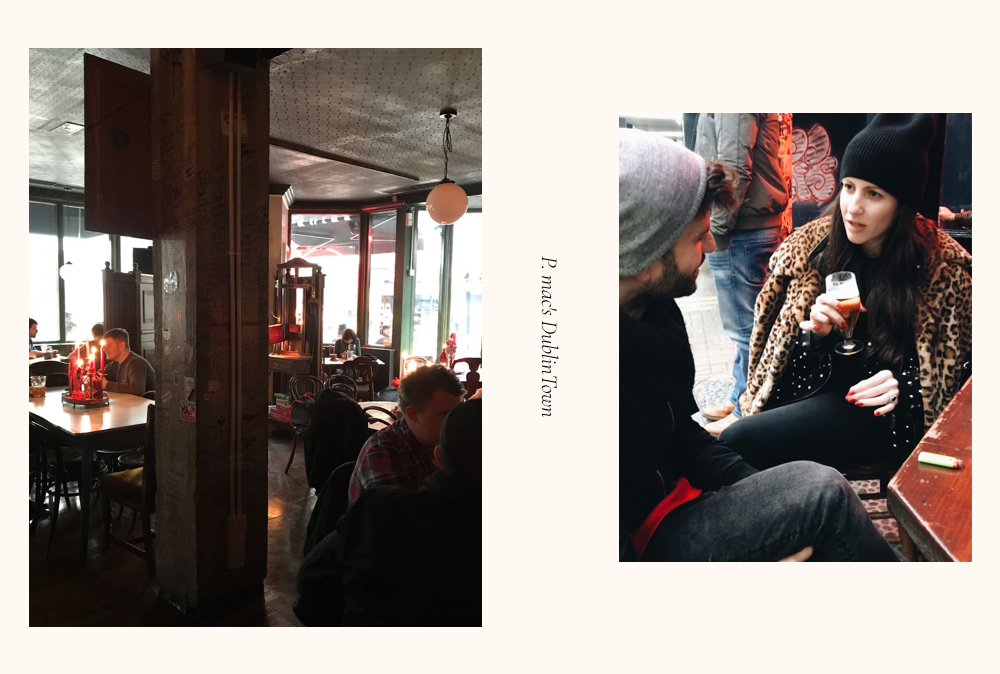 This shopping center is located inside a beautiful Georgian architecture building, and houses a variety of antique shops, jewelry stores and a coffee shop right in the center. With an open roof, you get to sit inside while enjoying an open air feel.
 59 William St. South, Dublin 2, Ireland
This traditional Irish restaurant serves local food, such as the famous potato pancake, known as Boxty, which is offered with either beef or veggies and a local beer on the side. The feeling you get when entering the place is like a visit to your Irish grandma's kitchen, even if you grew up elsewhere… The atmosphere is so welcoming, it's hard to leave the place, let alone on a cold, gray day.
20/21 Temple Bar, Dublin City Centre
The most famous street in Dublin is known mostly for its medieval style. It's a popular venue by night, but during the day, you can really experience the ancient beauty of the place. Although it's crowded with many tourists, we recommend a visit to Temple Bar St., its 200-year-old breweries and distilleries, and a taste of the traditional Irish music.
Close by, you'll find The Library Project – an art bookshop, a photobook library, and a gallery that is a multidisciplinary cultural hub focused on photography. The space hosts changing exhibitions and design events, and next door are some cool establishments, like the Irish Film Institute for quality screenings and Monster Truck Gallery promoting promising artists. 
4 Temple Bar St.
If you've had enough beer and would like to chill with an afternoon cocktail or a traditional high tea, this hotel's bar and restaurant is your best place to get away from it all. The hotel is mostly known for its meticulously designed gallery room, where you get to sip your tea and sample fine sandwiches.
Balfe St., Dublin 2, Ireland
You Might Like These too:
Get in Touch! Get in Touch!
Get in Touch! Get in Touch!
Get in Touch!