When the daily struggles of being a graphic designer got to Guy Blander, he decided to get a ticket to the Typo Berlin Conference to find love again. When Typo was over he found much, much more.
Text & Main Image

Guy Blander

Date

May 24, 2018

Est Read time

7 min
"Enough! I don't want to design EVER AGAIN!" This is a phrase that crossed my mind once every couple of weeks during the past six months. It usually happened after my boss explained  that a landscape picture should be added to the cover: "something to make them sense the vision; maybe something with fields." I would repress the pain of rejection while trying to process the vision of an oversaturated stock image. It's not that I didn't want to design anymore, and I still felt like solving the brief was a worthy challenge. It's just that I got tired. I got tired of communicating it to others, insisting on what I knew was right, and fighting about values and details – even though that is actually what our job is about.
Between the 9 am to 6 pm daily work routine and raising a child, something in my connection to design started fading away until the desire almost completely extinguished. The effort to implement a "design vision" and establish it as a significant factor in decision-making processes is a daily struggle for professional designers. Many of my designer-friends have shared their frustrations about the uneven ratio between time invested in crafting something, and time spent on "selling" it to a boss, a colleague or just a random client. The emotional spectrum is broad and phrasing is diverse, but the collective feeling is that the balance between "what I'm passionate about" and "what I have to do" is so off that it's exhausting.
Schmoozing can't hurt
Searching for a way to be reminded of my interests, and to rekindle my passion for typography, branding, interfaces, and motion – and not letting it go with a simple "it's not you, it's me" – I decided to go on a belated honeymoon. And what better honeymoon for creativity than a design conference? "Some eye-candies and a bit of mingling and schmoozing can't hurt," I said to myself.
This is usually the point when an inner voice would be like, "Do I really need to sit in a room going through slides from other designers' portfolios?" All the inner discussions at design conferences seem so detached from the industry that they make me wonder whether designers are choosing to live in this bubble or are in effect, trapped by it.
Of the dozens of design conferences, I chose Typo Berlin. Founded in 1995 by "FontShop" (founded by Erik Spiekermann and Neville Brody and subsequently acquired by Monotype), it hosts 100 speakers and about 1,600 participants yearly. The event follows visual trends and evolved from being a strictly-typography conference into an international design and communications event that has hosted leading figures, such as Christoph Amend, Joachim Baldauf, David Carson, Fons Hickmann, Sarah Ilenberger, Erik Spiekermann, Stefan Sagmeister and Lawrence Wiener.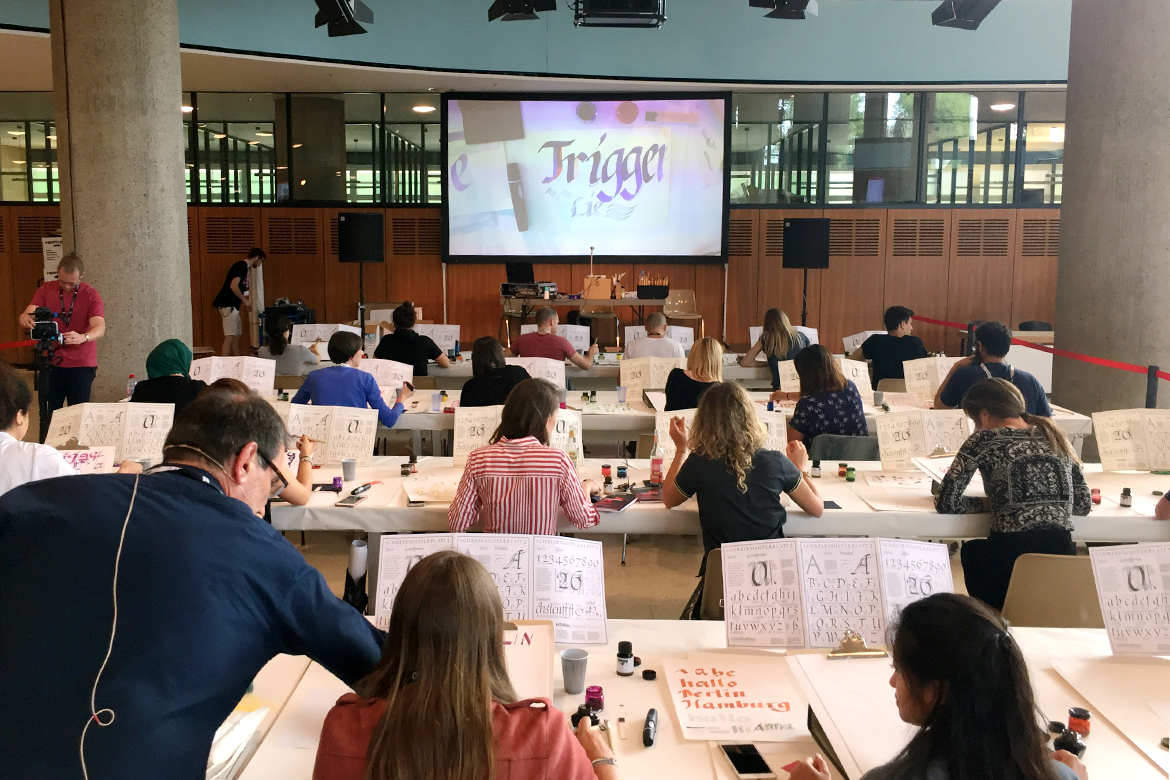 The new designer's role
For this year's conference, Typo decided on the theme of "Trigger" and centered its focus on the designer's role in the cultural and industrial changes throughout society. Though the terms "change", "transformation" and "disruption" became something between buzzwords and overworked issues across sectors and industries, what has remained as a fundamental question is the designer's position in facing these overwhelming forces. These were the central issues Typo wanted to address: what will we be demanded of designers in the near future, and how do we answer these demands?
From experimental and innovative projects to practical tools, the conference managed to capture the entire range. Charles Landry, a theorist, author and leader of urban change projects around the world, opened the conference with a lecture on the meaning of design in a culture of nomadism and loss of territorial boundaries. The Iranian designer, Golnar Kat Rahmani, guided a practical workshop that asked to neutralize Arab typography from its political baggage. And Timothy Goodman, the New York-based designer spoke about our basic need as designers to "feel we are being seen through our work."
Jon Key, the Art Director and founder of the NY Studio Morcos Key, spoke about graphic design as a means to empower marginalized communities. Utilizing the visual instruments he has as a designer, Key is a creative partner in different projects that facilitate community-building with a focus on LGBTQ communities. One of the projects Key presented was Codify Art, a multidisciplinary art collective showcasing works by "women, queer, and trans artists of color". Another project was a brand identity created for the Children's Museum of the Arts NYC, based on a type workshop given by him and inspired by works of Kline and Matisse that were digitized.
Addressing another side of the design industry, there were also talks about profit, investment and personal wages. It's common to reconsider a fee you've requested for a project, thinking "I should have asked for more", undervalued the amount of work would be invested, or to have a project be surprisingly super successful are all familiar to designers. Alex Mecklenburg and Erica Wolfe-Murray, writers and strategic and creative-thinking advisors, spoke about the importance of the design community and its leading force in innovation and economic growth. In Great Britain alone, the gross revenues of creative industries in 2016 were approximately 92 million euro. In spite of this, most individual creatives are feeble when asking to be rewarded (or paid) for the job, and value that they produce. "This is a mistake," according to Mecklenburg and Wolfe-Murray. "Evaluation and appreciation is just a small part of this. You are well-deserved in earning wages, and these numbers go to show that the industry has the resources to pay what is deserved." The speakers offered a new approach for design: thinking of the end-result as a profitable investment. This view turns designers into meaningful shareholders in projects they design.
Old love, new flame
Typo Berlin reminded me of two valuable things. First, that we as designers and professionals can, and should, hold and enjoy the basic thing that brings our community together – the love for language and for how language looks. We are allowed to put a halt to meditate for an hour, drawing letters aimlessly. The second is that these struggles and hardships that face each designer on their computer screen are part of a much wider trend. As such, we can look at it together, point it out and try to offer solutions together. As a community, we have an enormous amount of strength. We know how to tell a fascinating story, draw people in and move them into action. We have the ability to change reality.
You see, it's just like having a weekend away with your 10-year partner can reignite your passion and remind you why you started hanging out in the first place.  A wooden cabin in the middle of nowhere, rosemary leaves in the doorway, rolled towels and a cheap bottle of wine on the table. 3 hours driving, not counting the gas and coffee stop, just to be reminded you still love each other.
Guy Blander is an Art Director and Graphic Designer. For more info, check out guyblander.com.
You Might Like These too:
Get in Touch! Get in Touch!
Get in Touch! Get in Touch!
Get in Touch!