Having a sharp online portfolio is a must for every designer. Here are seven steps to creating a website that truly expresses your unique style.
By

Eden Spivak

Date

April 12, 2018

Est Read time

10 min
When even your ten-year-old nephew has his own website for homemade slime recipes, the world is most probably trying to tell you something. No, not that you should be whipping up your own slime, but rather that you, too, should be investing in a website. These days, valuable online presence is an absolute must – especially when it comes to designers and professional creatives. An online design portfolio is the modern-day version of a business card, a résumé and a project showcase all in one. After all, it's the go-to place for all potential clients and employers that will be looking to hire you. And with this much at stake, a simple slideshow of past projects can hardly do the trick.
We believe that an online portfolio is no different than any other creative project. It's an opportunity to create an amazing piece of work that shows off your skills and conveys your unique voice, while looking just as crisp and professional as any other of your masterpieces. With the right set of tools, you can go beyond technological constraints and artistic compromises, and build the online presence of your dreams. To get you started in the right direction, we've compiled a master guide with everything you need in order to create an amazing online portfolio for all sorts of designers.
1. Research and decide on a layout
Just as usual, start with a bit of research when building your online portfolio. In line with the timeless quote associated to Pablo Picasso: "Good artists copy; great artists steal," it's always helpful to eye up beautiful work done by others for inspiration. In a recent blog post, we spotted 8 design portfolios filled with smart ideas and even smarter execution. There's also this convenient library of websites created by great designers, photographers and other creative minds.
Browsing through these resources (and others), think of the vibe you want your site to convey, from the right color palette and fonts to the general layout. You also want to ask yourself how you imagine the flow of your portfolio, and what experience you aim to create. How do you want visitors to move from one page to the next – by opening a menu or scrolling down for further information? Do you want your site to be a one-pager (as in this template designed by Jessie Bearden) or a series of interchanging fullscreen images that open into project pages – such as this illustration portfolio template?
When you're ready to go, have a look at this template collection for designers. You might find something similar to the result you envision, for you to customize and make completely your own. Or, as a seasoned designer, you'll probably want to start from a blank canvas, building from the bottom up to create your website from scratch. Make sure to use a platform that allows you total creative freedom, so that you don't limit yourself because of technological hassles.
2. Plan your content ahead
Now it's time to carve the cake. Gather all the content (texts, images and other media) you want to spread across your portfolio and strategically decide on how best to allocate it. You can add as many pages or sections to your website as you see fit, but here are the most crucial that you absolutely need to include:
> Homepage: Think of this as the entrance to the virtual home that you call your portfolio. Don't forget to include some kind of descriptive text here. Many designers assume that a beautiful background image will do all the talking, when in fact, that's a mistake. Clients want to know who you are and what you do – and they need to know it as soon as they enter your site. You don't have to go into your biographical details here (this is what your 'About' page is… about), but your name and main speciality are an absolute must. Moreover, text is crucial for your SEO ranking. We know we're throwing around frightening wording here, but we'll explain everything further on. In the meantime, just keep in mind that adding text on your homepage will help it rank better on Google. Check out this template for 3D designers for a great example of using concise text on top of stunning work.
> Projects: Expose clients to your creativity, skill and quality of work by showcasing selected projects. The project section is the most important part of your portfolio, but don't overdo it. Only pick your most beautiful and up-to-date creations, and make sure to display them in the highest quality possible. You can go for the Wix Pro Gallery, to do your work justice with a professional look. Finally, it's helpful to add a brief written description for each project, so that visitors can get a sense for the context of your work.
> Clients: Highlight your professionalism with a list of respected clientele who have chosen to work with you. If any of your projects have been featured elsewhere, or recieved press coverage, mention that here. You might also want to drop in a testimonial or two of satisfied clients, allowing real people to share their positive experiences of you. Free and authentic PR: don't miss out on that one.
> About page: This is where you present your background and short bio, provide essential information about your activities and summarize your unique identity and values. As a designer, you can allow yourself to be a little more creative than most mundane consulting firms' 'About' sections. Show off your personality with puns, handmade illustrations or anything else that feels true to you. Check out how artist and Wix user Carissa Potter added a personal touch to her personal story, from the GIF filled with good love (literally) to the very name of the page – inviting you to 'Connect' with her.
> Contact: After you've stunned them with your site, visitors should be able to contact you easily. These commissions won't pop up in your inbox by some miracle, so add a 'contact' form, your email, phone numbers, social networks and any other way to reach you. Repeating your details in the footer of your website is also considered a very good practice.
Extras (but highly recommended):
> Online store: Thanks to this glorious thing we call the Internet, you can now sell prints or products of your work directly from your portfolio. It's never been easier to share your creations with fans in the form of a quality art print or even a mobile cover, and make some money along the way. Check out the 'Store' section of this illustration template for a general idea.
> Blog: By constantly creating and publishing fresh content, your blog can improve your SEO ranking and help establish you as an expert in your field. Take a look at the blog run by British record label, The Rock Wolf that offers news and music reviews, while keeping in tune with their visual language.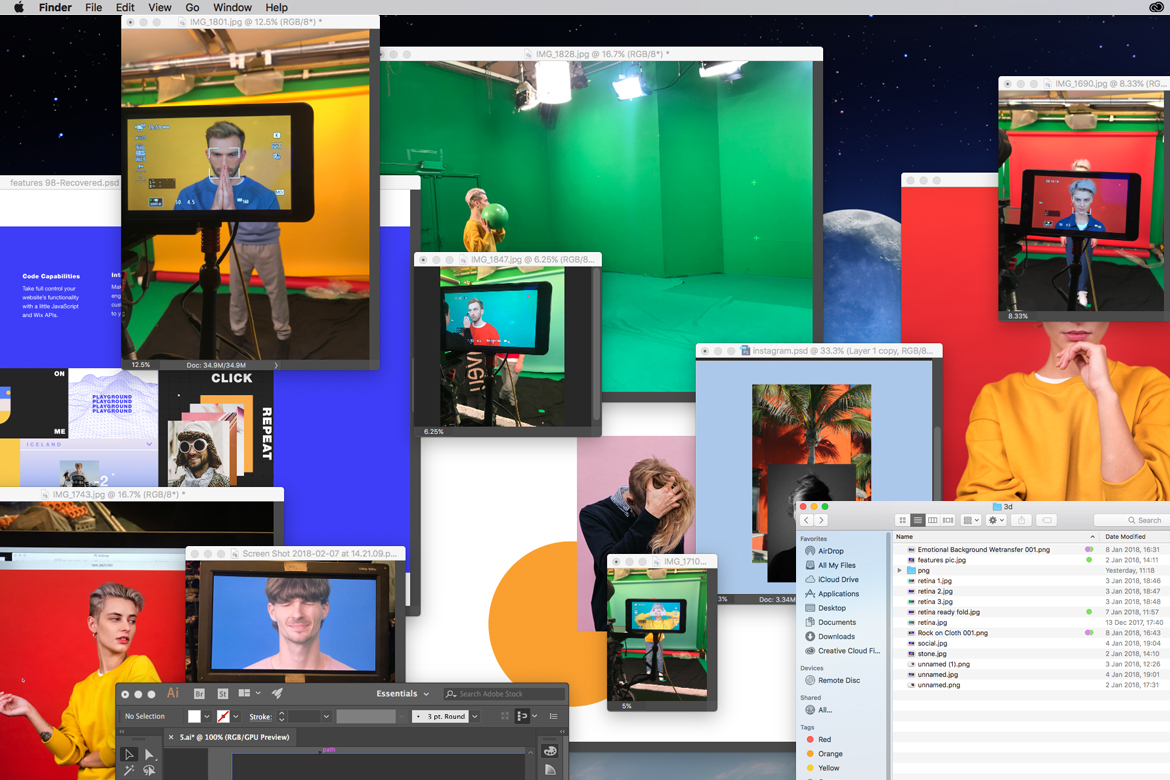 3. Think UX
Now that you have your content, it's time to make all the pieces come together. Go over the web pages you've decided to create, and write down a list of all elements that need to be included on each page. For a project page, for example, you might want to include elements such as a hero image, a header and a brief description, followed by a series of 3-4 additional images or videos. Listing the items on each page makes it easier to prioritize and decide on their visual hierarchy – leading you straight to sketching out wireframes and finalizing site navigation.
4. Make it shine with professional-looking features
To step up your portfolio game, add some virtual bling in the form of powerful design features – from hover effects and parallax scrolling to animations and lightboxes. These finishing touches can help make your website feel alive and sleek, but they can also serve as functional tools, drawing your visitors' attention in a certain direction or generating engagement. See how art director and Wix user Daniel Aristizábal makes great use of subtle animations that appear as you scroll down his site. Seems complicated? Rejoice, as you don't need to be a programming expert (God forbid) to achieve complex results on your own portfolio. You'll find inspiration for sophisticated applications of these features, in some of our informative web design tutorial videos – and it might ease your way into creating a multi-layered parallax website, or making your layout with an image-based grid.
Another great way to make your site more dynamic and tailor it to your specific needs is using Corvid by Wix. This advanced yet intuitive tool is a revolution for designers, who no longer need to learn coding to bring their most intricate of visions to life. Corvid by Wix allows you to insert all the code elements for your website with various custom interactions, for richer and more professional applications. By doing so, you'll make your website interactive and simultaneously promote your service. It offers advanced code capabilities and an intuitive interface that makes it extremely fast to master. The best part? Corvid works perfectly with the stunning visual components of the Wix Editor, and is fully SEO compatible.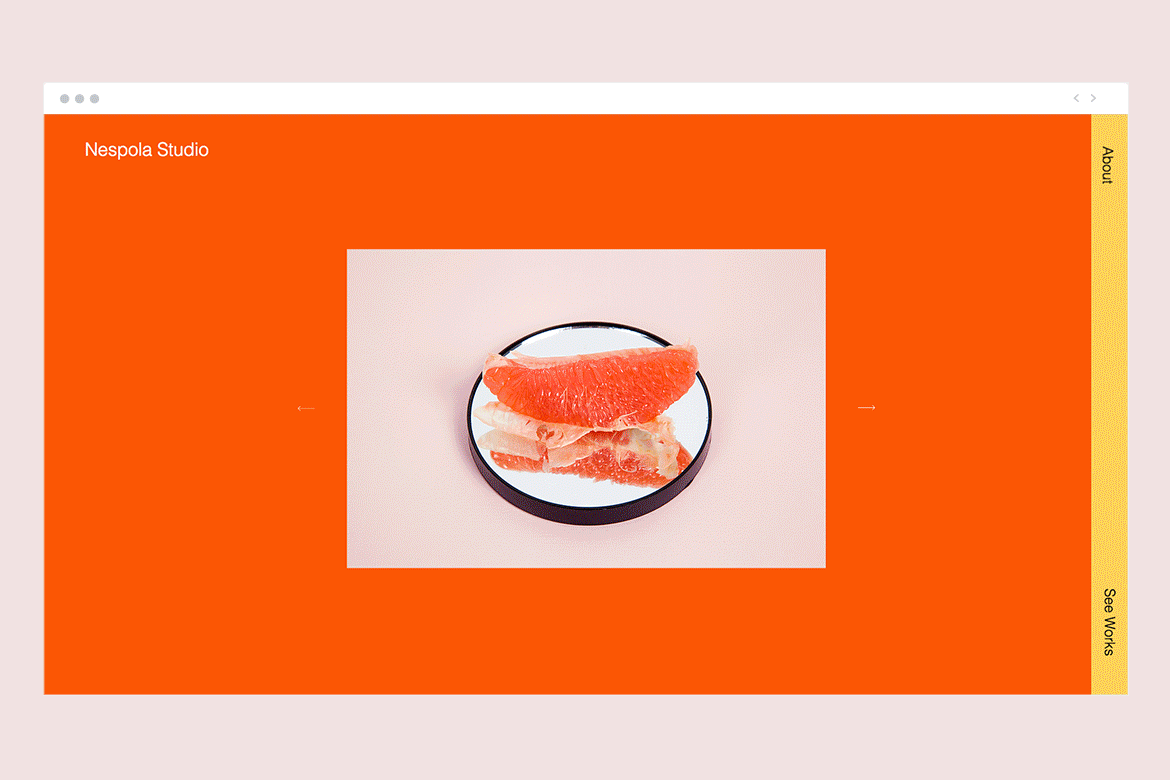 5. Do your SEO homework
Speaking of which: what good is an online presence if no one gets to see it? In order for your clients to find you and book your services easily, make sure that your website is high up on Google search results. Search engine optimization (SEO) is an ongoing task, concerning various elements of your site. This SEO guide will be your favorite ally, whether you just started the creation of your portfolio, or are working to improve it. You'll learn, for example, that you need to keep your content fresh and your details updated. Writing a blog is one way of achieving just that, but it also applies to any other form of written content on your website, from your the description of your images, to the URL of each page. You'll want to find the right keywords – those being the most commonly searched phrases on Google, when people are looking for creatives like yourself. Once you've done some keyword research, you can use these little gems in strategic places throughout your website.
Some freelance creatives happen to have a permanent location, or an area of activity (such as a wedding photographer who works in a specific city). This is where local SEO comes into play. The main goal here is to secure that your website is found by anyone searching in your particular area. Local SEO best practices include: claiming your business on Google My Business, registering your website on relevant directories and adding your location on your website's pages.
Extra tip: If you have a Wix website, try the Wix SEO Wiz. It's a step-by-step plan designed to help improve your site's SEO with a tailored checklist and helpful tips. And yes: it's free.
6. Don't forget the mobile version
Many times when people design a website, they tend to forget about the (huge) amount of users who will probably be viewing their site from a smartphone. As a matter of fact, an estimated 75% of users today access the Internet from a mobile device. Thus, one of the major challenges designers face when it comes to their online presence, is ensuring that it will be mobile compatible. And since mobile is more than just web design made smaller, there are a few rules to keep in mind when designing for mobile. For the small screen, you'll want to declutter the mobile version of your site, keeping only the most crucial elements visible. Furthermore, pay attention to the fonts and colors you use and make sure they're readable. Reduce the amount of typing required and consider adding a search bar to ease navigation. If you're a lucky Wix user your site will automatically generate a mobile-friendly version, with an adaptive gallery for your images.
7. Check and share
We all know the feeling of getting lost in a project until we lose sight of what it really looks like. That's why it's always best to run your brand new site by a second set of eyes for some insight and fresh ideas. Hear what trusted friends have to say about your content and visuals. And once you've published your site, don't forget to share it on all of your social channels. You'll reach more potential customers, improve your SEO ranking and hear honest feedback. Moreover, by adding social buttons to your site, visitors will be able to reach your social media profiles easily.
After you've got the word out, remember that running a successful designer portfolio isn't a 100-meter sprint but rather a marathon. There's always another tweak to be made to make it a little better. Keep updating your site with new content and projects, implement different features, improve your user experience and stay up-to-date with current design trends. Oh, and sharpen your pencils and pen tablets, because the project offers are about to come pouring in.
Ready to get your work out there with your fresh website? Create your online portfolio today!
You Might Like These too:
Get in Touch! Get in Touch!
Get in Touch! Get in Touch!
Get in Touch!