Our Designer Interview section is going global for the first time! Check out our interview with Berlin-based designer and entrepreneur, Kristina Schneider.
Text

Dafna Sharabi

Images

Ronny Aviram

Date

September 5, 2017

Est Read time

7 min
I had the opportunity of meeting Kristina about a year ago. I was exploring Berlin as a new resident and eager to find design-related events – meetups, conferences, festivals – anything I could attend to find inspiration and get to know the local design community in my new city.
In my searches among the vast variety of events this metropolitan has to offer, I came across a meetup called Up.front Berlin. It immediately appealed to me since it had such diverse content, such as the lineup including developers and researchers in addition to designers. I decided to check it out myself – enjoy the talks, the friendly vibe and the open offer for everyone to have a drink at a nearby bar when the meetup was over.
At the time, I was also giving my own talk on several occasions about trend prediction as an inspirational tool for designers, so I decided to offer my presentation to Up.front. That's how I came to meet Kristina, one of the event organizers. I discovered that she was an interesting and multi-disciplinary designer, which only made me want to know her better.
Fast-forward to today – when I asked Kristina to take part in our Designer Interview section, she happily agreed to answer our questions and share her story. Enjoy!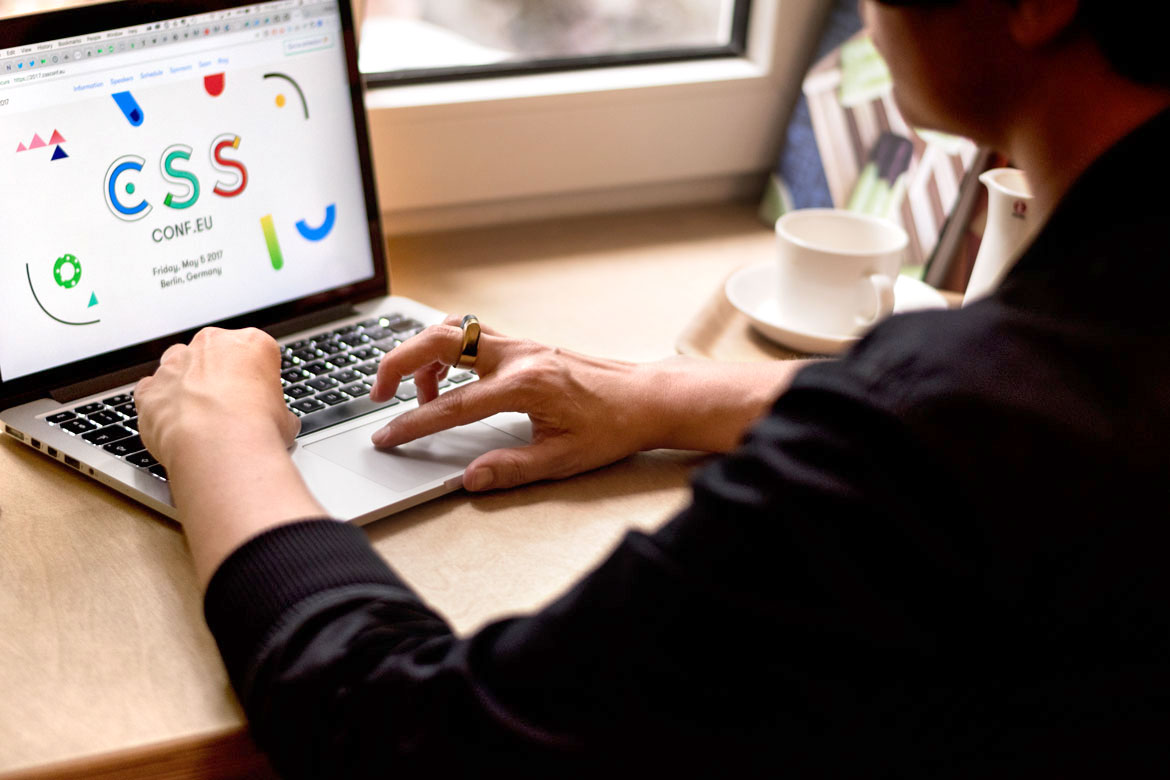 Name
Kristina Schneider
Age
Born in the 80's.
Where do you live?
Berlin, Germany
Where did you grow up?
In a small town six hours west of Berlin, not far from the Dutch border.
Do you have a day job?
Yes! I'm a freelance UX designer and front-end developer, which means I have various clients and work with both their designers and developers on building and improving apps. I also give workshops occasionally and teach UX and front end development to students at FH Salzburg.
Tell us a bit about your studies, formal or not.
I studied Communication Science, Art History, German Language and Literature in Münster and Zürich. My master thesis was about contemporary art journalism and how it developed over the past 30 years, and I worked as a PR assistant in the art world for a brief time right after university. That sounds quite different from what I'm doing today, but I'm actually drawing a lot from my knowledge about communication, branding, and aesthetics in my everyday work, and wouldn't choose a different educational path.
What I know about web development came from learning-by-doing, lots of reading, many workshops and conferences… I guess it started as a hobby. I was just an internet kid consuming tons of design on the web, and when I figured out that with just a bit of HTML and CSS I could build stuff myself, the rest came kind of naturally. Web technology still fascinates me. I can't stop learning and experimenting with it.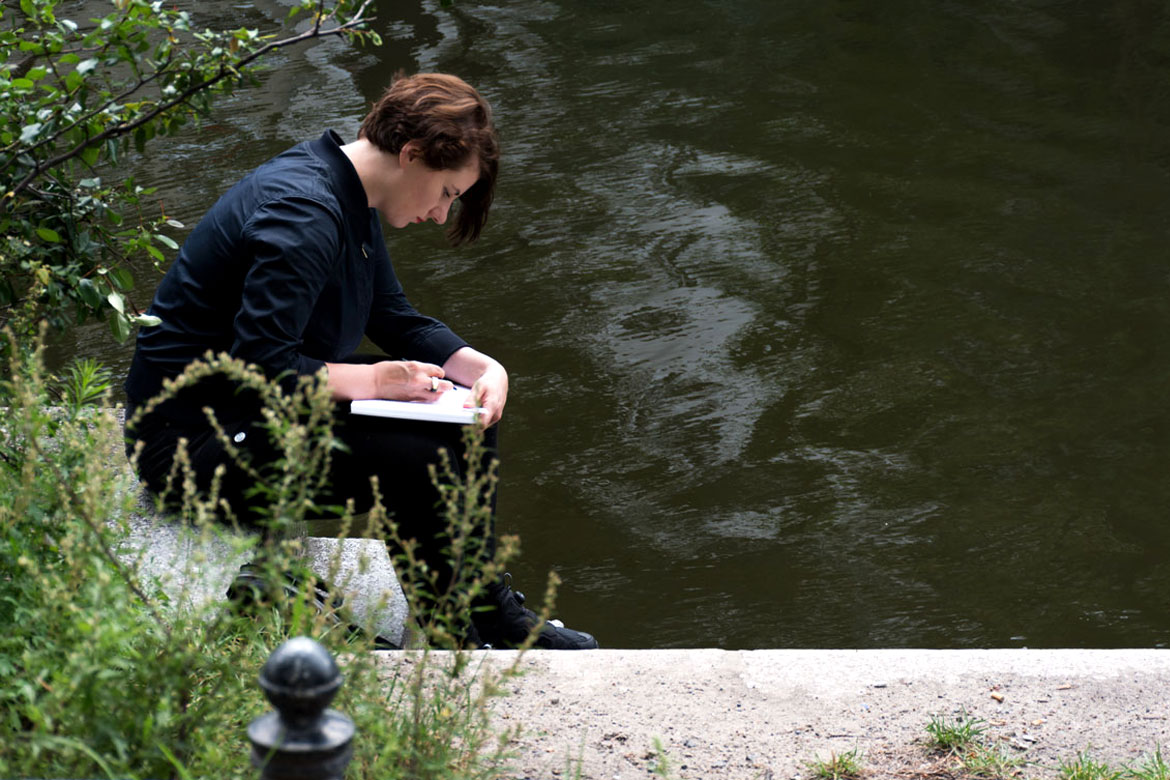 Let's talk a little about your ability to combine UX design and front-end developing.
I've been building websites for fun and also for clients since ca. 2003 – and back then, that meant doing everything – designing the look and feel, coding the HTML/CSS/JS, editing graphics, writing copy and taking care of hosting the website. In the almost 15 years since I started doing that, the web design industry professionalized and differentiated into many specializations – but I've always been drawn to the projects that would allow me to work on both the design and the implementation. I'm happiest when I can be a mediator between designers who focus on the UI/UX and visual work, and front-end developers who implement it. Making sure that both sides collaborate, enabling everyone to get their work done and learn from each other. At the same time, working in small and agile teams means I also have to get my hands dirty and code and design myself. That's my ideal, really: work in a highly collaborative team, but still find opportunities to create and learn from the more specialized designers and developers around me.
Which of your projects are you most proud of and why?
It's hard to pick a favorite, but one that stands out for me is CSSconf EU, which is a conference for CSS developers and designers that I've been running since 2013. It's my side project, and handling all the details of a large event – curating a program, inviting speakers, etc. – is quite challenging and time-consuming. But bringing a lot of people from different countries and backgrounds together makes it worth it. CSSconf is a community event, meaning all organizers and speakers are volunteering their work. It's humbling how so many people put in so much love, time and knowledge, bring it to the event and share it. Tons of new ideas and collaborations are born when all these minds come together and exchange for a weekend.
How do you keep yourself inspired?
Going to museums and looking at the art. Being inside a beautiful building that houses art is very calming and grounding for me and always helps to fire up my inspiration, my motivation to create something myself.
More recently I became interested in contemporary dance, and find the creative process between dancers and choreographers extremely fascinating. I probably spend too many hours watching Wayne McGregor's process – it's incredible.
Do you have a hobby?
Not exactly a hobby, but I have a few side projects that keep me busy after work. Besides CSSconf EU, I'm also running a monthly meetup for designers and developers, up.front.ug, and a workshop series called CSSclasses, where coding newbies learn the basics for creating cool stuff on the web.
Share with us a few of your favorite links/projects/inspirations.
Most recently the work of Caterina Bianchi. Her graphic design is extremely fresh and inspiring.
The serious and focused work of W.A.F., a Hamburg-based design studio by my friend Malte Müller, and his writing at https://electricgecko.de/.
The illustrations of Berlin-based Laura Breiling. I adore her use of color and the diversity of her characters.
The aesthetic world of Steph Davidson, her art direction for Bloomberg.
The work of Swedish design studio Bastion, especially for Bang Magazine.
Motto to live by?
Don't believe in motti. But isn't it cool that the plural of motto is motti?
What's currently on your book stand?
Black Panther by Ta-Nehisi Coates, and A Naked Singularity by Sergio de la Pava.
Something you collect?
Nothing. I've never been a collector of anything, quite the opposite. I'm probably better at throwing away things.
If you weren't a UX designer – which other profession would you choose?
Maybe an illustrator? Although I'm afraid I'd lack the focus and discipline. I'm actually quite happy with where I am.
If you didn't live where you live today, where would you choose to live and why?
Somewhere near the ocean in Northern California. I love the light, the blue sky, the ice plants. So if I wasn't such a city person I'd live in a small house and grow lemons and cilantro.
What excites you about the future? On a personal or global level, or both!
Thinking of the future globally rather scares me. Which sounds dark, but still I am an optimist and usually wake up excited about my immediate, local future. Right now I'm interested in the decentralized web and the potential it has to enable people to publish and access information. Projects like Dat (where I contributed) or Beaker Browser excite me – and also the UX challenges that come with designing interfaces for decentralized technologies.
Thank you, Kristina! And stay tuned for our next interview, with our very own UI master – Andrew Gargay.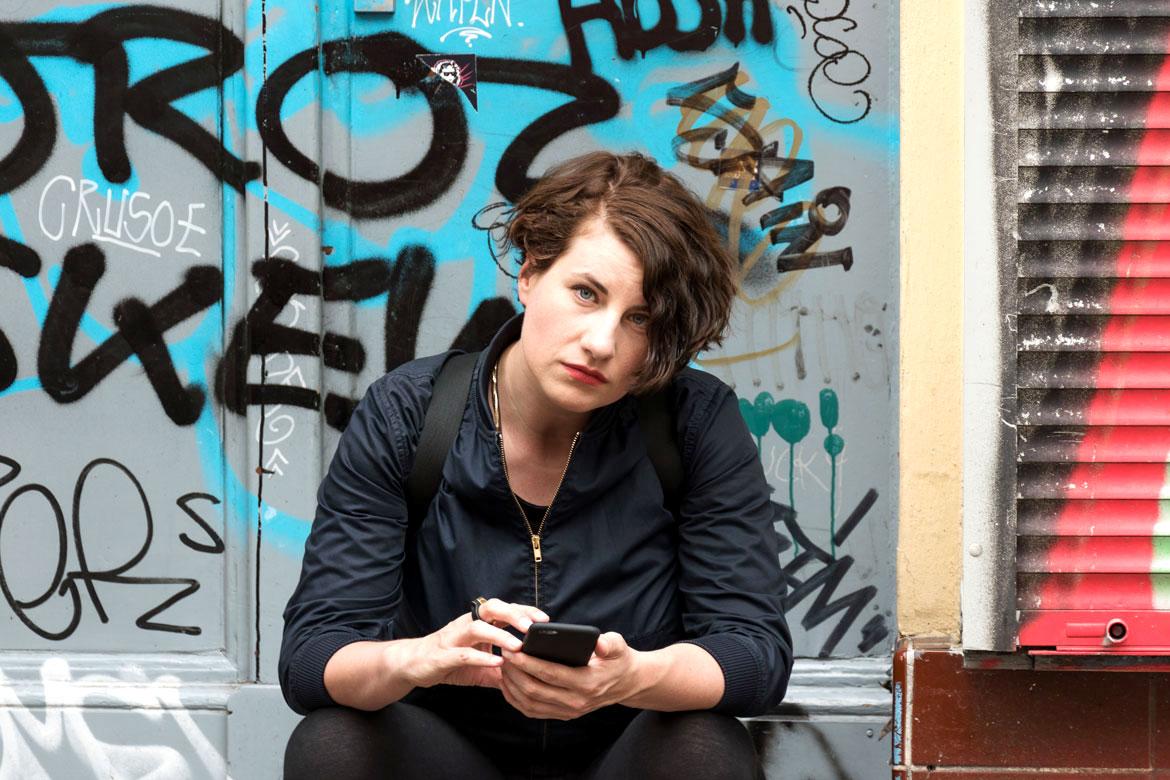 You Might Like These too:
Get in Touch! Get in Touch!
Get in Touch! Get in Touch!
Get in Touch!