Music is a huge part of our design process. It inspires us, gets us going, and helps on those rough times when we're stuck. For this edition, we asked Alma Neeman to curate a playlist to keep us creatively designing. Happy listening!
Text

Shai Samana & Alma Neeman

Images

Alma Neeman

Date

August 29, 2017

Listening time

38:22 min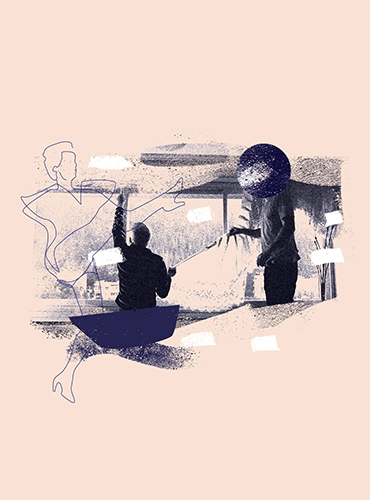 For the third edition of Designed for Listening, I chose my colleague and former school buddy, Alma Neeman. Here's our interview-like conversation discussing Alma's music preferences, design agenda and of course – her chosen playlist.
Shai: Hi Alma!
Alma: Shaiiiii!
S: Hiiii 🙂 So I've known you for quite some time now, but for those who haven't, can you please introduce yourself?
A: Of course. My name is Alma Neeman, I was born in the magical city of Haifa – right by the mountains and the ocean. Actually right now, as I listen to the first track on my playlist, I imagine myself walking in Haifa's Bat-Galim promenade with my grandma, watching the little waves crash in and eating ice cream.
Back to introducing myself – I studied in the visual communication department in Bezalel (with you, Shai!). It was amazing, I really want to do it again. I mean maybe just repeat the last year, when you're already educated and know what you're good at, so you stop wasting your time on things that you're not…
Anyways – I'm 30 years old, I've been working in the templates design team in the Wix Studio for the past year, and I'm back living in Haifa with my partner Nicolò.
S: I would love to go back to school with you! But it's also really great that we're working at the same place, and can share this time to talk about music and what you've chosen for your playlist.
A: We can still go back to school, and probably will…but yeah, for now, let's stick to the tracks.
S: The first few times I listened to your playlist I was alone, working, and with headphones on, and my experience of it was of a very low-fi sequence of tracks, very dreamy and meditative.
A: I agree. I guess it's because I think it's better to dream while you work.
S: The interesting thing is that today, while I was preparing for our talk, I played your tracks in the speakers for everyone in the studio and something else happened – those around me were intrigued, asking "What is this?" Something about it awoken them.
A: That happened to me too! I was in the Jerusalem Design Week and I put this playlist on, and all my designer friends were like "YES!" – but this other lady came over and asked, or should I say – yelled: "Stop it! Turn it down, I can't work like this, it's driving me crazy! It's too much." For us designers, it was really enjoyable, but for her – well, she suffered.
S: She wasn't a designer?
A: She was someone who came to the Design Week, I guess it was a hardcore track at the moment…
S: Do you usually play music in the speakers?
A: No. Headphones only, all the time. Speakers are too much responsibility.
S: I like the responsibility.
A: I fear it, and have from a very young age.
S: Then let's drop the responsibility issue.
A: Lol. I can elaborate if it's interesting.
S: It's interesting.
A: Well OK then. I think from a very young age I liked things that were more subtle, less outwardly happy. And I think when people listen to music together, the standard is to play happy, uplifting music. Not that I was depressed or anything, but I always liked to dive in, submerge myself in interesting and bizarre tracks. And this type of music doesn't always work for everyone around you, so I prefer to stick to my headphones.
S: That's interesting. Sometimes I get to DJ at parties, and there's always that fear of the moment when I'll play the track that makes everyone leave the floor.
A: I get it… recently I've been collecting music for my wedding, which is all about pleasing the crowd and it's really hard for me. Eventually, I asked Idit (Idit Frenkel, a great DJ who also happens to work in the studio) to be our DJ, and together we formulated a playlist fitting a specific structure that's supposed to work every time. Once in every 15 minutes, you play a "sing along song" and then no matter what style you played before, everybody's back to feeling like part of the group.
S: (Congratulations!!!) It's always good to hand over responsibility to those who aren't afraid to take it. I think this type of structure can also work well in the studio and when you deal with design projects.
A: I agree. It takes a lot of work though.
S: You mentioned that from a very young age you were drawn towards more subtle music, and there's something understated in your chosen playlist as well. But I find it hard to believe that your musical taste hasn't changed and evolved over the years.
A: Of course it's changed! In music, I look for something to feel. A good bassline will always grab my heart and attention. I find it hard when the music turns into this sort of "carpet", like a flat pattern. I need breaks, ups and downs, some sort of an "itch". I got into electronic music just over a year ago thanks to a friend in the studio, who did an amazing job at feeling the studio audience and playing just the right track, always.
S: Do you think the fact you chose to study design and become a professional designer affected the music you listen to in some way?
A: When you work, you need to divide your attention. A lot of the time I get this feeling of "Wow, I've been sitting in front of the computer for so long! Why am I not listening to podcasts? Or Ted talks? Or audiobooks?" There's a certain amount of openness while you work, like another parallel room in your brain that opens up – the next door neighbor of the design room. In this room, you can do all sorts of things, but only things that won't bother your designer neighbor. So in my room, you can play music as much as you like, but you can't learn something new. You can't do something concrete – it has to be about the feeling, the music needs to accompany and compliment, not take over. Did I explain myself well?
S: You explained it perfectly – like you would tell a story to a child.
A: I also started listening to more classical music recently.
S: I'm still waiting for the day when I can enjoy classical music. I feel it won't be long now.
A: You just have to listen to the right thing. You should try Debussy.
S: I feel that the "muscle" that analyzes design is the same one that analyzes music. I mean – aesthetics are aesthetics. It doesn't matter if it's visual or sound.
A: I totally agree. I feel the same way about dancing. I used to dance for many years, which is another field of aesthetics.
S: Yes, I definitely agree. But let's get back to music. For years, the musicians I loved and appreciated the most were the ones who brought the sounds of the future. Technology progressed and with it sound became very sleek, planned and tight. In recent years this has changed – there are new musicians who look for the more broken sound as if it was recorded in caves and forests. And the tracks you've chosen embrace just that. The fact you chose to integrate rather old music into the playlist keeps that same style. I think it's more than retro – it's a statement.
A: I think this has to do with aesthetics again, and I'll explain. For me, I find it hard when people use the phrase "that's perfect" when describing or referring to a creation. It's a bummer if it's perfect! You have to leave something scratched, something "wrong"… I guess for me, perfect is this smooth, plasticated feeling, very processed and boring. And I don't think any creator, artist, or designer who would want to be associated with that type of feeling. So it's this imperfection that gets me going and makes me tick. Because I'm the same – I'm not perfect. You're not perfect. Every person who takes the time to ask questions and wonder about things and believes in searching – is not perfect. Only when you work for a client, then you aim to create something "perfect" 🙂 and that's a whole different challenge.
I think the trend you're talking about in mixing old and new creates this imperfect dichotomy – it either warms your soul or really bothers you. But there's never "perfect" retro – it will always be some sort of adaptation of that retro thing.
I feel that the opening and closing tracks together create the perfect (!) demonstration of just that. Like a prologue and an epilog. And more than that – I feel that this inconvenient spot is a very deep place of the soul, and the music helps me step inside that trippy place and write down my thoughts. Not plastic, not a carpet, not a pattern. Music that activates you in some sort of way.
S: The tracks you've chosen really do activate – they make you think, and talk. Look at where we are in our conversation!
A: What, isn't it like that with everyone?…
S: …
****
Thank you, Alma! It was a pleasure diving in with you – in music and in conversation.
Track List
1. Frankie Reyes – Flor de Azalea
2. Moscoman – Dévoué (Manfredas Remix)
3. Manfredas – Glasswalk
4. Manfredas – Pink Industry
5. C.A.R – Angelina (Manfredas Remix)
6. Gesaffelstein – Viol
7. Vex Ruffin – Front
8. Khidja – Mustafa
9. La Femme – Sphynx
10. Future Holograms – Valentine
11. Cha Cha Guitri – Non Non Non
12. Dusty Springfield – Spooky
13. Dorothy Carless – Russian Rose
Check out the previous edition of "Designed for listening" HERE.
Are you a designer? Feel like participating in this section? If you answered YES to both questions – drop me an e-mail! shaisa@wix.com
You Might Like These too:
Get in Touch! Get in Touch!
Get in Touch! Get in Touch!
Get in Touch!